As the occupation of two Marine Harvest fish farms in the Broughton Archipelago enters its ninth week, there has been both high drama on the water as well as the provincial legislature regarding the province's controversial fish farm industry.
In the latest development, Premier John Horgan has announced a formal investigation of allegations of conflict of interest at the provincial animal health lab which has been contracted by the federal government to perform audits on fish raised in intensive corporate facilities on the ocean.
The review will look at "the formal policies and procedures at the Animal Health Centre to determine if best practices and ethical standards are followed, including protecting against potential conflicts of interest."
At the same time Agriculture Minister Lana Popham told the CBC on Oct. 25 that "the status quo isn't good enough" and that significant changes are needed to protect wild salmon including the relocation of fish farms in the Broughton Archipelago.
Nearly three months ago, more than a dozen protesters from the Musgamagw Dzawada'enuxw and Kwikwasut'inuxw Haxwa'mis First Nations occupied two Marine Harvest fish farms to protest the industry's continuing presence on their territorial waters.
Ernest Alfred, one of the protesters occupying abandoned Marine Harvest building overlooking its Swanson fish farm, said the occupations have achieved their goal.
"For 16 years we were ignored by the provincial government when we asked for the removal of these fish farms. Now the issue is part of question period and even happening at the federal level. That was our intent," said Alfred, a hereditary chief from the Nagmis, Lawit'sis and Mamalilikala nations.
Over the last two months First Nation protesters have recorded a variety of activities at fish farms including what Alfred calls a "massive die-off" currently taking place at the Swanson operation.
"I've become desensitized to the images of dead rotten Atlantic salmon at fish farms," Alfred said. "I've never seen this many dead Atlantic salmon."
Alfred also witnessed and protested the restocking of Marine Harvest's Port Elizabeth fish farm with Atlantic salmon between Oct. 13 and 22.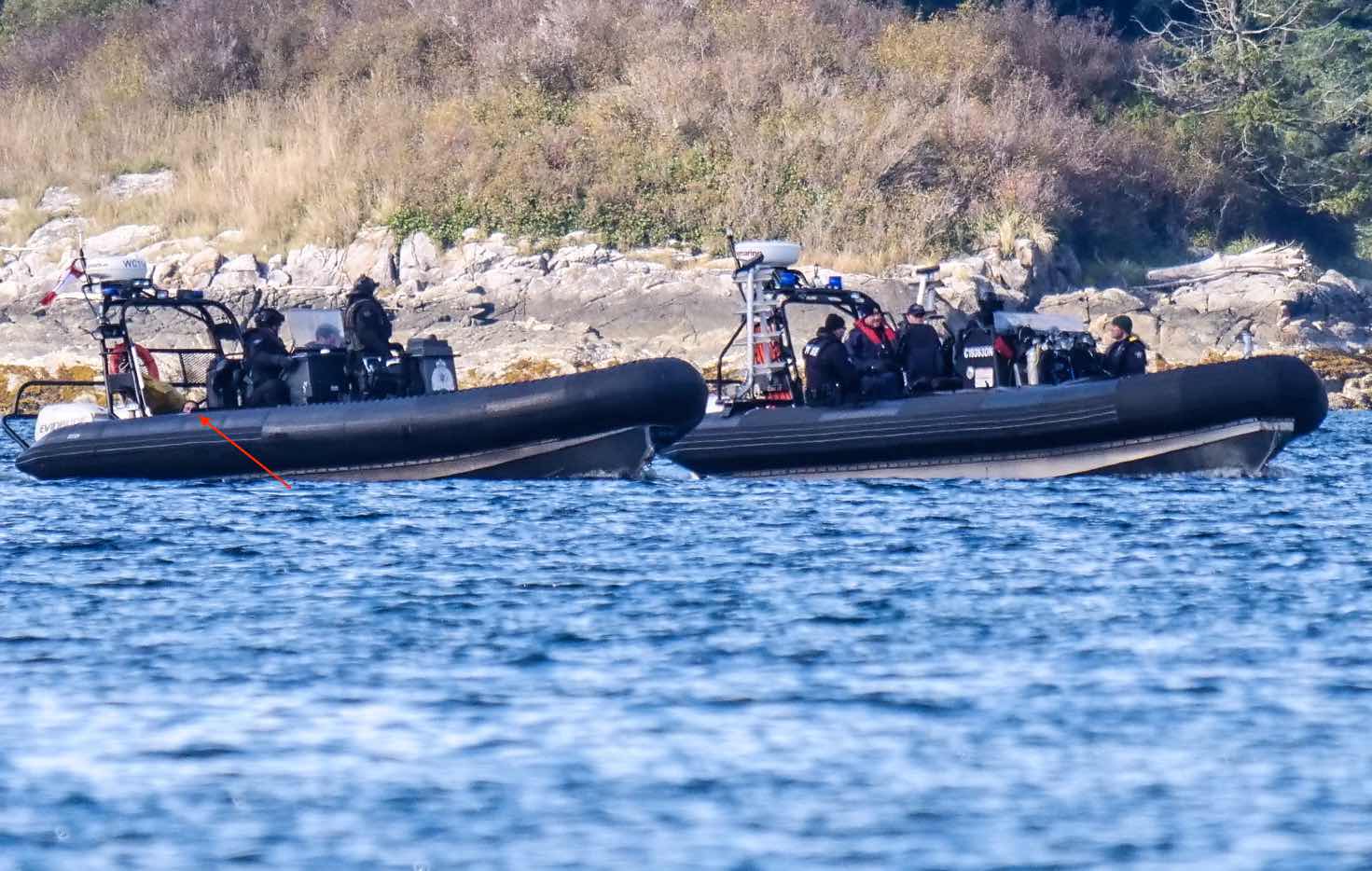 More than a dozen RCMP officers in tactical gear and navigating two black zodiacs presided over that controversial transfer as the company sucked Atlantic salmon raised in hatcheries from a company vessel and then ejected them into caged pens designed to accommodate tens of thousands of fish in a small area.
After of being accused of intimidation and supporting the industry, the RCMP issued an unusual statement that declared that it remains "impartial in this dispute" and "will respect the rights of individuals to peacefully demonstrate."
Protesters also witnessed that thousands of 180,000 transferred fish were sick or dying.
In an Oct. 17 statement, Marine Harvest said such events are rare. "Delayed delivery and possible mechanical problems with the delivery vessel are thought to be likely the cause," the statement said. The statement claimed less than 5,000 of the 180,000 fish delivered had died.
In her Oct. 13 letter, Popham warned Marine Harvest that its decision to restock the facility was insensitive given ongoing "discussions with some of the First Nations in the Broughton Archipelago who remain opposed to open net pen salmon farming in their territories."
Although Marine Harvest has many fish farm agreements with First Nations along the coast of Vancouver Island, neither the company nor the province ever secured permission from the Musgamagw Dzawada'enuxw. The nation has been opposed to corporate fish farming for 30 years due to concerns about the spread of disease and the impact of sea lice on wild migrating salmon.
Popham's letter assured Marine Harvest that the provincial government planned to uphold the United Nations Declaration on Indigenous People and "that companies should make every effort to develop and maintain healthy relationships with First Nations in whose territories companies are doing business."
The BC Liberals, who have received political donations from the fish farm industry ($30,000 in 2015 alone), called the letter "threatening" and labelled Popham "Minister of Intimidation."
K'odi Nelson, Musgamagw hereditary leader and fisherman, said in a blog post that First Nations were opposed to the restocking of the farms for fundamental reasons.
"We are simply exercising our Indigenous right to fish to feed our families through the winter," the post read. "This year has seen historic low returns of salmon. Collecting enough food for our communities is becoming harder due to the impacts these fish farms are having on our wild salmon."
Alexandra Morton, a biologist and longtime critic of industrial fish farming, welcomed the investigation of the provincial lab as well as Popham's warning to the industry about First Nations' rights.
"First Nations have stood up and the government appears to be listening and responding. I didn't expect that from the NDP," Morton said.
Marine Harvest, a Norwegian company, asked both the provincial and federal government to get involved in the dispute several weeks ago.
"We are very willing and wanting to discuss a long-term solution, but also require the appropriate time to ensure we don't adversely risk our fish, our employees, and our business investment in an area that has been operating for 30 years," said Vincent Erenst, Marine Harvest's managing director in a statement.
First Nation protesters say they will be in Victoria to take part in ongoing political talks and demonstrations on Nov. 2.
"We have been peaceful occupants and we are not afraid of Marine Harvest or any legal fights they want to get into. They broke the law and occupied our lands without our permission," Alfred told the Tyee.
Popham told CBC News this week that it may take a month before meetings on the issues raised by the occupation can be arranged with Marine Harvest, First Nations, the province and federal Fisheries Minister Dominic LeBlanc.
The investigation of the provincial lab was prompted by revelations in a recent CTV W5 documentary.
In that program, Dr. Kristi Miller-Saunders, a highly respected DFO scientist who discovered a deadly virus in B.C.'s farmed fish, expressed concerns about testing of farmed fish at the lab.
Gary Marty, who conducts fish audits at the lab, told the Tyee that he was not alarmed by the investigation.
"As part of my work as a board-certified veterinary pathologist, my diagnoses are always subject to review or second opinion by other professionals," he said. "The situation developing this week is unusual in that it has caught the public eye, but otherwise, review of my work is routine."