On a Saturday afternoon in late September, the 12th-floor room in a downtown Vancouver office tower was buzzing. People looked around for familiar faces, quietly talking. The list of speakers read like signatures on a petition. Folks seemed nervous; they were full of emotion at finally being at a public input event for Site C after years of asking for it, but they weren't sure if they would truly be listened to.
The Sept. 23 meeting was the first public input session for the BC Utilities Commission's Site C inquiry, and one of two that would be held in Vancouver. Forty-one people spoke to the panel that first day, sharing opinions, perspectives, facts and analysis on the project. The four-person panel, led by BCUC chairperson David Morton, listened.
"David definitely was actively listening, that's the feeling I got. He was present. You looked straight at him, and he was looking right at you," said environmentalist and Order of Canada member Vicky Husband afterwards. "I've been to many of these things and this was refreshingly good."
People have been calling for a BCUC review of Site C since the former Liberal government approved the $9-billion dam without a full independent review. They're skeptical of this review partly because it's scope only deals with one aspect of the dam's impact, and partly because of bad experiences at other review panels.
The BCUC review panel scheduled 11 public input sessions around the province, three First Nations input sessions, and two full-day technical input sessions. To open each session, Morton commented on the high quality of written submissions the panel had received.
"This affirms what we already know, that there are experts and affected parties who can bring us insight into the many complexities of evaluating the economic impacts of the Site C project," he said. "We recognize that our findings are better with your input."
For presenter George Smith, expectations were low because of his experience at the National Energy Board hearings on Enbridge. "It was one of the most dishonorable, shameful experiences I've had, and I'm in my late 60s," he said. "I was ashamed of the people who were there. I knew that nothing I said mattered one bit. They were rude to people, the [Enbridge staff] were sitting right up there with the panel, they threw people out of the room if they went one second over time, they abused people verbally. It was awful."
He was reserving final judgment on the BCUC session. "They were polite to us, they weren't rude and they appeared to be listening. So who knows."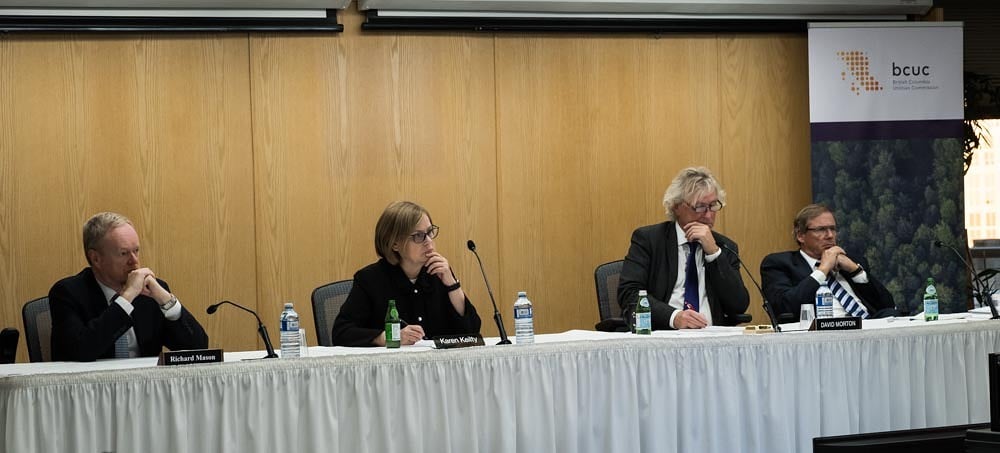 Since that first day, the panel has held nine other input sessions around B.C., with two in Fort St. John and another one in Vancouver Oct. 5. Two hundred and nine people have presented to the panel so far. There are two more public input sessions where anyone can register to speak, one more First Nations session, and two full days of technical presentations scheduled for this week.
Morton reiterates at each session that they won't consider comments outside their scope, which is how are ratepayers affected in each of three scenarios: complete the dam, pause it or cancel it. Yet a great number of presenters have spoken about First Nations rights and the agricultural potential of the valley in the flood zone.
"I understand that those factors can't be taken into consideration, but I ask in your hearts and minds to consider that we have non-monetary currencies that have supported the existence of our people since time immemorial," said Saulteau First Nation member Julian Napoleon in closing his presentation. Napoleon received loud applause from the audience.
Lindsay Brown presented at the first public input session. "Everybody was quite surprised that people who went outside the terms of reference, that BCUC didn't shut them down," she said afterward. "They allowed people to talk about values that weren't financial. It was interesting to see that they were listening to a whole range of issues. I think that's a sign of them listening."
In an interview, Morton said comments outside the scope will still be included in the report, even if they don't factor into the final recommendation. "The order in council asks us specifically what the cost impact on ratepayers is of the three scenarios. So primarily we feel we need to answer that question, which is why we're looking for economic or cost information," he said.
"But the [order] also asks for the implications of the three scenarios. So to the extent that a lot of submissions we got are implications, we will theme those comments in the final report, and say, you know, a number of people brought up this impact, a number of people brought up that impact. They won't be discarded, no."
What are people saying at the sessions? At both sessions in Vancouver, the whole range of issues Site C brings up have been spoken about. They include BC Hydro's debt and deferral accounting, the forecasting models, criticism of rigid elasticity and disagreements with financial projections. Many talked about agriculture, First Nations rights, the environment and the social cost of development.
A lot of presenters talked about the rapidly dropping prices of solar and wind energy. The energy landscape is substantially different now than it was even three years ago when Site C was approved. This is some of the data the panel will examine in the technical presentations later this week. In those sessions, the panel will ask questions of presenters rather than just listen, as they've done in the public input sessions.
Eoin Finn, a retired KPMG partner, challenged BC Hydro's lack of demand-side management (industry speak for reducing energy consumption, a.k.a. PowerSmart). According to the Clean Energy Act which governs the utility, conservation is supposed to be used for two-thirds of all energy demand forecast. In other words, if we need 5,100 gigawatt hours of energy, 3,700 gigawatts should come from energy conservation.
"BC Hydro seems to have forgotten about that," Finn said later in an interview. "We should only be putting in one-third of what we need into any demand profile. If we need 5,100 gigawatts, we should only build one-third of it, roughly 1,700 gigawatts."
Regarding the argument that there's only so much energy conservation possible, as a former BC Hydro manager said, Finn laughed. "If they look at their comparables from Maine to California, they'll find several examples that are doing at least four per-cent demand-side management per year, compounded. When you compound four per-cent a year, it gets up there pretty quick. If BC Hydro were to do anything of the same, by the time we get to Site C, we would certainly not need it." Right now, he says BC Hydro is reporting a one per-cent demand-side management savings. "In 2017, they spent $97 Million for a paltry one per-cent saving, or 602-Gigawatt hours."
Physician and former Vancouver city councillor Fred Bass also critiqued BC Hydro's focus on increasing supply over incentivizing conservation. He recommended to the panel that the utility be renamed and reorganized into the BC Energy Conservation Authority. "If terminating the project leads to a major change in the way B.C. deals with energy conservation, whether termination costs $1 billion or $3 billion, it would be a victory," he said.
The Clean Energy Act's focus on demand-side management is contrary to the previous government's "build it and they will come" mantra. Last year, former energy minister Bill Bennett responded to questions about the need for Site C by saying, "Our opportunity is to drive demand. It's to get people to use more electricity."
Lots of speakers addressed agriculture and food security. "The agricultural potential in the Peace River valley is incomparable. It is by far the best farmland that we have," said Julian Napoleon. "I do a lot of talks around the country about food security, and I can tell you that people in the Arctic are facing a severe food crisis. The Peace River valley is the northernmost prime agricultural area in the country. It's an anomaly. You can grow crops there that you don't see until you get south to the Okanagan."
Applause was sparse, but came most often when speakers talked about First Nations rights. Rita Wong, an environmental humanities professor, spoke of the cost the Treaty 8 First Nations have borne for resource extraction in their territory, particularly from WAC Bennett dam.
"People in Vancouver need to realize where their electricity comes from. I think about the colonial violence and the historical destruction of communities that's embedded in the flick of a light switch," she said. "I realize that I am, on a daily basis, implicated in that history. We can't change that history. What we can change is how we respond to it by not destroying more the Peace River Valley." Wong says her involvement in Site C opposition is a way of active reconciliation with First Nations.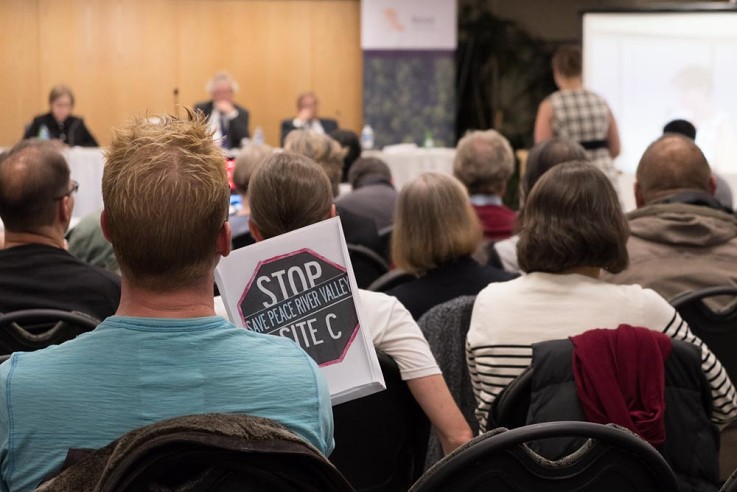 Others talked about the dam's labour opportunity. "I'm probably going to get in trouble from my union, they probably want me to say we need the jobs," said steel worker Johnny Mattice. "And we do, but not at the expense of other people."
A handful of people spoke in support of the dam, to protect the jobs and protect those who moved their families to the area for Site C work. Oil industry design and project manager Sebastian Hamberger said, "Don't forget, currently there are over 2,500 workers, families relying on income from this project that was decided on long ago. For those wondering why there's a need of Site C dam, I got two reasons. One is, build it and they will come. And my second reason is we really have got to think long-term, not short-term."
On that first input session, Hamberger was one of three speakers in favour of the dam. The overwhelming majority of speakers have asked the panel to recommend cancelling the project. Asked how the balance of opinions so far has affected the panel, Morton said they're looking for facts to help answer the question posed to them.
"We try to look for facts and if a lot of people take a position that there's no factual basis for, then that can't affect our analysis. And by the same token if only one or two people came forward with the fact that we felt was objectively justified, then then we would we would consider that factor. But if you have a fact that can't be established and you have a number of people arguing it, then we would consider the people that are saying it and their credibility. Those are the things that we would normally do in a normal proceeding," Morton said.
"We've heard a lot of different views. Some people have been quite emotional, especially the people up in Fort St. John and the Hudson's Hope area, the people that are the most impacted. The panel has learned quite a lot about the project, and I'm glad we've had the opportunity to do the input sessions."