When Teale Phelps Bondaroff opted to go car free this year, he knew he'd be making sacrifices by commuting by bike. Safety, for example, is less assured when cycling on the shoulder of a busy Vancouver Island highway instead of driving in a car.
But he didn't expect a $2 surcharge on BC Ferries' tickets for the privilege of taking two wheels on board. When he inquired about the purpose of the charge, BC Ferries told him it was to pay for bike infrastructure, like bike racks or lockers, on the boats.
But there is no bike infrastructure on the Brentwood Mill Bay ferry he took once a week. Instead Phelps Bondaroff stored his wheels leaned up against the bulwarks on the car deck. On another trip to Galiano Island, crew members advised Phelps Bondaroff and his partner to stow their bikes in front of fire safety equipment.
"That's a bit of a problem," he said. "If you're going to charge a fee, great. Make sure you're providing good infrastructure."
Curious how much money the regulated private corporation was making from this $2 surcharge, and what it was being spent on, Phelps Bondaroff filed a Freedom of Information request earlier this summer. The data released to him showed BC Ferries had collected $1.6 million in fees since April 2003, when the former crown corporation went private.
BC Ferries couldn't account for exactly how much money it's spent on bike infrastructure since then as it would be included in larger spending categories, such as general facilities. However, BC Ferries provided results from the search of all work orders since 2008 for the words "bike" and "bicycle" and reported spending that ranged from a high of $6,000 per year to just $10. So where is the rest of the money going?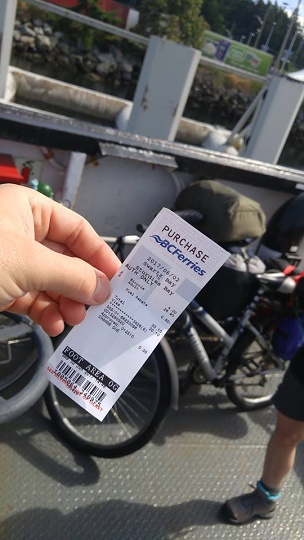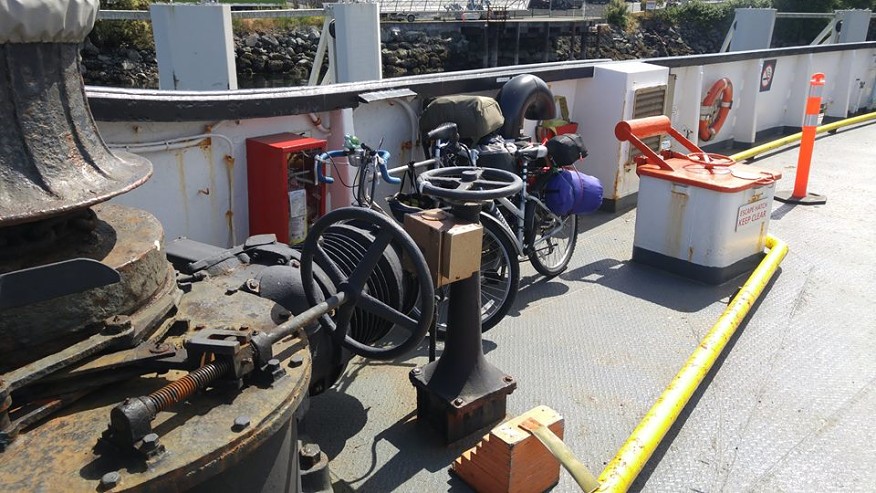 BC Ferries won't get into specifics. In response to a Tyee interview request, executive director of public affairs Deborah Marshall emailed the following statement: "The revenue collected from bicycle tariff helps offset loss of revenue from vehicle spaces when large groups of bikes take up spaces that could have been utilized for vehicles on the car decks, as well as expense and maintenance of bike racks and facilities throughout the fleet."
But Phelps Bondaroff doesn't buy it and points out bikes take up much less space than a car, which are often occupied by just one person. Even folding bikes that take up no more space than a suitcase are subject to the fee.
"If you've ever waited for three sailings in Swartz Bay to get to Vancouver, you'll appreciate every single one of those cars that becomes a bike is more space for cars on a ferry," he said.
Bike with flat tire still charged $2 fee
Although the bike fees have existed in some shape or form since the 1960s, it wasn't until 2010 that all BC Ferries routes applied a $2 surcharge to cyclists and anyone walking on with a kayak or other large recreational equipment.
Phelps Bondaroff didn't ask how many cyclists take the ferries every year, but based on data of the revenue generated from each route annually he found the most profitable — and therefore busiest — route for cycling is Tsawwassen to Swartz Bay, with nearly $600,000 in bike fee revenue collected since 2003. Phelps Bondaroff has been told there are bike racks on that route, but he's never seen them in person.
Corey Burger has. "I was actually on the Coastal Celebration [ferry]," said the Greater Victoria Cycling Coalition board member about a crossing earlier this month. "The problem they have is you're supposed to put the wheel into a slot, and that means if the bike [falls], the wheel is going to get bent."
Another issue is how many bikes they hold. "There were five bikes on the Sunday afternoon ferry, and there's only space for four," Burger said. "So I didn't even bother putting my bike in there."
Burger couldn't ride his bike that day because of a flat tire. He wheeled it on with all the other walk-on passengers, but had to pay the $2 fee.
"I was basically carrying a piece of luggage, it was not a functional bike," he said. "Yet I was charged $2 because it was shaped like a bike."
The second most popular ferry route for cyclists based on revenue is Horseshoe Bay to Nanaimo, bringing in just over $260,000 since 2003. But the third most popular, Tsawwassen to the Gulf Islands bringing in just over $250,000, has no bike infrastructure.
In his own research, Phelps Bondaroff came across a 2004 BC Ferries' press release boasting of 80,000 cyclist trips per year. That press release announced the winner of a bike rack design competition with the top prizes claimed by a team from Quebec and Bruce Fitz-Earle of North Vancouver. The designs have been implemented on the Spirit Class ferries, and some of the C-class vessels.
Getting to ferries by bike 'scary' on some routes
There are ways to avoid the $2 surcharge. Buying a BC Ferries experience card provides a $2 discount that counteracts the fee for bikes. But not all routes take the card. The Mill Bay ferry, which does not accept the card, will waive the fee for cyclists who buy their tickets ahead of time at some local stores.
Both methods require planning and forethought that neither pedestrians nor drivers are required to have. It also doesn't dismiss the fact that money collected for the fees for almost 15 years has remained mostly unaccounted for, at least in terms of spending on bike infrastructure.
Phelps Bondaroff wants the money either spent on bike infrastructure, particularly if it accommodates a range of bike sizes and styles, or the fee done away with altogether. He points to a Quebec City ferry to Levis as an example to follow, where a few parking spots for cars have been transformed into parking space for 100 bikes.
While acknowledging the unfairness of a $2 fee without biking infrastructure, both local and provincial cycling groups say there are bigger BC Ferries' cycling issues that concern them. They include how difficult it is to get to the ferry terminals by bike.
"Part of it's the distance, part of it is the lack of bike paths or separated bike [lanes]," said Richard Campbell of the BC Cycling Coalition, adding he avoids going to Vancouver Island because it's not a great cycling experience.
"To get to Horseshoe Bay, for example, you either have to cycle on the shoulder of the Upper Levels Highway, which is pretty scary — the cars are going really fast. Or [take] Marine Drive, which is not so bad but it is a narrow winding road with buses and cars," he said.
The route to Tsawwassen is long and also lacks separated bike lanes, though Campbell acknowledges there are safer bike routes from Swartz Bay to Victoria on the Island. He'd like to see the return of passenger ferries from downtown Vancouver to Vancouver Island to accommodate walk-ons and cyclists only — with much cheaper fares than the private "luxury" route that's scheduled to start running next spring.
"I hear [BC Ferries are] planning on spending hundreds of millions of dollars to upgrade the terminals," Campbell said. "I think they need to seriously look at other options and make [cyclists] a core mandate of the system, rather than it feels like now that people who walk on or take bikes on are kind of an afterthought."