There are swimming pools on top of these high-rises. The development has saunas, schools, and a shopping mall too.
If you're a North American used to the stereotype of drab public housing projects, you might be surprised to learn Vienna's Alt-Erlaa isn't a sleek, master-planned condo development. Alt-Erlaa is social housing.
Alt-Erlaa was intended to provide luxury for all. The 1970s project is home to 7,000 residents who live in 3,200 high-rise apartment units — and most of them are family friendly, with three or more bedrooms. It sits on a 59-acre piece of land, less than twice the size of Granville Island.
Vienna is filled with innovative projects like this. Sixty per cent of the city's population lives in city built, owned, or managed housing.
Cities wrestling with housing affordability can learn from each other, which is why the Museum of Vancouver is exploring Vienna's approach to housing in its Vienna Model exhibit, which opens today.
William Menking, founder and editor-in-chief of the Architect's Newspaper in New York, is the exhibit's co-curator. He said Vienna's attitudes toward housing are "totally different" from North America.
"Homeownership? That's the American dream," Menking told The Tyee. "That does not exist in Vienna.
"The idea of homeownership is not as engrained because there's a stronger social safety net, from pensions to health care. So, people don't worry about not having enough money at the end of their lives."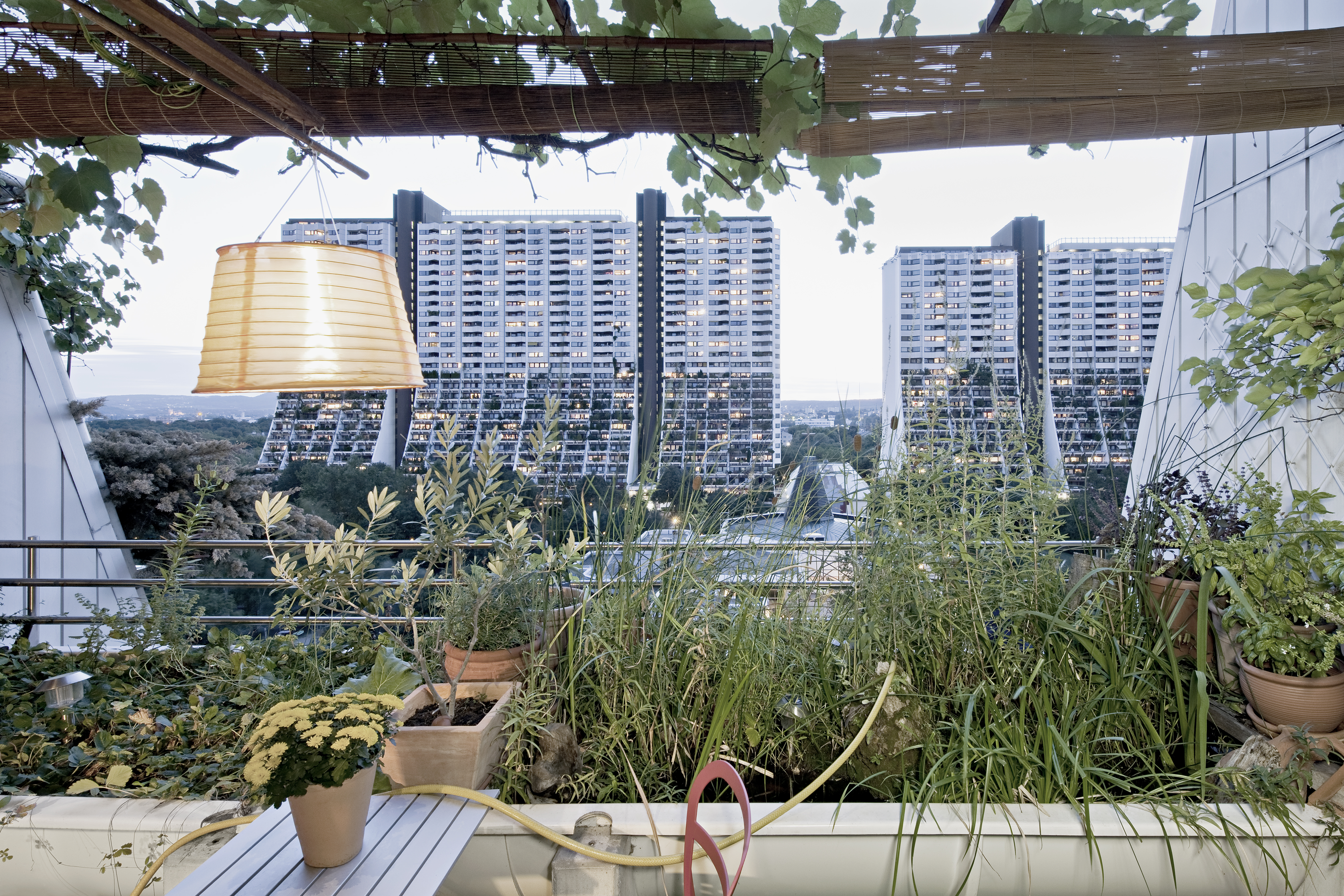 The Austrian federal government offers 450 million euros a year — about $680 million Canadian — to subsidize housing in Vienna, with a population of about 2.6 million. The city government contributes as well, bringing Vienna's total housing spending up to 600 million euros a year.
Having committed funding does help cities with housing. But Menking says Vienna's attitudes toward housing as a public responsibility are what set it apart from cities struggling to rein in housing costs.
The Tyee interviewed Gabu Heindl about this. She's an architect, planner and theorist, as well as the chairwoman of Österreichische Gesellschaft für Architektur (Austrian Society for Architecture). The interview has been edited and condensed for brevity.
Heindl will be speaking at two events in Vancouver about her home city (more details at the bottom of this story) in conjunction with the Vienna Model exhibit.
The Tyee: It seems that in Vienna there is a public as well as a political consensus that the government should have a large role in providing housing for its citizens.
Gabu Heindl: Yes, Vienna has had a social democratic government for a long time, and there's a big tradition based on the time of Red Vienna, which was between the two world wars when Vienna had a socialist government. Vienna has been famous for municipal housing that was built then and after 1945 in quite extensive numbers. So, when it comes to Vienna, which is a big city relative to Austria itself, there's absolutely an understanding that it's a municipal task to provide affordable housing and to subsidize housing.
Is there also consensus around the idea of housing as a human right?
That is really a political issue. When it comes to more leftist politicians and parties, yes. When it comes to market, free-market neoliberal parties and politicians, of course they would argue there's a right to make money with housing development. Right now, our city government is a coalition of the Social Democrats and the Green Party.
Social mixing policies (having individuals of different economic backgrounds in a neighbourhood, sometimes even in the same building) have gained momentum recently, but this is something that Vienna has been doing for a very long time. Can you talk a bit about that?
There's the large-scale Red Vienna housing complexes that were built in the '20s and '30s which have been spread throughout the city. There's the very famous Karl Marx Hof, which is a very big compound that sits right in a bourgeois district.
All around Vienna, you have a mixing of different typologies of housing and different populations. So, you have bourgeois mixed with workers, and that of course, continues today.
Vienna set up the Bauträgerwettbewerb "developer competitions" for public housing in 1995. What's the rationale behind having developers compete?
The question is if you have anybody developing housing, how can the public demand quality? So how can the public demand more than the minimum?
Basically, the moment public subsidies are involved — be it land, building costs, cheaper loans — the public has a right to demand quality and actually work on quality control. That works statutorily in Vienna for all public housing projects that there have to be competitions if projects are of a certain size.
Developers become very inventive in order to compete with others.
Some governments struggling to encourage the construction of affordable housing rely on public-private partnerships. Is Vienna dealing with this?
We are currently faced with a situation where we are supposed to get used to public-private partnerships in terms of the private entering the public sphere. Until now, it was very logical for us that the public would itself, and only itself, take care of streets, schools, parks, and housing.
But under current austerity politics in the European community and the general trend worldwide of city governments suffering from lack of money due to neoliberal taxing systems, there is an increase in Vienna of looking to private developers for help. It's something that planners, including myself who believe that public goods should be dealt with and provided by the public, are not happy with.
In Vancouver this week, you will be speaking about equality and equity in city building. Why is there a need for these elements in your field?
I believe that equality and equity must be parameters for urban planning, especially since architecture and urban planning can participate in fostering inequality, which I'm sure can be seen in Vancouver, other cities, and, of course, Vienna.
How can design provide for spaces of equal possibilities and accessibilities for people? That task is more important for public planning than supporting a private client, but if it comes to proactive public urban planning, then equity, housing affordability, and justice have to be planning parameters just as much as technical ones.
While there is so much to admire about housing in Vienna, where is the city struggling?
Because Vienna is growing so fast, it cannot keep up with the speed at which the need for apartments increases. There are many more people that need housing than is available, so that puts pressure on price in the private market. I wouldn't say prices have skyrocketed, but they have increased a lot.
As for municipal housing, politicians have reacted to the pressure by ranking Viennese, who have lived here for at least five years, at the top of the waiting list. So, there's a 'Viennese first' mentality, which I and many of my colleagues don't believe is very useful because affordable housing shouldn't be determined by nationality but by need.
Any advice for cities like Vancouver struggling with affordability?
The most important piece of advice today is to not sell any public land. Do not do that. Land has been and is the most precious thing and it will be so much more precious in the future. Land ownership dictates who has access to what areas and how the city should grow. It's something that I believe Vienna is being as careful with as it can.
But if land is to be sold, it should be sold to collective structures so that it doesn't go into the private, capital market. Please do write that in really big letters!
There will be a serious fight for the access to urbanity in the future. If we know that cities are the places where people have access to possibilities, to mobility, to culture, to jobs, to shops, governments should not hand out big portions of the city to private owners.
Gabu Heindl will be speaking at two events while in Vancouver. She'll be participating in the Urbanarium debate on why we should subsidize more housing tonight at the Museum of Vancouver (1100 Chestnut St.).
And on Friday evening, Heindl will be speaking on Vienna as an affordable housing case study at SFU's Djavad Mowafaghian World Art Centre (149 West Hastings).
The Museum of Vancouver's Vienna Model exhibit runs until July 16.