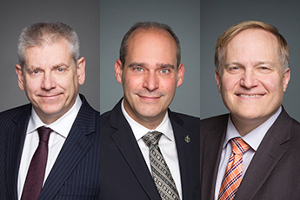 Only a few weeks ago it appeared the first debate for federal NDP leadership candidates in Ottawa on March 12 might feature an empty stage and a moderator quietly reading while the crowd chatted.
There's no chance of that happening now, as two candidates have entered the race in the last two days, joining Burnaby-New Westminster MP Peter Julian who stepped up in mid-February.
Quebec MP Guy Caron announced his leadership bid Monday, while Ontario MP Charlie Angus launched his campaign Sunday.
The additional candidates should kick off a leadership campaign that energizes the party, said Karl Belanger, a NDP stalwart and former interim party national director who recently left the party to work for the Douglas-Coldwell Foundation.
"It was about time this race really got started," Belanger told The Tyee Monday.
He said the three candidates have already been using key progressive issues to "put their stamp" on the race and he expects the energy file — and particularly pipelines — to play a role in the race.
Caron, first elected as an MP in 2011, is an economist from Rimouski, Que., who announced his candidacy in Gatineau, across the river from Ottawa, on Monday morning.
Caron stressed the need for a progressive and sustainable economy and says his first commitment is to push for a guaranteed basic income for Canadians.
Caron has also been fighting the Liberal government's proposed infrastructure bank, which he says is really just a plan to privatize public assets that will result in tolls and fees, especially for poorer communities.
Angus, an activist, author and musician who has represented Timmins-James Bay since 2004, launched his campaign at Toronto's famed Horseshoe Tavern Sunday.
Angus will be touring Canada speaking to party members as part of his promise to bring renewal after a disappointing 2015 election where it was relegated to third-party status.
Angus told the Toronto Star on the weekend that Indigenous issues would be a big part of his campaign.
Meanwhile Julian, a New Westminster native who represents part of the city in Parliament and has also lived in Quebec, has promised to push for 250,000 new housing units and to eliminate tuition fees for post-secondary education in his campaign.
Julian opposes pipelines and predicts a "healthy debate" among leadership candidates on the issue. The subject has been contentious in the party, largely due to the Alberta NDP's pro-pipeline stance.
Belanger said the candidates bring different strengths to the race — Caron for his economist's perspective, Angus for his working-class "punk rocker" background and Julian for his ability to organize.
The first debate is less than two weeks away and the leadership will be decided in October after mail and online voting.
Belanger said all the candidates must "hit the ground running" because of the late start to their campaigns, adding party members are glad to see the action.
"I think people were eager to see some movement," he said. "The previous eight months of the campaign left people puzzled about the lack of interest from the different candidates."
Belanger said the long delay before candidates entered the race was likely due to their concerns about being burned out by a long campaign. The NDP hasn't had a permanent leader since Tom Mulcair lost a vote on his leadership last April 10.
The first scheduled leadership debate March 12 forced candidates to commit publicly, Belanger said.
Prime Minister Justin Trudeau and the Liberals have been getting an easy ride due to the lack of permanent leaders for both the Conservatives and the New Democrats, he said.
"That gave a little more breathing room for the Liberals," Belanger said. "They didn't necessarily pay the price they should have paid for the different scandals, mismanagement and problems they encountered."
The NDP leadership field still may grow. Manitoba MP Niki Ashton and Jagmeet Singh, an Ontario MPP and the provincial party's deputy leader, are said to be considering leadership bids.