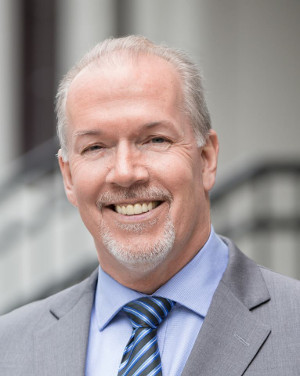 NDP opposition leader John Horgan reintroduced a bill in the British Columbia legislature aimed at making hydro rates cheaper for people with low incomes.
"Everybody in British Columbia has been hit hard by the increasing cost of electricity, both residents and businesses," Horgan said while introducing the bill.
"Some of those most affected are hard-working British Columbians," he said. "Low wage growth means many of our struggling citizens are making the choice between keeping the lights on or buying groceries."
The bill, which is not supported by the government and unlikely to pass, is similar to one Horgan put forward in 2014. It would allow the British Columbia Utilities Commission, which regulates BC Hydro and other utilities, to require a utility to provide a "lifeline rate" to low-income households.
Since 2001, when the BC Liberals took office, BC Hydro rates have gone up 74 per cent, Horgan said. "The government needs to... protect the interests of ordinary British Columbians who are desperately in need of financial help."
BC Hydro rates are set to go up by four per cent on April 1.
170,000 families affected
The NDP bill comes as the B.C. Public Interest Advocacy Centre is preparing on behalf of seven anti-poverty and seniors' groups to submit a rate affordability proposal in April as part of BC Hydro's ongoing rate design review in front of the utilities commission.
Launched by the provincial government, the review's mandate includes evaluating the current rate structures to ensure they are fair.
The proposal would make bills more affordable for some 170,000 families in B.C. who live below the low-income cut-offs set by Statistics Canada, around $32,000 a year for a family of four depending on what size community they live in.
The advocacy centre's proposal would set a "lifeline rate" where low-income customers would have the basic charge of 17.64 cents per day waived and would pay a lower-than-normal rate of five cents per kilowatt hour for the first 250 kilowatt hours of electricity they use each month.
It would also provide up to $500 in emergency assistance to low-income households who have overdue BC Hydro payments and are facing disconnection. And it would create new terms and conditions for low-income customers, such as waiving security deposits, making more flexible payment arrangements, eliminating late payment fees, and excusing reconnection fees.
Both the minister responsible, Bill Bennett, and BC Hydro president and CEO Jessica McDonald responded to questions from The Tyee about affordability by saying B.C. already has the third lowest rates for electricity in North America.
"Our view is the rates being the third lowest in North America are already affordable," Bennett said. "How low do they need to be before someone says they're affordable? If you factor in inflation, people are paying the same thing for electricity in 2016 that they were paying in the 1990s. That sounds affordable to me."
Minister out of touch: NDP
Talking to reporters in a legislature hallway, Horgan said that Bennett and McDonald are out of touch with the financial struggle many families face.
"I've been travelling around B.C. talking to people about affordability," Horgan said. "Jessica McDonald makes $500,000 a year. It's not an issue for her. Bill Bennett makes heading towards $200,000 a year. It's not an issue for him. People on fixed incomes are being squeezed."
He drew a contrast with a recent government announcement that mining companies wrestling with low commodity prices can defer paying up to 75 per cent of their electricity bills for up to two years. The companies would later have to repay the amounts, plus interest at between about eight and 12 per cent.
"If [Bennett and McDonald] are so out of touch that they don't understand that they should be offering the same relief to citizens that they're offering to mining companies, then I can't wait until the next election," Horgan said. "I will put my proposal to give a break to regular people up against giving a break to Mount Polley [mine] and other mining interests any day of the week."
Sarah Khan, a lawyer with the advocacy centre, said in an email that a bill like the one the NDP put forward would explicitly give the utilities commission the jurisdiction to order BC Hydro to implement bill affordability programs. "It certainly would help if the government was to pass such a bill."