When I knocked on the floor-to-ceiling door of Murray Corren's Fairview condo, "The Dames" were first to greet me.
Two small white terriers, Maggie and Judi -- after British dames and actresses Maggie Smith and Judi Dench -- are Corren's sole companions at home. They're a good match for a man whose short stature, greying hair and kindly smile can hide his scrappy nature and seemingly endless energy to fight for queer rights, no matter how many hurdles in his way. A real dog with a bone.
For those of you who are like me -- too young, too East Coast, too hetero -- you might be forgiven for not knowing who Murray Corren is. In fact, even those who know the 70-year-old activist's name might not recognize him as it's been years since the news spotlight shone brightly in his direction.
But boy, were those lights bright: Corren, born and raised in Newfoundland and Labrador but a B.C. resident since 1988, was one of the key players in the provincial and national fight for adoptive, marriage and education rights for lesbian, gay, bisexual, trans, two-spirited and queer people (LGBTQ2S+) for over 25 years.
Canadians can be a bit smug when we hear news of gay marriage laws passing elsewhere -- after all we were the fourth country to recognize that right. But that was only 11 years ago, and it was pretty hard to be queer in B.C. when Corren, along with his partner (later husband) Peter began their rights battle, receiving national and international attention.
Earlier this month The Tyee sat down with Corren, who recently returned to B.C. after five years in Mexico following Peter's death in 2009. Now back in Vancouver raising refugee funds, Corren reflected on his remarkable winning streak, and where he thinks the fight should focus next.
The conversation was epic in its length -- over three hours long -- fitting for an activist many consider a hero. Our conversation has been condensed and paraphrased in parts to keep you up to speed.
After a chance meeting at a British gay club on Sunday, July 11, 1971, Murray Warren and Peter Cook [they later amalgamated their surnames into "Corren"] moved in together within a week and never looked back. They spent the next 17 years living in London, Yorkshire and South Africa, where they owned a floristry business, before moving to Port Moody, B.C. in 1988. It was soon after this move that Murray, a primary teacher in the Coquitlam district, and Peter decided to adopt a child together.
Murray Corren: "Initially, after doing some research, we decided we would like to try to adopt an infant internationally. We quickly realized -- we're talking about the early '90s now -- that it was very unlikely that two openly gay men would be allowed to adopt an infant from another country. So then we thought, 'What about a special needs child?' [But we] realized at that time that gay couples couldn't adopt jointly in British Columbia. One of you could become the adoptive parent and another could become a legal guardian. And we said 'Oh no, no! We're not accepting this at all.' [Laughs]."
The couple discovered the BC Adoptive Parents Association, who welcomed the prospective adoptees with open arms. In 1993 Murray was elected to the association's executive board, and the executive director chose Murray to act as a liaison with the provincial government on adoption eligibility issues.
MC: "It just so happened that year the NDP government was revising the Adoption Act because it hadn't been looked at since the 1950s. And of course back [then] when children were adopted they just disappeared into an adoptive family and the child had no information or connection with birth parents, and the birth parents had no connection with the child. I think a lot of the pressure to update the act had come from the BC Adoptive Parents Association around open adoptions.
"I was invited by the department of social services to go to Victoria on a number of occasions to talk with them about the issue of the eligibility to adopt and the question around one parent becoming the adoptive parent and the other a legal guardian. Then [in 1995] various people who had been involved in helping the government re-draft the Adoption Act were called over to what's called a lock-up with Social Services Minister Joy MacPhail where they basically give you a couple of hours before [the act] becomes public to have a look at it.
"We're thinking 'Oh God, here we are this gay couple now and there are going to be media there and they're going to be asking us about this whole eligibility to adopt' -- because we didn't know, really, what was going to be in the act. We could have been outed by the media. When we looked at the new act during the lockup, we went straight to the section on eligibility to adopt, and there it made it very clear that regardless of the marital status of two people, both would become the adoptive parent. Including same-sex couples... [Yet] nobody paid us the slightest bit of attention: all the attention was on the issue of open adoption."
B.C.'s new adoption law passed in 1996, one year after gay joint adoption was legalized in Ontario. After several failed attempts at special needs adoption, the Correns fostered 16-year-old Brent Power, a gay activist in his own right. The couple later legally adopted Power after he aged out of government care at 19.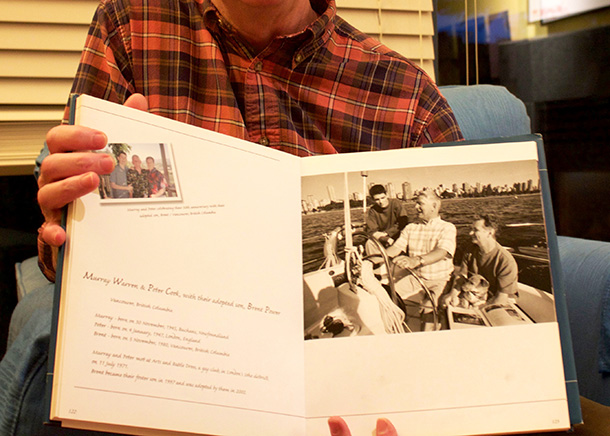 During the adoption fight Murray joined a small support group called GALE BC: The Gay and Lesbian Educators of British Columbia. Soon Murray and other GALE members push the group to support queer students, too.
MC: "At the time 'gay' was the ultimate insult, even in elementary schools. I knew of kids who I suspected were struggling with their identity and were facing uncomfortable situations with taunts from other kids. But I also knew that it was more than likely in high schools -- and in middle schools -- where it was really quite rampant.
"[GALE] came up with this ingenious idea: why don't each of us in our own separate districts put forward a resolution in our locals to go to the BCTF [Annual General Meeting in 1997] to call for a program to bring about the elimination of homophobia and heterosexism in the B.C. public school system? At that time 'program' had a very specific meaning: that there would be an actual program with substantial funding devoted to it, with staff devoted to it, and would involve the BCTF laying out some substantial money to have this program established and work."
Seven teachers were successful in having their district pass the same motion -- the first time in BCTF history so many different districts introduced the same motion.
MC: "Once it got to the BCTF that this resolution was coming from all of these separate districts, I think it really startled, surprised and concerned the executive. And they didn't know how to handle it. It was going to be, obviously, a very contentious and potentially catastrophic situation arising at the upcoming AGM [Annual General Meeting]. Eventually the AGM happened and there was all of these protests on the outside. And in the end, when it came to the floor, the BCTF executive brought an amendment to the resolution: [they] would establish a committee to advise the BCTF over the next year on how to proceed. Which is what they did. I eventually was appointed by the BCTF to a committee at the Canadian Teachers' Federation in Ottawa to work with [them] around this issue nationwide."
The same year, GALE member James Chamberlain, a Surrey kindergarten teacher, wanted to use three books featuring same-sex parents in the class' unit on families. District protocol at the time was to get board approval for the books. Murray made a presentation to the board in favour of the books, with media in attendance. The Surrey school board ultimately rejected the books.
MC: "The decision meeting came and it was a zoo. Because the board rejected the three books. [The board said] it was an age-inappropriate concept for children at the kindergarten-Grade 1 level -- and a frightening prospect for children at that age level -- to know that there are children who have two moms or two dads. But of course we all know what was behind it: The Surrey school board at that time had been taken over by all of these Christian evangelicals."
Lawyer Joe Arvay, who represented Little Sisters bookstore in their case against Canada Customs, offered to represent the teachers in a case against the board in BC Supreme Court. The Correns and Chamberlain accepted the offer, fundraising to cover legal costs.
MC: "Joe filed a case at the BC Supreme Court alleging that the board had illegally denied children access to these books, and that the board's reasoning that they were age inappropriate and would frighten children was spurious [and] was based on religious ideology. This went on for three years, I think, and affidavits were coming in from both sides: personal affidavits from people like myself, James [Chamberlain], parents in James' classroom, expert witnesses, psychologists, and the board was coming up with their witnesses. And we got to the Supreme Court of British Columbia and the case ran over, I think it was seven days.
"Madam Justice Mary Saunders found in our favour and required the board to pay our [legal] expenses. Probably about $150,000 or $200,000. And then the board appealed at the Appeal Court level. And when the Appeal Court decision came down, they basically said 'Both of you are at fault and neither of you is at fault.' And therefore the award that had been given at the lower court level, the money must now be given back to the Surrey school board. And Peter and I had basically put our house on the line for this. So now we're left with this dilemma: 'What are we going to do? We're going to lose our house!'"
The case moved on to the Supreme Court of Canada in June 2002, and the court decided in the teachers' favour on Dec. 20, 2002.
MC: "It's seven o'clock in the morning and I know the decision is coming down at 10 [a.m. Eastern time]. And I've brought up the Supreme Court of Canada's website and I'm clicking refresh, refresh, refresh, trying to find out what the decision is [laughs]. And nothing's happening, and suddenly the phone rings. And I pick it up and it's a reporter from the CBC and she says, 'What do you think of the decision?' And I said, 'What decision?' and she said, 'You won!' [Laughs].
"I just dropped the phone and Peter was in the bedroom and I just flung him onto the bed and said, 'Look, we've won!' [Laughs] And we were both crying. It was really terribly emotional. I think that whole struggle, from beginning to end, was over five years of struggle. Maybe seven years. But we got there."
During the Surrey school board fight the Correns were in the process of taking the Ministry of Education to the BC Human Rights Tribunal for its failure to include LGBTQ2S+ people and their issues in the K-12 curriculum. But once they Surrey case ended, they weren't satisfied with just one fight -- the Correns decided to push for their right to marry.
MC: "The [provincial] policy said a marriage licence will be issued to a man and a woman who were applying to get a licence to marry. We're looking at federal law, as well, [which] at the time said 'Marriage is available to two persons who are not related by blood or adoption.' So it's very vague; it's common law from England. It makes no mention of a man and a woman. So we're trying to find out from the provincial government on what basis have they formulated this policy that it has to be a man and a woman -- they can't give us a satisfactory answer.
"And so we go to [human rights lawyer] barb findlay and say, 'barb, I think we need to file a human rights complaint.' [Laughs]. Eventually that human rights complaint morphs into the legal challenge by [three] couples here in British Columbia and [five] couples in Ontario challenging the federal government for the right to marry. Eventually it worked out that we did get the right to legally marry."
After the Ontario Court of Appeal ruled on June 10, 2003 that Canada's marriage laws violated the Charter of Rights and Freedoms by excluding gay couples, the British Columbia Court of Appeal followed suit a month later. Peter and Murray married in their condo's patio garden on Sunday, July 11, 2004 -- the 33rd anniversary of the day they first met. The federal Civil Marriage Act formalizing national same-sex marriage rights received royal assent on July 20, 2005.
In 2006 the Correns reached a settlement with the B.C. government regarding the lack of LGBTQ2S+ representation in the curriculum. What came to be known as The Corren Agreement promised, in consultation with the Correns, to limit students' ability to opt out of all but a handful of classes because of "controversial" subject matter; review the K-12 curriculum to ensure it included positive recognition of LGBTQ2S+ people; and create the Social Justice 12 elective, which deals with social justice issues including gender identity and sexuality.
Now living in Vancouver again after five years in Mexico, Corren has returned to his activist roots.
MC: "I'm working with A Circle of Hope to bring a young, gay Syrian man who's now in Turkey to Canada. We're fundraising to bring him over, we're in contact with him, and in a month and a half we've raised over $14,000 [goal is $20,000]. And we're working with Rainbow Refugees, which is an organization that assists queer people who are refugees to come to Canada, and once they're here, to support them.
"It's no longer an issue for the vast majority of Canadians about whether two people have a right to marry or not. As far as comparing us to the United States, we've moved light years forward. But there's always issues: there's still people contracting HIV; the whole question of rights for trans people; and so on. I think it's always an ongoing process, but I never, ever believed 15 years ago that we would be where we are today.
"But that's no reason to be complacent. I still believe hard-fought rights need to be hard-fought protected, as well."