Diane MacDonald's livelihood depends on transit. As a film production assistant, MacDonald never knows where she'll be working from one day to the next. But it's usually too far to walk or bike from her Vancouver apartment.
MacDonald doesn't have a car, so she relies on transit to make early morning set calls. To make one 6:30 a.m. start time in Coquitlam from an apartment she had at Kingsway and 12th, she recalls, "I bicycled down to Main Street Station, took the SkyTrain out to [Lougheed Town Centre], and then they had an early morning bus that got me most of the way there. Then a 10-minute bicycle ride."
From her new place in the Strathcona neighbourhood, MacDonald can bike to the Main Street station in less than five minutes, 10 minutes by foot. The rest of her journey is a combination of trains and buses, book-ended with short trips by bicycle or cab.
Fortunately for MacDonald, who will make about $25,000 this year, she has an affordable apartment near transit. But for many working people in her income bracket, affordable housing in those prized locations is endangered -- though pressure is growing on municipalities to increase residential density near main transit lines.
Rents may be cheaper the further you go into the suburbs, but higher transit costs can still make those areas the most expensive places to live for people working in Vancouver.
The rent-versus-transit trade-off is not unique to Vancouver. Our new Liberal federal government promised to invest $20 billion in transit and affordable housing over the next decade during the election campaign. That's on top of a new infrastructure bank to provide low-cost financing for major new projects like transit lines.
But fixing housing and updating aging infrastructure won't happen overnight. People need affordable housing near transit routes to work right now.
What could Ottawa do sooner?
Early in November, Tyee Solutions Society and SFU Public Square invited a group of urban planners, academics, non-profit housing providers, and municipal politicians to answer that question. The one-day workshop produced several potential housing solutions, but one in particular was aimed directly at working Canadians like MacDonald: make federal financing for transit conditional on cities zoning for sufficient affordable housing near new transit projects like light rail transit or an express bus route.
The 30/30/30 plan
It's called the 30/30/30 plan for short, and it works like this: the feds foot 30 per cent of the bill for a major transit project on the condition that the municipalities involved agree to pre-zone everything within a kilometre of the project to require that 30 per cent of all new housing units built there cost no more than 30 per cent of the region's median income to occupy.
Ideally, non-profit housing organizations would control many units in those zones, ensuring they remain affordable in perpetuity. Owning or controlling the units would also help those non-profits build assets they could leverage to fund future affordable housing.
The goal is to align housing and transit together, said New Westminster Mayor Jonathan Coté, one of the people behind the idea. "I don't think you can talk about affordable housing unless you're also talking about transportation. For most households, transportation is the second biggest cost that we have," said Coté, right after housing itself.
"Given that they're both significant priorities of the new federal government," Coté added, "I actually think that there might be some uptake, once we've done a bit of our legwork to advance the idea."
Transit for those who need it least
Metro Vancouver's Regional Growth Strategy, agreed to by all its member municipalities in 2011, calls for more density near transit hubs and urban centres, to reduce reliance on cars, promote neighbourhood walkability, and house the one million newcomers expected in the Lower Mainland by 2040.
But densification has come at a cost, notably to existing economical accommodation like the low-rises near Burnaby's Metrotown. Both an urban centre and a major transit hub, Metrotown is where the city has issued a majority of over 300 demolition permits for rental units since 2012, making room for market-rate condo and apartment towers.
"We've built a lot more transit in the past 20 years than we have social housing," said Tony Roy, CEO of the BC Non-Profit Housing Association. No B.C. provincial or municipal government, he adds, has ever required that new development around transit include social, affordable, or even purpose-built rental housing.
Take the still-under-construction Evergreen Line SkyTrain that ends in Coquitlam. That city is already the region's least affordable rental market for single moms, according to the housing association.
With the new SkyTrain line, Roy said, "There is no increase, and there may in fact be a loss, in the private sector purpose-built rental housing that's there."
Roy finds an irony in the resulting effect: the people who can afford to live near transit are the least likely to depend on it. "You see massive increases in home ownership along the transit line," Roy observed, "and to a large extent the people who can afford to own a home can afford a car, and the people who can [only] afford to live in social housing, can't."
Developers win, then negotiate
A few Metro cities, including Vancouver proper, do already require residential developers to include community amenities like affordable units in new projects. The case-by-case process known as 'site' or 'spot' re-zoning allows developers to negotiate what amenities they will provide, including affordable housing, from a position of strength, on a project by project basis. Developers then have some ability to negotiate the amenities they include with the city prior to the project's public hearing.
And it's been hard to enforce, because developers can decide the amount of affordable housing.
Take Vancouver's Olympic Village. Glowing initial promises that more than 700 of its 1,100 housing units would eventually become social housing were downsized to an eventual 126 units.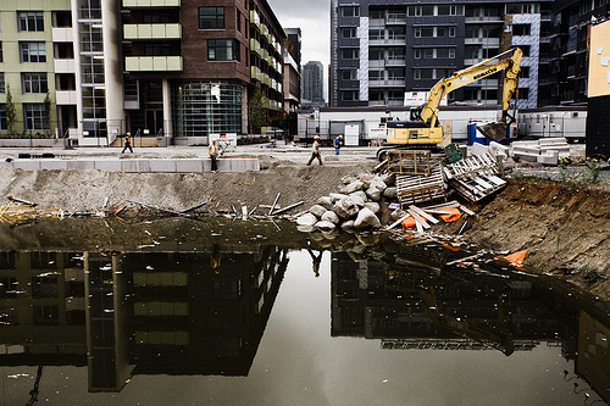 To avoid the same thing happening again and again, planners behind the 30/30/30 idea want metro municipalities to zone land near transit for a minimum percentage of affordable housing long before any developer presents a project, or gets city approval. That way any project proposed for the region has to factor in the cost of the affordable housing required in that area
Follow the 'TOAH'
Of course, forcing developers to pass on those costs could push market prices for accommodation even higher, or make those market units harder to sell. Even the threat of unsalable units may scare some developers away from such so-called "inclusionary-zoned" projects entirely.
To avoid that very problem, the San Francisco-centred Bay Area region developed a "transit oriented affordable housing fund," better known as TOAH, to help finance affordable housing without pushing market housing prices higher.
Encompassing nine counties and home to seven million people, the Bay Area has some of the most expensive real estate in the United States. Half its residents pay more than 30 per cent of their income for housing, compared to one-third of all Americans; and households making $20,000 to $50,000 annually spend 63 per cent of their budgets on essential transit and housing, the most in the country.
U.S. federal funds for housing were shrinking back in 2011. The state of California hadn't invested in affordable housing in five years. As a result, non-profit housing developers that relied on those sources couldn't afford to buy land in the Bay Area and still keep housing built on it affordable.
In the absence of senior government money, the Great Communities Collaborative, a coalition of Bay Area non-profits, partnered with the Metropolitan Transportation Commission and the Association of Bay Area Governments to create a $50 million transit-oriented affordable housing fund. Big banks like Citi and Morgan Stanley supplied 80 per cent of the seed financing.
TOAH lends money to non-profit developers to build housing near transit projects, but works with landers to provide breaks like "lower interest rates, potentially lower fees, longer [lease] terms on land," said Doug Johnson at the Metropolitan Transportation Commission. "These are all things that have a lot of value for non-profit developers."
TOAH has so far green-lit non-profit agencies to build 917 housing units -- 893 of them designated affordable. But persistent state and federal budget austerity has hobbled those agencies' efforts to secure additional funding, leaving two-thirds of the projects languishing on the drawing board.
Provinces can play, too
The details on Canada's proposed infrastructure bank have yet to be revealed, but Metro Vancouver senior regional planner Raymond Kan envisions a scaled-up version of the TOAH.
But provinces and cities will be expected to do their share, and most cities don't have a lot of spare cash. What they do have is land.
"The land piece is usually one of the largest costs," said Kan, one planner behind the 30/30/30 concept, "and if land is provided free, that's a bonus." Cities can also lower other development costs, reducing parking space requirements for example (and why not, near transit) or expedite project approvals.
And the provinces? They could also contribute land. Or make their own transit investments conditional on affordable housing in the same way as the suggested federal infrastructure mandate.
What's important, the plan's backers say, is getting Ottawa to set standards for integrating affordable housing and transit across the country.
"How you actually go about doing it, with various tools, we can take time and design them," says Kan. "As long as there's a basic principle around it, I think that'll be a huge step forward."