Dennis McDonald rented in Coquitlam for less than a year, but his area meant a lot to him. It was close to amenities and the Lougheed SkyTrain Station. Neighbours were welcoming and colourful: large families, new immigrants, seniors with pets.
That's why he represented them at city hall when they learned all tenants had to leave.
With Metro Vancouver municipalities looking to house growing populations near transit hubs, Burquitlam and other up-and-coming areas are due for development. The problem is, older buildings with affordable housing like McDonald's have been targeted for demolition.
McDonald started a tenants' committee to show city hall and developer BlueSky Properties the "human cord."
"I wanted to show them just who this is affecting, real time," said McDonald. "These are people that have been living their lives in the same place for years."
But the efforts have been too big a burden for McDonald, who felt the stress caused "an erosion of the community."
McDonald moved out last fall. His two-bedroom Burquitlam unit cost $950 a month to rent. Now he's renting a house on an acre-large property for $1,400. But the Maple Ridge location is nowhere near the walkable Burquitlam transit hub he knew.
The rezoning of McDonald's former Burquitlam home has passed its third reading at Coquitlam City Hall and is on its way to a final one. A station along the new Evergreen Line is making the area even hotter.
Craig Jones is a PhD geography student at UBC who recently completed a report on transit-oriented development endangering cheap rentals. Jones is for density near transit, but stresses we shouldn't forget who's living there.
"It's a really problematic thing, to demolish [rental housing] without having something take its place," said Jones.
Other affordable rental housing near transit hubs in Vancouver and Burnaby are also beginning to vanish. Renter makeup is similar between them: low-income folks, families, new immigrants, seniors. Most are highly dependent on public transit and walking-distance to amenities.
Some new developments do have rental units, but it's a far cry from what many low-income renters can afford.
Bye-bye Burnaby?
In Burnaby, 12 rental low-rises with 275 units were demolished since 2010 and replaced with six condo towers -- a few still under construction.
Even at low estimate, Burnaby's planning and development committee chair Colleen Jordan said she expects a net gain of over 130 rental units.
But families like Sherry Chen's can't afford to rent the new units. The renters of their low-rise near Metrotown are expected to vacate by the end of February 2016.
Chen and her husband, an electrician, immigrated from the U.K. At one point, they considered moving back.
"We never knew the house prices [here] were so expensive!" said Chen.
They pay $800 a month for a single-bedroom unit, which they share with two toddler children. Chen scouted out possible new homes, but found nothing as convenient or affordable.
Chen is a member of the Metrotown Residents' Association, headed by Rick McGowan, who lives in the area and is concerned about the amount of development. The association and groups Social Housing Alliance and ACORN want city hall to place a moratorium on demolishing rental low-rises until a solution can be found for low-income renters.
McGowan doesn't want to see renters in his neighbourhood displaced. Metrotown is changing, but he hopes it can be more inclusive.
"I think Metrotown could develop into a very interesting, walkable, cycleable, sustainable place to live," said McGowan.
Cambie in the wind
It's a similar story in Vancouver as developments crowd the hot thoroughfare at Cambie and Marine Drive.
Jillian Skeet lives in Marine Gardens, a townhouse community built for the 1976 UN Habitat Forum and lauded as an exemplary model of affordable family housing.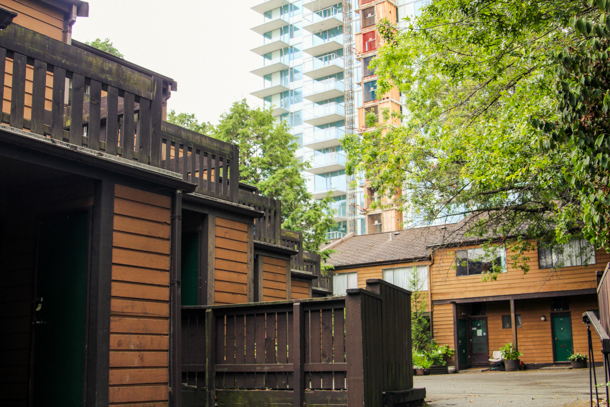 "The world was here," said Skeet, who recalls the diversity of neighbours: aboriginals, South Americans, Chinese, Filipinos, Russians.
A rezoning application by owner-developer Concord Pacific was approved by city council in February. Residents like Skeet were told then that demolition would happen between 18 to 24 months.
Skeet has been a major voice for residents for about seven years at city meetings, but sees a neighbourhood built for families like hers changing fast. She estimates three-quarters of Marine Gardens' 70 units are now empty. Two condo towers will replace them.
"I don't feel like Vancouver is my city anymore," said Skeet. "I've been made to feel very unwelcome here."