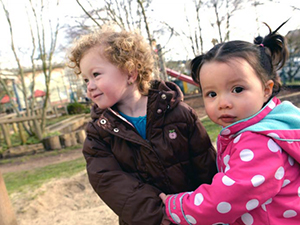 B.C.'s child poverty numbers barely changed between 2012 and 2013 according to the 2015 Child Poverty Report Card, released today by First Call B.C. Child and Youth Advocacy Coalition.
Just like in 2012, one in five B.C. children lived in poverty in 2013 -- the most recent data available -- with single parent, Aboriginal, and immigrant families more likely to be poor. Again the province's child poverty numbers were higher than the national child poverty average, and B.C.'s overall poverty rate.
"We should worry about that," said Adrienne Montani, provincial coordinator for First Call, adding child poverty can have a lifelong negative impact on kids' health. "That's a real black mark on our report card."
What has changed since last year's report is a loss of confidence municipalities previously had in the B.C. government's local poverty reduction strategies.
Three years ago the Ministry of Children and Family Development, in partnership with the Union of BC Municipalities (UBCM), gave funding to seven communities for a part-time family consultant to connect low-income people with pre-existing social services in their communities.
From 2012 until June 2015, family consultants served 96 families in B.C. Yet First Call estimates over 700,000 British Columbians lived in poverty in 2013.
Despite plans to expand to another 40 communities by 2014-15, three years later the program reaches just six communities -- Prince George has dropped out -- and the UBCM has withdrawn support. Instead, the union is calling for a B.C.-wide plan.
First Call has been calling for a province-wide poverty reduction plan since at least 2010 and this year is no different. But the group says the timeline for reducing child poverty is getting tight. First Call wants child poverty rates down to seven per cent by 2020, and has 21 recommendations to get us there -- ranging from increasing income assistance, to introducing $10-a-day childcare, and implementing a living wage for employees and contractors at all levels of government.
'No evidence' provincial plan helps: minister
Even in communities where the family consultants are appreciated, like Stewart, a community of less than 500 people in northwest B.C., there is a call for a province-wide poverty reduction plan.
"It's a commitment and this is what I'd like to see, commitment from the provincial government to this issue," said Stewart's mayor Galina Durant, whose community opened its only food bank just a few years ago.
First Call's report card highlights a 28.3 per cent child poverty rate in Stewart's Kitimat-Stikine regional district, much higher than the 19.6 per cent rate in Metro Vancouver. But the services communities would need to bring them out of poverty vary, too, which is what Durant liked about the local plans and would like to see in a B.C.-wide plan.
"Sometimes what you target in the big communities, it's not relevant to us. Like homelessness," she said, "we don't have homelessness here. But we have other issues."
Children and Family Development Minister Stephanie Cadieux was unavailable for comment on the report. Instead, the province sent The Tyee an emailed statement saying the 0.2 per cent reduction in child poverty rates between 2012-13 "is proof our measures are working. We have a plan, and our plan is putting money back into the pockets of families across British Columbia."*
The province has repeatedly pointed to the higher rates of poverty in some provinces with poverty reduction strategies as evidence the province-wide plans don't work.
"When you look across the country at what provinces have put in place in terms of legislated poverty plans, there is no evidence that having one helps," Stephanie Cadieux, minister of child and family development, told The Tyee last month.
But the government's all-party Select Standing Committee on Finance and Government Services, made up of a majority Liberal MLAs, disagrees. They've thrown their support behind a province-wide plan for three years in a row now.
Quebec leads the way: advocate
First Call's Montani says not all poverty plans are created equal and B.C. should be looking to provinces like Quebec, Ontario, and Newfoundland and Labrador with legislated poverty plans, requiring future governments to stick to them.
"They all have better records than B.C.," she said. While Ontario is just above the national average at 20 per cent, Newfoundland's child poverty rate is 18.7 per cent, and Quebec's is the lowest in the country at 14.8 per cent.
Montani added other provinces' failure to reduce child poverty is no excuse for inaction. Demographic shifts and local economic challenges can play a role, she said, which explains why a poverty plan alone isn't helping some provinces.
"That's no logical reason why B.C. shouldn't look at our own circumstances, craft a plan, and say we can do this," she said.
NDP social development critic Michelle Mungall says she's introduced a bill calling on government to create a provincial plan three times since 2013, but government has never debated it. But there's an even easier step government could take as early as tomorrow to reduce child poverty, she says.
"They have a cabinet meeting tomorrow, and with the stroke of the pen in the regulations for the employment and income assistance regulations, they could end the maternity and parental leave clawback," Mungall said.
Individuals receiving disability assistance are entitled to earn $800 to $1,000 per month depending on their family size. But if they take maternity or parental leave from that part-time work and collect employment insurance B.C. claws back an equivalent amount from their disability payments, leaving parents without that extra income.
The federal government has also recently announced their intention to create a national poverty plan. But it would happen in conjunction with provincial plans, and without one in B.C. to address low incomes and income assistance rates, high childcare costs, and housing unaffordability, there's only so much a federal plan can achieve on its own.
Yet despite having their recommendations largely ignored since reporting on child poverty started in the mid-1990s, First Call remains optimistic that increasing public pressure for a province-wide plan will change government's mind. Especially since we're less than two years away from a provincial election.
"It's costing them a lot more to let children stay in poverty, grow up in poverty," Montani said. "If we want to bring some of those social, health, and other costs down, we better get on this."
With files from Andrew MacLeod.

*Updated Nov. 24 at 4:00 p.m.