Vancouverites love to gripe about real estate prices, arguably with good cause. But we may be ignoring solutions to our complaints that are sometimes right under our noses.
Just look two hours north -- to the resort town of Whistler.
Twenty years ago the luxury tourist destination, an economic powerhouse for the province, faced a housing crisis. Trapped in a mountain valley, available land dwindled, real estate prices skyrocketed, and local employees wondered if they could afford to live there at all.
Sound familiar? Vancouver's escalating crisis today is all too similar, with wealthy buyers and scarce land pushing more and more ordinary working families out of the city altogether.
As often from crisis, opportunities emerged in Whistler. In 1997 the municipality created a new public Whistler Housing Authority. Its first task: increase rental stock.
But after a decade, the agency shifted gears. The community didn't just need housing -- it was also grappling with a seasonal, transient workforce that made growing a vibrant local community difficult.
"We wanted to target families who wanted to put down their roots into the community," said Marla Zucht, general manager of the authority. "So we changed the focus to affordable homeownership.
"We needed to provide employees with an opportunity to get into homeownership. The notion of building equity and having your home as your nest egg enables people to have greater security down the road."
In response, Whistler Housing Authority began selling homes -- with a twist. Buyers accept permanent covenants on their property title that limit their resale to people employed or retired in Whistler, and which tie its eventual resale price to increases in Canada's core Consumer Price Index, not the private market. That ensures the units stay affordable and eliminates real estate speculation. The authority has put households into more than 1,000 homes with such covenants so far.
The authority still manages rental units -- which it also protects with restrictive covenants to keep prices in check -- and is exploring whether alternative arrangements like co-housing may be in its future, too. But thanks to its homeownership program, Zucht believes today's Whistler is a less transient, more authentic and vibrant community in which to live.
A night of ideas
That Vancouver could take housing cues from the comparatively pocket-sized resort was just one promising idea for adequately housing every citizen that emerged from a day-long, by-invitation meeting of expert volunteers on Nov. 3.
Organized by Tyee Solutions Society in partnership with Simon Fraser University's Public Square, SFU Urban Studies, SFU Public Policy, and the Canadian Housing and Renewal Association, the event drew over 70 housing professionals including planners, architects, activists, municipal officials and even a mayor, to workshop tangible, pragmatic solutions to the housing crisis.
The event followed "Housing in the City: Beyond the Headlines," a public panel discussion the evening before that also aired solutions to Vancouver's housing woes.
One thing became clear from both: if Canada's least-affordable city wants to house its citizens in secure, suitable digs, there's no shortage of options.
"There's a lot that every level of government can do to create affordable housing," suggested Victoria city councillor Jeremy Loveday. "All it really takes is the political will, and therefore the money, to do it. And making it a priority above other things -- like above profits, for example."
The Victoria councillor thinks municipalities could, like Whistler, step up to bigger roles, but will need help from senior levels of government to do it. There are a lot of "small concrete things" the new Liberal federal government could do, he added, but "the biggest thing is to put money up."
Loveday notes that the Liberals made "vague promises" during the election campaign about affordable housing investment. Now he urges Canadian municipalities to help focus those commitments.
"If we all, cities and housing-providers, amplify our voices quickly," Loveday argued, their activism could "make this an emerging priority for the new government."
Should cities also be concerned about property speculation and foreign ownership? Loveday thinks no: municipalities need more regulatory teeth, he says, but should be targeting vacant units, not foreign buyers.
UBC geographer David Ley disagrees. He told his public event audience that regulatory fixes aimed at cooling the high end of the housing market -- notably through taxes -- would make housing more affordable all the way down the income spectrum.
Ley downplayed fears expressed by the provincial government that any foreign ownership or speculation tax that contained real estate prices would endanger residents' savings.
"[That's] impossible to predict with any precision," Ley countered, "but the experience is that there is enough demand at the top end that you may cool it, there may even be a short-term drop in the market -- a small drop -- but it's not going to go away.
"And you can always adjust the tax level if you feel the effects are more bruising than had been anticipated or needed. This is the advantage of taxation; you can move the bar up and down."
Rent now, own down the road
Another answer, even in high-priced Vancouver, could come in the form of rent-to-own purchases like those that are already commonplace for vehicles.
Such arrangements would allow would-be purchasers to hurdle one of the biggest barriers to homeownership: raising the 15 to 20 per cent down payment on a house. Aspiring buyers would accumulate their down payment while living in their future home by paying a little extra on their rent, gradually building equity without the sting of needing upfront cash.
Several First Nations communities have demonstrated that rent-to-own works, said Gail Joe, a long-time First Nations housing consultant and board member of the Aboriginal Housing Management Association. So why not try it elsewhere?
Every community has people who aren't able to handle a mortgage yet, but who could be. Joe believes approaches like rent-to-own can house people everywhere, in ways that would also help them better plan their finances and offer alternatives to traditional mortgages. "Absolutely, it will work anywhere," she argued.
Because rent-to-own is all in the financing, it has the added advantage that it doesn't require any changes to what type of housing we build.
When that was suggested during the public event, an audience member wanted to know why so many expert solutions seemed limited to today's existing housing types -- townhouses, condominium apartments, high-rises and single-family homes. Can't there be more creative options to the status quo?
As it turns out, maybe not.
"At some level, we believe there are only so many ways to build affordably," explained Robert Brown, president of Vancouver-based not-for-profit developer Catalyst Community Developments Society. As a result, "we tend to focus on efficiency, what people need to live in and the most cost-effective way we can build that, rather than completely reinventing how we lay out suites. The more cost-effective it is, the lower the rent we can charge."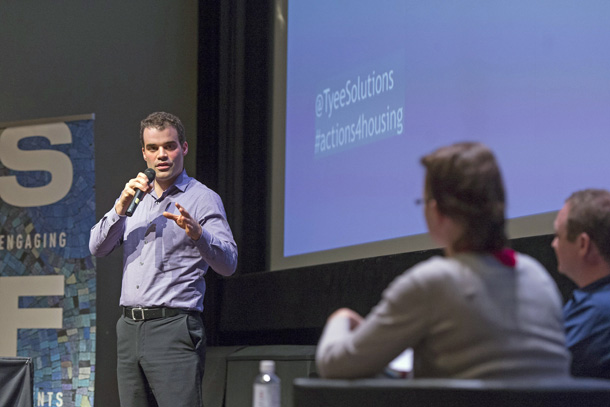 Rather than reinventing the four-walls-and-a-roof, Brown said his organization seeks to channel "social equity" into new developments that aren't about profit, but community well-being. It does that by forging partnerships with financial institutions, social equity investors, foundations and non-profits, and inviting real estate lenders to accept lower-than-market returns for a chance to help their community.
"The market is good at building efficiently, creating financing vehicles, and creative design," he said. "The key piece is about taking what we've learned from the market sector and applying it to deliver more affordability."
New housing styles aren't likely, agreed Metro Vancouver senior regional planner Tom Lancaster, who attended both days' events. "I think we're going to continue to build the same kinds of things we see right now," he said.
But B.C. is poised to issue a new building code. That's an opportunity, Lancaster said, to mandate designs and features that could make structures more adaptable as neighbourhood demographics change, populations age, and occupant needs evolve over time.
That could make a big difference to housing affordability later. It's generally far more cost-effective to repurpose and maintain older stock than tear it down and rebuild from scratch.
Creating 'together' space that doesn't push
Christine McLaren takes a different view. The research and partnership director for the organization Happy City thinks there's actually lots of room for more fundamental reforms to how we build.
Even in the footprints of existing housing -- in glass condo towers, low-rises or single family homes -- there may be ways to rethink public space and create interior layouts that encourage social interaction and lessen isolation, she said.
"There's this tension between wanting to be close but not wanting to feel crammed together," McLaren said. "How can we create spaces that minimize the feeling of being pushed together, and maximize the feeling of being together."
Participants and the sponsoring organizations hope to see ideas from the two Vancouver events find momentum in the walk-up to the first Parliament of a new government in Ottawa.
"These kinds of forums are great incubators for those discussions to get the wheels turning," Whistler's Marla Zucht said of the two events. "They're important to sharing ideas, fuelling and reinforcing the need for action, and strategizing to create more affordable, accessible housing for communities."
Summary reports highlighting proposed housing solutions will be communicated to the housing and non-profit sector and to different levels of government, including Canada's new federal administration.
Plainly, while housing that's affordable, suitable and secure may be increasingly scarce for many Vancouver residents, there's no scarcity when it comes to ideas for how we could change that in the life of this new government.
With files from Katie Hyslop.