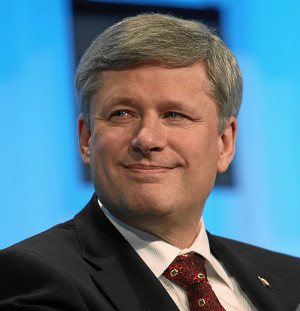 As if trying to scamper across a frozen pond before falling through expanding cracks in the ice beneath him, Stephen Harper leads his party into the last stretch of the campaign. Those cracks are fissures in the Conservative base.
Another one gaped into view last week when the head of Canada's National Firearms Association went public with his group's opposition to Bill C-51, the Anti-Terrorism Act, which expands the government's powers to spy on the citizenry in the name of anti-terrorism.
Sheldon Clare was ready to testify against the bill on behalf of the NFA, he claims, until the Conservatives offered to amend other legislation regarding firearms. He ducked the session, but then the Conservatives backed out of the deal, Clare said. Now he is running as an independent in the B.C. riding of Cariboo-Prince George.
The sound of ice cracking seemed to grow louder last week as Clare told the Toronto Star of his disillusionment:
"I found that the Conservative government is not the friend of firearms owners despite what they're claiming; they've had ample opportunity to make a lot of changes, they have not done so; they pay lip service to this part of their so-called base, and when people tell you 'you have no one else to vote for so suck it up,' that's not what works well for me. I don't like being manipulated."
A Conservative spokesperson said Clare's account is "baseless." But the NFA joins other potential Tory stalwarts who've recoiled at Bill C-51's proposed intrusion into private citizens' affairs.
Connie Fournier did show up before a parliamentary hearing to speak out against the Anti-Terrorism Act; she testified on the same day Clare was scheduled to. She said her concerns fell on deaf ears, and that's been the mark of Harper's Conservatives.
A winner of a Queen's Diamond Jubilee Medal for promoting free speech, Fournier runs the controversial right-wing Internet forum Free Dominion and recently published Betrayed: Stephen Harper's war on principled conservatism.
"All the people who worked to get Harper into government are disappointed," Fournier said. "He's been in for nine years, and he took that opportunity and he squandered it."
Built on a vision of Reform
Fournier speaks from personal experience. She was an early organizer for the Reform Party, the populist rebellion coming out of Western Canada in the 1980s determined to end what it saw as decades of patronage, opacity and wasted tax dollars in the capital, Ottawa.
Harper was a key strategist in building the Reform Party's base of social conservatives and haters of big government. What he helped foment, he then welded with Canada's less-zealous, business establishment friendly Progressive Conservatives in 2003 to form the modern Conservative Party of Canada.
The Harper-led coalition held for 12 years as Canada's more progressive parties split the left-leaning vote. The newly minted Conservatives gained a minority government in 2006 and, in 2011, a majority mandate, grabbing 39 per cent of the overall vote.
Fournier sighed while recalling the ideals that energized Reformers. "We really were trying to build a party that was accountable to the grassroots," she said. "We got the exact opposite."
Harper's seven deficits since 2006, Canada's new recession, and a lack of government transparency and the accumulation of Conservative scandals are some of the main complaints Fournier said she hears among past Reformers.
Moral issues
The schisms extend to social conservatives. Some are frustrated that Harper never gambled on trying to legislate against gay rights or abortion.
Randy White, the retired Reform Party Member of Parliament who once said "to heck with the courts" on the issue of gay marriage was recently spotted at a campaign rally for the left-wing New Democratic Party. He admitted he was considering voting for them over a few reasons.
"I got kids, and they got families. Their disposable income is a lot less these days. I just think Canadians are looking for something that's going to change," he told a television reporter.
Michael Coren, who hosted a religious program on the now defunct Fox News-styled Canadian network Sun News (its former VP now works for Harper's campaign), penned a column for the Toronto Star telling people voting Tory is not very Christian.
He said Conservatives have failed morally on "stewardship of the environment, care for the poor and marginalized, the pursuit of peace, and personal integrity."
Free-spending electioneering
Meanwhile, John Robson, Coren's former colleague at Sun News, argued in a column that Harper is handing out tax credits and government cheques for anything he thinks will win him votes -- ironic considering that Harper's 1991 economics thesis took aim at Canadian politics for such tactics.
While that fragment of Harper's base attacks him for emulating socialists, another key group -- those who served in Canada's military -- are vocal in their condemnation of how they've been treated under the Tories.
One veterans' group calls itself Anybody But Conservatives. It commissioned a poll that found one-third of Canadians who voted for the Tories in 2011 may vote for another party over the issue. At a moment when Harper is campaigning on increasing Canada's military spending and role in the world, the veterans' complaints have garnered a lot of media play.
University of Toronto political science professor Nelson Wiseman said he believes the veterans' poll is reflective of wider dissatisfaction with the Conservatives.
Stephen Harper has always banked on a committed base and a divided centre-left to stay in power. But the longer he's done so, time, tactics, controversies and compromises have exposed contradictions within his coalition. This time around, Wiseman said, between Bill C-51, recession, religious concerns and other issues, there's something for everyone in the Conservative base to be unhappy about.
"That's the reason support for the Conservatives has dropped from around 40 per cent in the last election to about 30 per cent today," he said.
How that dissatisfaction manifests itself at voting booths across Canada is anyone's guess, Wiseman said, stressing the party could still win the tight election.
But Harper's team is clearly worried, inking hardball strategist Lynton Crosby to steer the remainder of the Conservative campaign. Crosby is expected to employ negative attacks and wedge issues in a bid to motivate jaded Conservative voters to get to the polls on October 19.
On that day, Connie Fournier is one who won't be resting at home on a cushion of disappointment. She will be voting, she said. For which party, she doesn't know. But it won't be the Conservatives.