Anyone hoping to get a handle on the mechanisms driving Vancouver's eye-popping real estate market and the impact of Chinese money soon runs into the same problem: an apparent lack of data.
Data does exist (more on this later), but the supposed void has been filled with the opinions of a range of experts. And no pundit has been more enthusiastic than Dr. Tsur Somerville, director of the University of British Columbia Centre for Urban Economics and Real Estate. For years, Somerville, armed with a PhD in economics from Harvard, has been a driving force behind some key notions: that there is nothing terribly abnormal or bubbly about prices in Vancouver (where the average price of a detached house is about $1.4 million); that affordability is best addressed on the supply side with more development, and not by addressing demand; and that worrying about the impact of Chinese money is racist.
"This seems to be this decade's version of the 'Yellow Peril,'" he told a March 2013 forum on foreign investment, according to an account in The Tyee.
He added: "There's a long history on the West Coast of North America of worrying about some problem -- whether it's low wages, venereal disease, the plague, whatever you want -- and blaming it on the Chinese."
Then in August last year, Somerville opined in the Globe and Mail that "the case of wealthy immigrants [in Vancouver] is not a housing problem, but a challenge to our perceptions," and that "this leads to xenophobia, stereotyping and racist language more like that used in the early 20th century than we would like to characterize Canada's 21st century." Is this a reference to Canada's racist head tax on Chinese immigrants? The rise of fascism? Whatever it is, it sounds frightening.
Somerville's musings have sometimes veered into fantastical territory. In September 2013, at yet another panel discussion on affordability (this time hosted by his own Centre for Urban Economics), he tried pushing the notion that housing unaffordability in Vancouver wasn't even about housing -- it was about wages. "The idea that affordability has suddenly worsened is not new. It's been around since the 1980s," said Somerville, according to an uncritical account by the Real Estate Board of Greater Vancouver.
"But rather than it being a housing issue, it's more of an income issue," he said, citing higher median incomes in places like Regina and Saskatoon.
(It's true: Vancouver's wages are very low. But to suggest the city's globally remarkable unaffordability is mainly a function of low wages defies logic. Boost Vancouver's median income by the hefty 28 per cent to match Regina's or the 23 per cent to match Saskatoon's, and it would scarcely matter: Vancouver would remain one of the most unaffordable cities in the world, and the most unaffordable in Canada by a huge margin.)
Somerville's preferred affordability solutions? More development. Cut lots in half to build more homes. Density. But whatever you do, don't try to reduce demand or the flow of foreign money into Vancouver.
There are plenty who have embraced Somerville's various positions -- in October, Vancouver Sun columnist Pete McMartin hailed him "the only honest voice" in the debate and said Somerville should run for mayor. As for contrarians who looked for possible solutions in immigration policy, McMartin likened them to swastika-tattooed xenophobes.
Somerville's colleagues at the UBC Sauder School of Business have also lined up in support. According to the Real Estate Board of Greater Vancouver's account of the Centre for Urban Economics' panel discussion, Dr. Michael Goldberg, dean emeritus at Sauder, pondered whether Vancouver was actually unaffordable at all. "Remember that half of all sales are below the median price," he offered. As for the impact of foreign money: "Foreign ownership is not a problem, it's a solution," said Goldberg.
Sponsorship and research
Now to the crux of the matter. While Somerville is enthusiastically cited -- more than 100 times in the Vancouver Sun alone in the past five years -- little if any mention is made of an important fact: his Centre for Urban Economics is sponsored by the real estate industry. And his job is to prepare people to join that industry.
The centre's sponsors have included the developers Grosvenor, Henderson Development and the Vancouver chapter of the Commercial Real Estate Development Association (all currently listed on the centre's website), as well as Polygon Homes, the Canadian Home Builders' Association and the Greater Vancouver Home Builders' Association (listed as sponsors as recently as 2012, along with Grosvenor).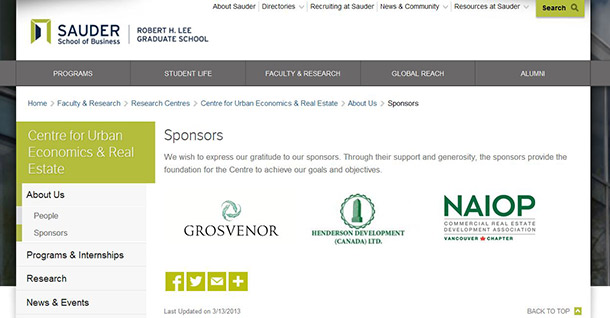 And despite impressive credentials, Somerville hasn't conducted a single piece of peer-reviewed research on what might be responsible for Vancouver's outrageous unaffordability. He hasn't recently done much peer-reviewed work at all: in the past decade, his entire peer-reviewed output amounts to three journal articles.
He's been plenty busy though, teaching courses on real estate development, setting up student internships in the industry and generally churning out new generations of real estate professionals. He is said to be an excellent and caring teacher, who helps students find jobs when they leave him.
He's also delivered dozens of presentations, unhindered by the need for peer review. Here's a sample of the titles: "Bubbles," "Immigration and Real Estate," "The Effect of Foreign Investment on Vancouver's Housing Market" and "Maybe the Sky Doesn't Have to Fall."
I began looking into Somerville's relationship with the real estate industry back in early November last year, asking him for an interview about his research history, the centre's sponsors and any personal funding he might have received from the sector (not to suggest corruption, but merely to establish whether any financial relationship existed).
He immediately sprang into action, albeit in an unexpected fashion: he fired off an email to my boss, asking for confirmation of my "claims" to be the South China Morning Post's Vancouver correspondent and its former international editor, asking whether my employment terms were full time or freelance, and even pondering whether someone with my purported background would be better employed in "London, Beijing or Washington" instead of Vancouver.
Eventually, he agreed to an interview, postponed it, then said he would prefer to submit answers in writing instead. A week later, I got a response in which he declined to answer questions about the centre's sponsors, or to describe any other funding he might have received from the property industry. "All of my work is in compliance with UBC Policy No. 97 on conflict of interest," he said in his Nov. 26 email. If I wanted details on the centre's sponsors, I'd have to wait for the results of a Freedom of Information (FOI) search lodged on my behalf by UBC's Access and Privacy Office.
As for his credentials, Somerville cited his publication of 18 peer-reviewed pieces on a range of subjects going back to 1987, although none speak directly to Vancouver's current affordability situation. He also listed an extensive range of non-peer-reviewed articles and publications.
"From over 20 years of research in housing and real estate markets, training in urban, real estate and housing economics, careful observation of the local real estate market and analysis of this market for interest, research, teaching, presentations, and in answer to queries from the media I believe that I have a perspective on conditions and issues in the local housing and real estate market, including affordability, that is grounded in expertise," he said.
When the FOI response finally came on Feb. 19, it wasn't exactly illuminating. In seeking a list of the centre's sponsors and their contributions, "we requested records from the Centre for Urban Economics and Real Estate," said Courtney Waverick of the Office of the University Counsel. "The available records did not contain the information you requested."
Waverick directed me instead to Brad Gamble, Sauder's assistant dean, marketing and communications.
Gamble was prompt and quite helpful. He provided a table showing that the centre's currently listed sponsors (Henderson, Grosvenor and the Commercial Real Estate Development Association) have provided C$33,200 since 2010. Gamble said outside sources provided 15.5 per cent of the centre's funding, coming to C$10,216 in the most recent fiscal year. But it's unclear who provided this since no funds were listed as coming from the aforementioned trio in 2014.
 "There is no connection between professor Tsur Somerville's remuneration and any external sponsorship," Gamble said, regarding Somerville's salary of C$243,198. "Professor Somerville is a tenured professor at the Sauder School of Business, whose salary is paid entirely by the university."
Gamble said Somerville "is not required to secure sponsors or do fundraising for the centre." "However, in the past, to expand and improve the activities of the centre, he has reached out to external parties to help fund initiatives such as conferences and student case competitions," he said. "There are no overarching conditions for sponsorship agreements for the centre."
Patina of impartiality
These levels of funding do not seem extraordinary -- although I remain curious about the centre's previously listed sponsors and whatever other funding Somerville may or may not have received. This kind of relationship between a professional school and its corporate benefactors would not be so problematic, were it not for Somerville's frequent efforts to influence the debate surrounding housing affordability without the benefit of peer-reviewed research. It's a discussion of major concern to his centre's financial backers as well as his students and their employment prospects. And it's being conducted with a patina of academic impartiality.
Somerville may not have conducted peer-reviewed research on what drives Vancouver's prices, but others have. Notable has been UBC's Dr. David Ley, holder of the Canadian Research Chair in Geography, whose 2010 book Millionaire Migrants provides extensive peer-reviewed data that shows an "unusually decisive correlation" between immigration and house prices in Vancouver. In case you were wondering: Ley says he receives no funding from the real estate industry. And I doubt he receives many invitations to speak before the industry either.
As for non-peer-reviewed data, Landcor, the Vancouver property industry's number-cruncher of choice, found in 2011 that 74 per cent of luxury home purchases in Vancouver's west side and Richmond in the previous year were made by mainland Chinese buyers. And the buying continues apace.
Links to real estate industry
Since I started asking questions about the Centre for Urban Economics' links to the real estate industry, Somerville seems to have wavered on the role of foreign money in Vancouver's market. "It certainly appears to be the case" that foreign money has been at play, especially in the city's west side, he reportedly told the Vancouver Sun on Dec. 4.
But this comes after years of Somerville tarring those who fretted over the impact of Chinese money as ill informed and possibly racist. His recent remarks are merely a case of shutting the stable door after the dragon has well and truly bolted.
Somerville, of course, remains entitled to his opinions and he's entitled to share them, whatever they may be. But anyone considering their value would do well to recognize the Centre for Urban Economics for what it is: the academic wing of Vancouver's real estate industry. And Dr. Somerville isn't merely an observer of that industry. He's a part of it.