"You should come and see this," says federal New Democrat Leader Thomas Mulcair before starting a brisk walk from the doors of the parliamentary library to the NDP caucus room.
Rays of light from the setting sun hit the windows of the House of Commons, casting a yellow glow on the grey walls of the corridor where just months ago, a young man thought to have mental health issues was shot and killed by security as he fired at them.
Bullet damage from that day can still be seen on the walls. Mulcair arrives at the door to the NDP caucus room and partly closes it and points to a bullet hole, then pulls back the door to show where the shot was stopped.
"That went through, it got stopped by a piece of metal," he told The Tyee, revealing a black mark on the inner door that blocked the bullet.
"We sit right on stage, there," he said gesturing at the NDP caucus room as he described the shooting. During meetings, Mulcair said, speakers stand behind a podium on a small stage while MPs listen from chairs. When gunfire erupted, MPs dove to the ground.
"It was a very brave guard who put his body against that door while we were on the floor," Mulcair said.
Mulcair was reflecting on the surreal moments of Oct. 22 when Michael Zehaf-Bibeau, armed with a rifle, ran into Parliament Hill's Centre Block through the front door, firing shots. Minutes earlier, Zehaf-Bibeau shot and killed Cpl. Nathan Cirillo as he stood guard at the nearby National War Memorial.
Inside Centre Block, police and guards cornered Zehaf-Bibeau at the end of the Hall of Honour, firing at the gunman and killing him after he took his position at the library doors.
The attack came two days after Warrant Officer Patrice Vincent was killed when Martin Couture-Rouleau in St-Jean-sur-Richelieu, Que., ran him over with a car.
Troubled men
Both Zehaf-Bibeau and Couture-Rouleau are thought to have been self-radicalized jihadists who also suffered from mental illnesses.
As he recalled the events, Mulcair spoke about the dramatic impact the shootings appeared to have had on the Conservatives' security agenda in the ensuing months.
Mulcair said there's not enough proof to determine if the two gunmen were really dyed-in-the-wool terrorists -- or just troubled men.
"The prime minister called it a terrorist act immediately as did Mr. Trudeau, but I'm still saying that we have yet to have it proven to us that it was," Mulcair said.
Nonetheless, since the attacks, the threat of terrorism has been at the forefront of Canadian politics and burst into furious debate with the introduction of Bill C-51, the Anti-Terrorism Act, which the Conservative party tabled Jan. 30.
Mulcair said the bill doesn't provide anything for terrorism prevention. Rather, he said it is more about the Conservatives campaigning on the fear surrounding terrorism.
"The government hasn't made any case that a single element of this law isn't already caught by existing legislation," he said.
'Bogus choice'
Meanwhile, Bill C-51 passed second reading Feb. 23 and is now in committee.
The NDP has said it won't support the bill, and Mulcair said Bill C-51 offers a "bogus choice" in asking Canadians to choose between liberty and security rather than have both.
Whether or not the public is hearing that message is debatable, if polls are any indication.
Mulcair said the bill doesn't provide proper oversight of authorities and allows them to meddle with domestic activism or movements the government may view as a threat to policy.
He noted that Harper introduced Bill C-51 in a campaign-style setting in Richmond Hill, Ont., outside Toronto.
"They made this announcement hundreds of kilometres away from Parliament in a purely campaign-style atmosphere, so it was quite clear that they were going to be campaigning on this," Mulcair said.
"The prime minister, when I've asked him half a dozen times why this is needed, he can't provide a single example."
The New Democrats have argued that the legislation provides no method to fight radicalization and threatens the rights of those legitimately protesting in Canada, such as environmentalists and First Nations.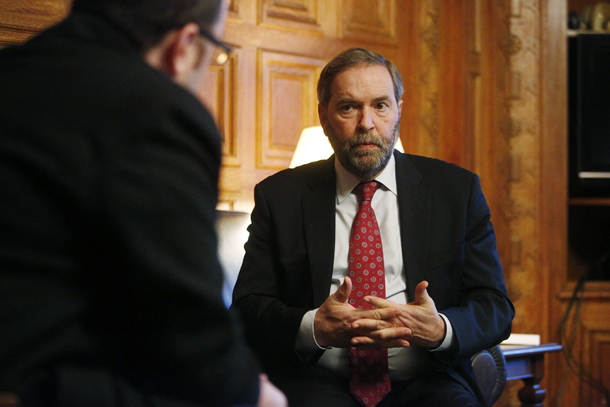 Mulcair said the broad nature of the document -- which is more than 60 pages -- gives authorities the opportunity to label legitimate dissent as a threat, permitting them to "disrupt" such activities.
But the bill does not explicitly define the word "disrupt," Mulcair noted.
Positive polls
Yet polls show the bill is popular among Canadians, with national support as high as 82 per cent in a recent online poll conducted by Angus Reid.
Judging from those polls, one could deduce the New Democrats are fighting a losing battle by opposing Bill C-51, but Mulcair said he thinks the polls are skewed.
"If you ask people if they want to make sure their homes are safer, obviously the answer is going to be yes," he said. "But if you ask people whether or not they think that their privacy, their freedom, their liberty, their rights are important, your number will be that high again. So it depends on how you're asking the question."
The Angus Reid poll also asked those who participated if they would consider themselves familiar with the legislation. Twenty per cent admitted they hadn't read a news story about it. Another 36 per cent said they had "scanned the headlines" about it.
Meanwhile, he said recent Tory moves to challenge a court ruling that permitted a Mississauga, Ont., woman to wear a niqab during a citizenship ceremony is "pandering to Islamaphobia" in a bid to get support for Harper and the bill.
After announcing their intention to challenge the federal court ruling, the Conservatives placed a notice on the party's website citing their opposition to the wearing of a niqab during a citizenship ceremony.
The niqab is a type of Islamic head covering that some Muslim women wear in public. It covers a woman's face, save for her eyes. Harper has said that wearing a niqab during a citizenship ceremony is "offensive" and "not the way we do things here."
As the interview nears an end, Mulcair, now seated back in his office, said he's alarmed by how aggressively the prime minister has pursed the niqab issue.
"I've been shocked by Stephen Harper's behaviour," he said. "He's taken advantage of a situation and he's vilifying Muslims.
"I would be equally offended if these attacks were directed against any religion, but it seems that it's almost become commonplace to vilify and attack and scapegoat Muslims, but in particular Muslim women."