On the rooftop of her seven-storey Union Street apartment complex, 84-year-old Sam Kiu Chan inspects her raised garden beds full of leafy greens.
The sun has just set and the view from atop Chan's residence of two decades, Solheim Place, is of the warm city lights of old Chinatown beneath a dark blue sky.
With 86 units of purely social housing, and rents set at 30 per cent of tenants' income before taxes, Solheim Place is one of the largest rent-geared-to-income projects in the neighbourhood. For Chan and the 60 other seniors who share the building with low-income families and people with disabilities, access to guaranteed affordable housing is essential to scraping by every month.
"Seniors now get about $1,000 every month," she explains. "Rental housing is too expensive... Government housing is more affordable. It's a bit more secure here."
Peering over the railing out over the evening cityscape, Chan's decade-younger friend Lily Tang chimes in by noting the convenience of grocery shopping in Chinatown only a few blocks away. "Also, we can come up here and garden and just get some fresh air."
Completed in 1992, Solheim Place stands among the affordable housing legacies of the once-prominent anti-poverty organization Downtown Eastside Residents Association. Dissolved after a financial scandal and political pressure in 2010, the association counted two late former city councillors, Jim Green and Bruce Eriksen, as well as retiring MP Libby Davies and Carnegie Community Action Project organizer Jean Swanson, among its earliest activists and alumni.
In the late 1980s, then-DERA organizer Green championed the organization's role in promoting the large-scale construction of social housing, starting with the Four Sisters Co-op and Tellier Towers and culminating in the controversial, neighbourhood-changing Woodward's Redevelopment in 2010.
But while Green, Eriksen and Davies' paths entered elected politics, Jean Swanson remained in community organizing. For her, and for many among today's generation of activists, new public investment in such purely social housing projects is essential if Vancouver is to tackle its shelter shortfall.
"We need the government to build social housing," Swanson says, echoing the longstanding demand of the Downtown Eastside residents advocacy group the Carnegie Community Action Project, that the city needs 10,000 new units of dedicated, rent-geared-to-income housing. "The market will not solve the need for affordable housing -- it can't. Until we get a housing program back, I don't see how we'll get out of the housing crisis."
'The best apartment ever'
In 2007, Holly Gurney and her three children crowded into the decrepit two-bedroom Powell Street apartment she shared with her mother, her teenage sister and her sister's two babies, often her uncle, and -- when he returned from the carnival circuit -- her boyfriend at the time.
"It wasn't a good environment for us," the 37-year-old Nisga'a woman says, recalling the nighttime screams of neighbours in the throes of severe domestic violence, the shouts of crack users in the building, leaking roofs, rat and bug infestations, and an abusive "slumlord," as she called him. "It was horrible."
One day social workers, backed by police, forced her family out of their suite. "They said it was unfit for us and our kids to live in," she recalls. But much of the rest of Vancouver's lowest-income housing stock is no better. The family was shuffled around. "They moved us to different shelters, separating us," Gurney says.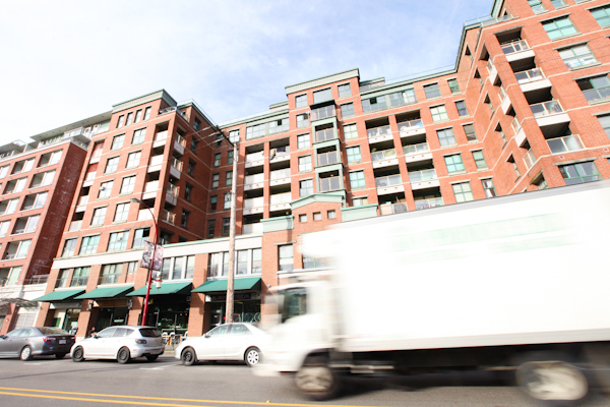 As she nurses her new three-month-old in a Downtown Eastside cafe, the now-mother of five originally from Prince Rupert recalls the day in 2008 that her mother told her to pack her things. She'd found them social housing in Solheim Place.
"They had our name on the list because we were in the shelter," she explains. She pushed hard and persuaded DERA, which managed Solheim at the time, to provide her and her children with their own suite, apart from her mother and sister.
"It was the best apartment ever. It had the best view. I had not one but two balconies, and I had my own laundry. I didn't have to worry about any bugs in there or anything."
Most importantly for her, her children finally had "a bigger space to run and play."
For Gurney, however, the dream didn't last. Six years after moving in, her three boys started a fire in her unit's bathroom last year, and her family was evicted. Several months later, the Ministry of Children and Family Development took the boys into custody and she and her teenage daughter shuffled between women's shelters across the city for months before she finally got her children back and was eventually offered a BC Housing unit elsewhere.
Gurney's story is a harsh reminder of how precarious housing in Vancouver can be. And even though she's no longer in Solheim Place, she said the experience of having more breathing room for her growing family there was crucial to her.
A decent security
Solheim Place is named for a retired Norwegian logger who for decades called the Downtown Eastside home. In 1986, 84-year-old Olaf Solheim starved himself to death after being evicted from his SRO hotel room, in preparation for the city hosting Expo '86.
Anti-eviction activists Jim Green and DERA took up Solheim's cause and those of thousands of other tenants with few legal protections at the time. And when they opened a new social housing project six years later, DERA named it after the man whose Norwegian name means "house of the sun."
Unlike DERA's previous co-op housing initiatives, and Green's later city partnerships with developers, Solheim represents a third path in affordable home-building: 100 per cent below-market, social housing.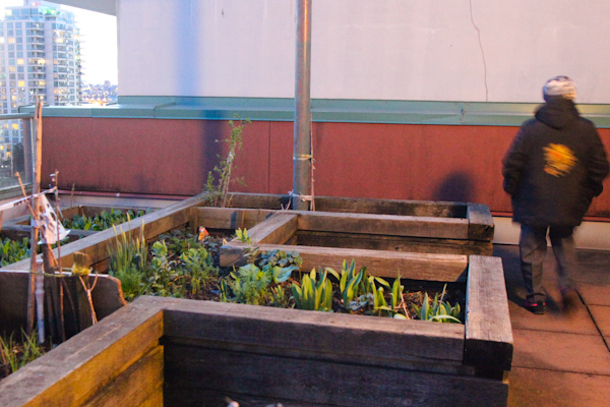 And despite being among several projects the province seized from DERA's control in 2010 following a lawsuit over unpaid debts, Solheim remains a place where rents are fixed at "affordable" 30 per cent levels. The province handed the building's management to S.U.C.C.E.S.S., one of B.C.'s largest non-profit agencies, that also counts serving the low-income Chinese-Canadian community among its missions.
"The cost of living is rising," Tang says. "You can't afford to buy a house. If you don't have low-income housing, then it's difficult for ordinary people, not those who have money, to get by."
For her, the skyrocketing rents in Vancouver underscore the need for government investment into additional social housing projects like Solheim Place. She and Chan pay roughly $400 a month for their apartments here, including phone and cable.
"Because this is government housing, we live a little more securely here," she says. "We're not going to be forced out. And because the rent is affordable, we can maintain a decent living. If the government doesn't look out for ordinary people, then what? How do those people afford to live?"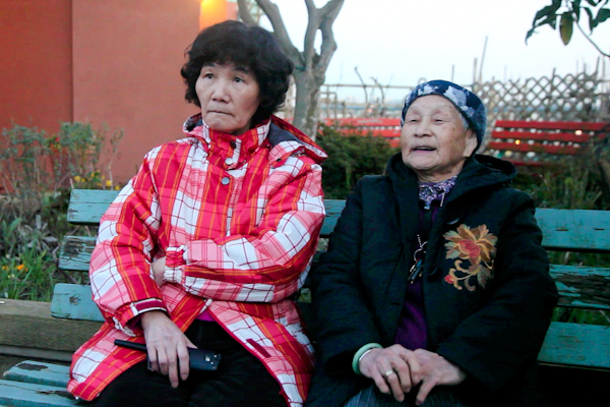 On the shadowy rooftop of Solheim Place, Chan and Tang talk about life in the building, of gardening, and shopping in Chinatown. Chan is quick to chuckle when asked about her future here.
"At my age, all I expect is to have a place to live," she says, with a hearty laugh. "If I'm not forced out, I'll just live here for the rest of my life."
The Jim Green Memorial Lecture: Building a Social Housing Legacy for the Future takes place this Thursday, Feb. 26 in downtown Vancouver. The forum, organized by Councillor Geoff Meggs and hosted by SFU's Vancity Office of Community Engagement, will include a panel discussion with diverse voices on how Vancouver can achieve affordability and social housing objectives in the years to come. More information here.