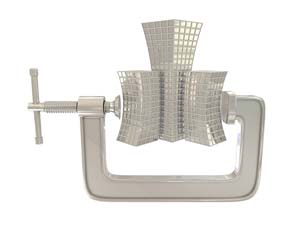 As provincial officials and municipal government representatives head to Whistler for the Union of British Columbia Municipalities (UBCM) convention next week, a debate is reemerging about the cost of local government and how best to pay the bills.
Depending on which report you consider, the problem is either escalating costs from the downloading of provincial services, or a rampant rise in local government salaries. From the UBCM's point of view, there are challenges with costs and financing, and for more than a year, the umbrella organization has been trying unsuccessfully to have a discussion about it with the province.
As the world's population shifts to cities, the role of local governments is growing, according to the Columbia Institute report "Who's Picking Up the Tab?" Local governments receive about eight cents of every tax dollar but must deliver public transit, recreation facilities, drinking water treatment, sewage systems, policing and firefighting services.
As federal and provincial governments shrink their responsibilities, local governments find themselves "picking up the slack on housing, mental health, addiction, social services, wastewater treatment, diking and flood management, drinking water and recreation infrastructure. In a telling measure, the provincial government in B.C. has shed thousands of employees since 2001, while the number of local government employees has risen by 30 per cent," the report said.
At the same time, funding to local governments hasn't kept pace. "Federal and provincial transfers to B.C. local governments are $4 billion less than they would have been had 1995 per capita transfers remained constant," it said. "To cover the gap in funds, local governments have been stuck with two limited and not particularly popular streams of revenue: property taxes and user fees."
Between 2001 and 2010, the cost to local governments of providing sewer services has gone up by 173 per cent, policing by 134 per cent, water by 130 per cent, and parks, recreation and culture by 108 per cent, it said.
"Local governments can -- and do -- efficiently deliver services and are happy to take on expanded roles, given the resources to manage them," it said. "However, downloading without access to new sources of funding is stretching local government resources thin, especially in the context of climate change impacts."
'No limits' to local gov't compensation
The Columbia Institute report came out a few days after the BC Public Sector Compensation Review that accounting firm Ernst and Young completed for the provincial government as part of the core review process. The review was leaked to the public via the Canadian Taxpayers Federation, which highlighted findings about the payment of municipal employees.
"Compared to the Provincial level of Government, Local Government compensation is not coordinated (or regulated); there are no limits other than what Local Governments determine the sector can bear; and there are less transparency requirements," the review stated. "This has resulted in a lack of alignment in compensation between levels and also across the Sector."
The review acknowledged "data was not available to support robust and comprehensive analysis" but went ahead and made observations that top municipal officials were generally paid about the same as deputy ministers in the core government, though compensation in Vancouver and Metro Vancouver was higher.
Between 2001 and 2012, while inflation was 23 per cent, pay went up 19 per cent for employees in the core government, 24 per cent in the broader public sector and 38 per cent in regional and local government. The last category included BC Ferries, where executive salaries escalated dramatically after the province quasi-privatized the former Crown corporation in 2003. It also included fire, police and TransLink, where local officials have little say in pay rates.
The review suggested the province "should do what is necessary to bring Regional and Local Government compensation into alignment over time, including using financial levers if necessary."
Province needs to engage: UBCM
The president of the UBCM, Rhona Martin, said she agrees local governments have challenges, but that the province and UBCM need to work together to find solutions. "We do care," she said, noting local politicians are closely connected to their communities and frequently hear cost is an issue. "Our fingers are on the pulse of that type of thing all the time."
At last year's UBCM convention, the organization unanimously endorsed Strong Fiscal Futures (SFF), a discussion paper that called for expanding revenue options for local governments. Rather than fund municipalities primarily through property taxes, which are not closely related to ability to pay, it called for giving local governments a share of provincial revenues from things like personal income tax, corporate income tax, sales tax or the property transfer tax.
The next step was to discuss the proposal with the province, but Martin said that discussion went nowhere. "The province never took us up on our request to come and work with us," she said. "We need to sit down together before solutions are considered."
In a letter to UBCM members, Martin provided more detail on the attempts to discuss the paper with the province. "Following its 2013 Convention, UBCM followed up with Premier [Christy] Clark and Minister [Coralee] Oakes to secure a commitment to work with the Province in a joint process through the framework set out in SFF," she wrote.
"At the time, Minister Oakes told us that the ministry did not have the resources to engage on [the SFF paper] since all of its resources were dedicated to completing changes to local government elections legislation," she said. "UBCM went further in April 2014 by bringing our full executive to Victoria to meet with nearly 30 ministers and MLAs to discuss the continued need for a joint working group. These meetings also failed to gain traction on the issue."
Martin's letter also pointed out flaws in the report, including that it acknowledged the lack of robust data 26 times but still maked strong recommendations. Nor did the authors consult with local representatives. "The report shows very little knowledge of the role and function of local governments and concludes that a better local government compensation environment would exist if this function was centrally controlled," Martin said. "Local government autonomy is not valued in the report and is instead viewed as a problem."
In an interview, Martin said that a positive outcome of the report would be for the UBCM and the provincial government to strike a joint committee to look at how the property tax burden has been increasing. "I have reached out to the province to say we need to work together to address this issue."
'It's a strain'
A spokesperson for the Ministry of Community, Sport and Cultural development took a request for an interview with Minister Oakes, but responded a day later with a background statement that said the province is interested in continuing discussion of the Strong Fiscal Futures document. It added the caveat that some proposals would add costs and that the province is committed to being financially responsible.
The Columbia Institute also called on the government to "launch a major review of funding models, revenue streams and shares of revenue for local governments, especially given the context of urbanization."
The offloading of federal and provincial responsibilities to local governments has made a difference, said Charley Beresford, the Columbia Institute's executive director. "Certainly the complexities that staff are dealing with at the municipal level are greater," she said. "It's a strain."
Responsibilities such as the deinstitutionalization of people suffering from mental health issues, the decline in housing support and new regulations for sewage and water treatment add costs for local governments, she said.
"All these things have come home to roost in local communities and they have an impact on municipal bottom lines," she said. "It begs the question of efficient organizing of public services."
Answering that question requires a full and open discussion with the senior level of governments that limit how municipalities can raise money, have the deepest pockets, and enjoy the greatest flexibility for generating revenues, she said.