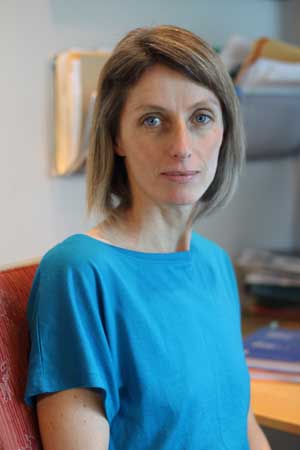 Sylvia Fuller remembers growing up in the 1970s with a stay-at-home mom, much like the rest of her friends. Back then, it was rare to see mothers in paid employment -- only 37 per cent of mothers with young kids were working in Canada at the time.
Things have changed a lot since then, with more mothers engaged in paid employment than ever before. In 2008, 74 per cent of mothers with young children worked, balancing both family and career with their partners.
Today, as a working mom with a young child, Fuller understands how caregiving and job responsibilities intersect -- and why that matters in today's workforce.
Fuller is an associate professor of sociology at the University of British Columbia, focusing on the shift in Canadian women's labour force participation. While she is a mother, Fuller's current research is more influenced by her past academic interest in how workplaces and employment relations converge with issues of gender, migration and race. No matter the topic, her work has a common mission: uncovering how inequality affects a person's economic security.
Now, she's conducting a study on working moms and how the type of organization they work for might help or hinder their career. As part of the Social Sciences and Humanities Research Council of Canada's Insight Development grant program, Fuller hopes to break new ground with her colleagues Beth Hirsh and Jane Pulkingham.
Despite the rise of women in the workforce, there's also a notable trend of inequality. Mothers in Canada, on average, earn about 12 per cent lower hourly wages than those without children. This discrimination is what Fuller calls "motherhood career penalties" -- a workplace bias that disadvantages mothers with unequal pay and treatment.
Fuller's study will look at the private sector workforce in Canada, considering how different kinds of workplaces either foster gender equality or penalize working mothers. Fuller says that employers risk losing out on talented and dedicated workers if they systematically disadvantage people with caregiving responsibilities.
Drawing on a Statistics Canada data set called the "Workplace and Employee Survey," Fuller and her colleagues plan to look at existing national data up until 2006. They hope to identify patterns of how certain workplaces succeed or fail in supporting working mothers.
Another part of the research will compare men and women when it comes to parental leave. Current research is unclear on whether men are penalized or supported more than women, and Fuller hopes to learn more. Even though paternal leave is on the rise, especially in Quebec with an incentive system, Fuller says that women still take the bulk of parental leaves.
The Tyee sat down with Fuller to talk about her work and how motherhood career penalties affect Canadian women today:
On how mothers' rights can be protected in the workplace:
"Mothers' rights come into play on a number of different levels. At the most basic level, human rights provisions -- they're broadly similar across the provinces -- prevent discrimination, in theory, on the basis of family status. You're not supposed to be able to choose to hire someone or not hire someone, promote them or fire them, or give them more or less hours, based on whether they have children or they don't have children.
"Of course, in practice, the courts have varied in how broadly they interpret this. In B.C., for instance, tribunals and courts have tended to require employees show that work poses a serious interference with family obligations in order to constitute bias against mothers or parents. Elsewhere in Canada, courts tend to follow a broader approach which doesn't require them to have to meet this criterion of a serious intervention. That's one of the things we want to look at in this study.
"Beyond human rights, we have workers who are unionized, who have collective bargains that vary in the extent to which they address issues particularly relevant for mothers and their career outcomes. At the very minimum, if you're unionized you potentially have someone to [represent] you if you perceive that you've been treated unfairly. That's an important benefit for workers who are unionized.
"For workers who aren't unionized, provincial employment standards set the floor of basic rights for everyone else. There are a variety of provisions that are relevant to mothers, such as provisions around employment protection.We also have employment insurance, which provides some benefits such as maternity or compassionate care.
"There are some rights we don't have in Canada that other jurisdictions have that are particularly important for mothers, at least potentially. For example, equal treatment provisions for full and part-time workers. In Europe, there's a requirement that employers don't pay different wage rates just by virtue of being full or part-time status, that they provide workers doing similar jobs the same pay rate. You're not supposed to distinguish between full and part-time workers in that respect. Mothers are more likely to be engaged in part-time work. We don't have that provision in Canada."
On major policy failings right now, and how to change them:
"There are a number of dynamics that drive motherhood career penalties. We're looking at exploring how these might vary across organizations. One of the things that scholars have pointed to is basically discrimination against mothers. This can be conscious discrimination or unconscious bias. If we look at our policy around parental leave, for example, we have an incentive structure that tends to encourage women to take all of the leave.
"Outside of Quebec... if you're on leave, you get 55 per cent of your earnings up to a threshold of about $45,900 annually. [This] means that if you're looking at a decision from a household perspective, you take a bigger hit for your income if the higher income earner takes that leave. It can be a really substantial difference. While more women are the higher earner in their households than in the past, about two-thirds of households still have men as the higher earner. That in itself tends to create this incentive for women to take that whole portion of the leave, because the family is taking such a financial hit as it is.
"If we look at that from a broader perspective, if an employer is looking at potential employees and says, 'Do I promote this person or not promote this person?' or 'Do I hire them or do I not hire them?' and they think, 'Huh. Well, [a female employee] is in that childbearing demographic, and maybe she's gonna have a kid, and I'm not sure I want to promote her if she's just going to have a kid and go on leave. What am I going to do for that year she's gone? [A male employee] is probably not going to take a leave, and so I'm going to promote him.' That's illegal, but it's a rational decision from an employer's perspective.
"We've set up this [reality] that tends to perpetuate, in practice and in our minds, this association of motherhood but not fatherhood with intensive care for children. That potentially increases all of these conscious and unconscious biases against seeing women and seeing mothers, in particular, as desirable workers as others.
"[Where there is a provision for paternal leave in Quebec], we do see that there is a real difference where men are much more likely to take some leave and again that can undermine the stereotypes around caregiving and in other countries that have those provisions. It really does make a difference."
On problems with mothers engaged in precarious work:
"[Statitistics Canada data] allows us to look at whether organizations are using, for example, temporary workers or contract workers to a large degree. We can see whether or not organizations [with more casual employment relations] might also be contexts where it's harder for women, for mothers in particular, to have good career outcomes. Temporary employment can be really tough to co-ordinate with caregiving responsibilities. It might mean that women are not having the same kind of opportunities to gain experience in those kinds of employment relationships. So we will take a look at that.
"We can also look at things like how prevalent overtime is in the organizations. If it's the organizational norm... it could work to a mother's disadvantage, because mothers are less able to work those overtime hours.
"In a 24-7 economy, which is very pronounced for retail and hospitality workers... you might have workers who are working uncontrollable hours and that's hard to co-ordinate with childcare. In B.C., there's a two-hour minimum call-in for a shift. That's really short. So if you're working a retail job or a hospitality job and your employer says, 'Oh, things are getting busy and I'm going to call somebody in,' well, if you have kids, especially young kids at home, it's hard to arrange childcare in that time period.
"Mothers in those kinds of jobs are more vulnerable to losing their jobs if they can't accept those shifts on short notice, or it prevents their advancement. That's not specifically tied to mothers, but it's the kind of employment standard that really potentially works to the disadvantage of women in lower wage, retail or hospitality positions."
On what she hopes her research will change:
"If we do find that the organizational context matters, I hope that will provide an impetus for organizations to think seriously about how they can create more equitable employment contexts and that it is in their interest to do so, if they want to effectively use their human resources.
"I hope that will also be inspiring to policymakers, to think about this important component of gendered inequalities and how our policies may or may not contribute to that, or might help ameliorate that. As I said, it's not just the obvious policies about motherhood like paternity leave, but it's also more general things like employment standards provisions, [such as] overtime work.
"In terms of individual advice, certainly career advice for mothers abounds.... You can look at all kinds of popular media about what you're supposed to do or not supposed to do. But individual strategy actually has pretty limited scope. There's a limit to what you can do as an individual to really address these kinds of inequalities. You might be able to read some of our research and try and think about, if you're looking for a job, what kinds of things you might look for in an organization and whether that'll make a difference.
"But I hope we can [create more equality] through organizational changes and through policy... and I hope we find some information that will be useful in that respect and that can allow us to go beyond the surface profiles of 'good employers' and 'bad employers' that often aren't based on anything particularly substantive or research-based, to a more grounded, defensible understanding of what really does or doesn't make a difference.
Next Friday: The Tyee sits down with Western University sociology associate professor Wolfgang Lehmann to discuss the barriers that working-class university students face today -- both during their degree and after graduation.