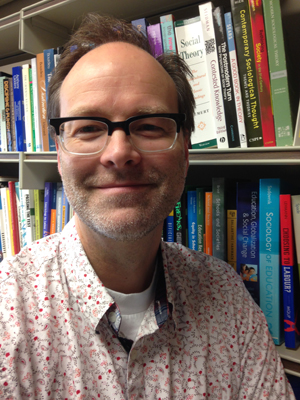 When Wolfgang Lehmann started university in Germany in the 1980s, he felt like he didn't belong. As the son of a tradesman and a letter carrier, Lehmann was the first to go onto higher education in his family. But despite hard work, financial stress forced him to drop out in his first year.
Now an associate professor of sociology at Western University in London, Ontario, Lehmann applies his past to the present, focusing his research on working class undergraduates, their access to higher education, and the struggles they face in today's labour market.
For these students, rising tuition and uncertain employment are major barriers to success. Student loans and part-time jobs are the reality, and the financial burden is a drain, both during the degree and after graduation as they start to pay off their loans. Often, students with two working parents are ineligible for standard student loans and have to resort to bank loans.
Credential inflation is also a growing issue. As Bachelor degrees become more common, employers increasingly look at other things such as volunteer or internship experience to distinguish applicants.
How can students overcome these barriers?
That's what Lehmann wants to find out. He's now doing a follow-up study of a long-running project that tracked the success of university students from lower socioeconomic backgrounds. While the data isn't available yet, his initial findings illustrate how working class students are at a disadvantage compared to higher socioeconomic groups, especially when it comes to gaining volunteer experience or accessing unpaid internships.
Lehmann began the project in 2005 by interviewing 75 young Western students who were the first in their family to attend university. He then re-interviewed them in their second and fourth years of study to assess whether they were able to balance work and school, or had decided to change career trajectories because money was tight.
In August he started the interview process again, looking at employment success and asking the question: "How do people who were successful in university as working class students translate their academic success into employment success?"
Though the students graduated in 2009, and some have since moved away or dropped out of the study, Lehmann is still curious about how, five years later, these students have managed to succeed in the workplace.
His project is part of new research in sociology on socioeconomic status at the modern university. It's an area that he'd like to see expanded in order for concrete policy change to happen, such as more bursaries or paid internships to create equal opportunity for students from all class backgrounds.
Lehmann said his participants' undergraduate experiences were largely successful and that overall, they're happy with their decisions. Still, he wants to emphasize one main point through his research: that privilege plays a huge role in access to higher education and potential job networks.
The Tyee sat down with Lehmann to talk about his work and how class status affects students in a precarious economy. Here is what he had to say…
On the larger issues surrounding the value of a university degree:
"What we do see in Canada, and this is something that has not changed in relevant terms, is the percentage of people of low socioeconomic status who go to university hasn't really changed. It's a confounding finding. We've seen huge changes in the gender ratio at university, to the point where we have more young women than men beginning and graduating university. That's been the case for some time.
"[There is] a decline in well-paying employment for people with lower levels of formal education. There are jobs out there, but they tend to be unstable jobs, low income jobs. They tend to be jobs that are non-unionized, so there's very little protection. And what we do know is that the lower your level of formal education in Canada, the more precarious your situation in the labour market.
"When I asked all the young people in my study, 'Why did you go to university when no one in your family had done this?' The answer that everyone gave me was: 'Today, a high school diploma isn't good enough. If you want to achieve any kind of success, you have to go to university.'
"I personally disagree with that statement. But for the working young men and women, that was their ticket for social mobility. So there's a social equity issue we need to be concerned about. Are we giving all qualified people access to university?
"For those people who go to university, especially lower income people who make a massive financial investment in this higher education, much more so than if they were to do an apprenticeship or go to college, does that pay off in the end? Or are we talking a whole generation of young people into a university education that, in the end, is a piece of paper that doesn't really benefit them in the labour market?
"Those are some of the larger issues to do with access to higher education and socioeconomic status."
On re-evaluating career aspirations in university:
"We go to university to get these high-status professions. But there are [other professions out there]. The students in my study are beginning to realize that, and to tell me that loud and clear. Some have said, 'It wasn't until later that I realized I don't have to be a doctor. I can be a public health nurse and do as much good and do what I wanted to do.'
"I think we need to offer a better understanding of the labour market that [highlights] various career paths early on so that students can do some planning and have different alternatives.
"Having said that, I think we also need to also make students understand that a university education is not career preparation. It's increasingly becoming that, but it shouldn't -- it has a much larger public education mandate. [Part of that mandate] is to make people critical, independent thinkers.
"One of the encouraging things the students in my study told me is that they found those kind of skills in things they learned in their philosophy classes, their sociology classes, and found them very important in the workplace. It helped them sort through problems.
"Even if you're a nurse, sometimes the social science courses [you have to] take still pay off because you understand your patients better, you understand your patients' social situation better. You have a different way of solving problems."
On creating meaningful opportunities for working class students:
"We have a public discourse in Canada that puts all responsibility on young people and their families. If young people struggle in the labour market, it's because they're not educating themselves enough or they're receiving the wrong kind of education. [People say], 'Why did you taking a sociology degree, why didn't you go into engineering?' or 'Why are you in university? Maybe you should have gone to college.' I think that's the wrong way of looking at it. That's only one part of the equation.
"I think we need to hold employers more accountable for how we transition young people into productive employment, and that's currently not happening. Employers could allow high school or post-secondary students, especially students without networks, to have chances to do internships, [especially] paid internships. Internships should have a career relevance and allow them to build networks that they don't have from their families.
"Universities could potentially have a function to place people, and I think that would be a good service for people without networks, without family connections.
"[In comparison], most young people in Germany still do apprenticeships out of secondary education. In Germany, you do apprenticeships in order to become a mid-level banker or in an insurance company or working in public administration, working at city hall, etc. Those are the people doing apprenticeships. They get a salary, they work with an employer, they're covered by collective agreements, they're entering the workforce. That also means that 80 per cent of their training costs are covered by employers. To me, that that seems like a situation where the employer gets a benefit, and they recognize that in Germany because they get trained employees that are useful in the workplace.
"Here, employers don't want to spend a penny on the education of their future workers. I think we also need to put some leverage there. [We shouldn't] always say that it's the young people who make the wrong choices by studying the wrong thing."
On raising awareness through his research:
"The interesting thing with my study is that the young people I spoke to, they all told me: 'I'm at university because I want to get out of the working class, and I want to have mobility, and I want to become middle class.'
"Students tend to be unaware of their own potential disadvantage; they tend to individualize their experience. They say, 'You just have to put in hard work, and sometimes you have to work harder.'
"I think at university we also have the responsibility to help young people understand how their class, their gender, their ethnicity, their sexual orientation, their level of physical ability -- all these things will potentially affect what's happening in the workplace.
"It's also important to let people who are more privileged understand that their privilege might partly be an explanation of why they have been successful in the past. Or [we should] let people realize that academic or educational success is not exclusively the outcome of personal ability and motivation. It's not just about informing the working class students, but also the middle class and more privileged students about their privilege.
"At a more concrete policy level in the labour market, it's a much harder question to answer. I think that research like mine is still relatively unique. We don't have a lot of class-based research on transitions to employment, or on university students from working class backgrounds. My research is qualitative and therefore exploratory. I'd like to see support for more research that explores this more broadly and allows us to get a better understanding of the situation.
"[I think we need to] develop, somehow through policy, a culture in which employers become more actively involved in these kinds of issues -- not just as recipients of qualified people, but as people who take a responsibility in [educating] qualifying people. There needs to be a real, fundamental shift in this country."