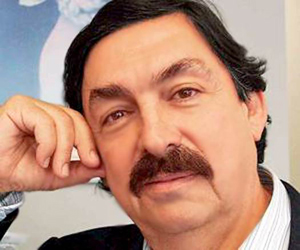 The controversial leader of Mexico's 280,000-member Los Mineros union, who denies allegations of corruption in his homeland, has become a Canadian citizen.
Reports published Aug. 13 by Mexican media outlets say Napoleón Gómez Urrutia was granted citizenship by Prime Minister Stephen Harper. Gómez has lived in exile in Vancouver, the centre of Canada's mining industry, since 2006 after fleeing Mexico to avoid charges that he bilked a union trust for $61 million. Gómez has maintained that the charges are false and politically motivated.
SDPNoticias.com reported that Gómez's lawyer, Marco Antonio del Toro, told Radio Formula that Harper signed the document granting Gómez Canadian citizenship.
A request for comment to the Prime Minister's Office was referred to Alexis Pavlich, press secretary to Citizenship and Immigration Minister Chris Alexander. Pavlich said privacy laws prevent comment on specific cases, which are decided by independent public servants under the Citizenship Act. Pavlich called reports that Harper signed for Gómez's citizenship false.*
The latest development in the Gómez saga came less than a week after an Aug. 7 report in Provincia that said Mexico's Attorney General's Office had successfully requested that Interpol consider Gómez a fugitive.
Opposed conservative Mexican president
Gómez became general secretary of the National Miners' and Metalworkers' Union of Mexico in 2002. His memoir, Collapse of Dignity: The Story of a Mining Tragedy and the Fight against Greed and Corruption in Mexico, was published last year.
According to a May 2012 letter to Interpol by his Vancouver lawyer, David Martin, Gómez played a "critical role" in the union bloc that opposed reforms by President Vicente Fox. In September 2005, the union won a 46-day strike against two steel companies that "essentially broke the government-employer imposed wage ceiling" and helped defeat Fox's plan to tax workers' benefits.
Martin wrote that Gómez's announced bid for Congress of Labour leadership was the impetus for the Mexican government to remove him from union leadership.
Bank accounts for Gómez and the union were frozen Feb. 16, 2006. Three days later, 65 miners died in a coal mine explosion in the state of Coahuila. Gómez accused the mine operator, Grupo Mexico, and the Mexican Secretary of Labour, of "industrial homicide." The incident sparked protests around Mexico.
The Mexican Secretary of Labour, with support of mining companies, withdrew recognition of Gómez as head of Los Mineros. He was formally charged in June 2006, but fled to Canada to avoid arrest. In 2010, he was granted permanent residency in Canada.
The Tyee published a story in 2010 about Gómez's new life in Vancouver, and his ongoing ties to striking miners and his union in Mexico.
'Like a curtain of smoke'
A May 6, 2006 New York Times report said Gómez's "ouster has divided the miners, and Mexico's labour unions. Many workers say it is Mr. Fox who was acting like a holdover from the old authoritarian days by intervening first to help make Mr. Gómez Urrutia head of the miners' union, and then to remove him five years later. But other workers have voted to support Mr. Gómez Urrutia's removal, saying that his control of the union was so complete that government intervention was the only way to be rid of him."
In March 2007, Gómez told the Province newspaper that the accusations were "completely false."
"This is like a curtain of smoke they created in order to deflect attention away from serious problems," he said.
Mexico's assistant attorney general of international affairs Mariana Benitez Tiburcio was quoted in Mexican media outlets in May saying that Mexican officials had met several times with the Canadian government and "received very good signs" in a renewed bid to gain his extradition.
Documents from Gómez's April 17, 2013, B.C. Supreme Court-filed defamation lawsuit against Grupo Mexico, said "notwithstanding persistent diplomatic efforts by the Government of Mexico, Canada has refused to initiate extradition proceedings against Gómez Urrutia" and that Interpol had deleted an international arrest warrant for him.
*Story updated Aug. 14 at 1:45 p.m.