B.C.'s minister of energy and mines has vowed to get to the bottom of the Mount Polley mine disaster, but insisted that provincial mine inspections are "as frequent today as they were five years ago." They may be, but they are about half as frequent compared to before the BC Liberal government came into power in 2001 and reduced the rate of such inspections.
Minister Bill Bennett's statements on Wednesday afternoon followed Monday's massive breach of 10 million cubic metres of water and 4.5 million cubic metres of solids dumped into the watershed -- from Imperial Metals' massive tailings impoundment which Environment Canada lists as containing high levels of mercury, arsenic, cobalt and other toxic heavy metals.
Government test results for water downstream released Thursday afternoon did not show unsafe contamination levels -- although some critics questioned whether testing was conducted into potential toxic concentrations in the tailings pond's solid sediments, which settle at lake and river bottoms.
According to the most recent available Chief Inspector of Mines annual report, from 2012, Bennett's statement about inspections appears true. Assuming the number of site visits has held steady since then, when inspectors made 1,163 inspections that indeed represents a return to close-to-2009 levels.
However, scan back a bit further to 2001 when the BC Liberals took office and questions emerge about why Bennett chose 2009 as his starting point.
In 2001 there were nearly double the number of mine inspections: 2,021. The year after, the number dropped to 1,496 -- nearly 30 per cent more than 2012 -- before reaching a 2004 decade low of 399 visits.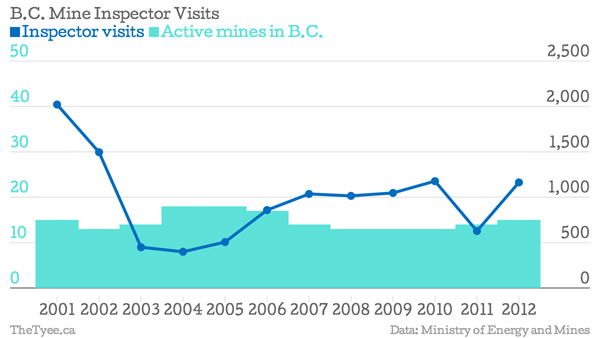 In a press conference in nearby Williams Lake, Bennett told reporters the government will "make sure that it doesn't happen again."
He dismissed concerns that the disaster may have been linked to provincial staff reductions, in particular for dam inspectors and site audits.
"The inspections that are done on mine sites are no different today than they were five years ago," Bennett told reporters. "I know that between 2001 and 2003 that a lot of people were laid off in the B.C. government, it was a cost-cutting exercise.
"I also know that resources in this ministry came back up to 2001 levels by 2009 at the latest. I know that the inspections of tailings ponds are as frequent today as they were five years ago. This is not an issue of not having enough inspectors on the ground."
Ministry of Environment memo flagged dam concerns
But inside the Ministry of Environment itself -- the department tasked with overseeing non-mining dams in the province -- a 2010 memorandum suggests that reduced staffing for dam inspection more broadly was flagged as a concern by senior officials, alongside suggestions that inspections lacked consistency. And even though inspections on mine tailings dams are delegated to the Ministry of Energy and Mines, a senior engineer wrote to the deputy environment minister specifically citing risks around both tailings impoundments and earthen dams of the type built at Mount Polley mine.
In that memorandum, dated Sept. 22, 2010, a senior department engineer warned the deputy minister that the province's Dam Safety Program continued to be understaffed and would lead to "negative results." The letter specifically names mine tailings ponds as a risk.
The letter was sent from engineer Glen Davidson, comptroller of water rights for B.C.'s Ministry of Environment, to then-deputy minister Doug Konkin -- a veteran civil servant who retired on Apr. 2, 2013 from his subsequent post as deputy minister of forests, lands and natural resource operations, where he served since 2011. Under ex-Premier Gordon Campbell's election in 2001, he also served as deputy minister of the environment, and has been credited with implementing a controversial 2009 move to end the ministry's ability to halt industrial developments.
Davidson's letter expressed concern over staff cuts and the fact that the province had moved away from "audits" of dams towards relying on private operators to uphold the rules.
Initial staff cuts after the BC Liberals' 2001 election were followed by further reductions once the Dam Safety Program was "transformed" to the "results-based model in part due to the excessive resources required to maintain the existing approach," he wrote.
"After the transformation the Ministry assigned approximately 8.5 full-time equivalents (FTEs) to this program, however this number has fallen to 5.5 in recent years," the late 2010 letter stated.
The water comptroller also issued a series of recommendations to his ministry regarding the safety of nearly 2,000 dams across the province. Although the letter acknowledged Ministry of Environment had signed an agreement delegating tailings pond safety to B.C.'s mines department, Davidson warned that "the public is not likely to make the distinction between one of these structures and a regulated dam, so a consistent approach to risk ranking and mitigation could be advantageous."
Mine tailings impoundments, he added while discussing about a previous dam breach, were among "several other water related risks that could attract future attention from a similar failure."
The letter concludes by recommending a more "consistent" approach to both types of dam, despite the jurisdictional responsibility being split between two ministries. It is unknown whether his recommendations were heeded, and neither ministry responded to questions about the memo by press time.
'Shift in Ministry staff role'
Davidson recounted that, since the early 2000s, the province's "new dam safety program is 'results- based' with considerable reliance on professionals and dam owners to maintain the safety of these structures," the memo stated. "Fundamental to this new program was the shift in Ministry staff role from inspection functions to audit and education functions.
"The primary responsibility for the safety and operation of these structures rests with the dam owners. Under this new approach it is anticipated that there will be a certain number of negative results, which in the field of dam safety are represented by dam failures or incidents. On average we have been experiencing several incidents and at least one dam failure in British Columbia annually."
The memorandum is cited in a government report published the following month, in response to B.C.'s Review of the Testalinden Dam Failure. That review followed a June 2010 accident near Oliver, B.C. that saw a privately owned earthen dam fail -- a similar structure as Imperial Metals' -- "causing a debris and mud torrent that severely impacted a number of homes and an agricultural area," the report states.
A subsequent Oct. 2010 response to that review from the Ministry of Environment nonetheless issues recommendations related to mine tailings dams.
"The heights of some tailings dams are continually increased to accommodate additional tailings from mining operations," the report states, listing "possible areas for change" as including "specifying how often surveillance on tailing dams should be conducted and "linking the frequency of tailing dam inspection reporting by a professional engineer to risk classification."
'Government has to be proactive with other mining sites': watchdog
For Dermod Travis, executive director of the transparency watchdog IntegrityBC, such documents reveal the government may have been aware of safety concerns around tailings dams for years, in addition to a series of more recent warnings specifically related to the Mount Polley site.
In light of Monday's accident, Travis argued that it's even more "incumbent on the government to be 100 per cent transparent on this particular tailings pond going back to the day that approval was given to the mine site and tailings pond," he told The Tyee.
"How many of those recommendations were actually adopted?" he asked. "The public has the right, because of the disaster, to know all the various communications between the government and mine related to the disaster and to the tailings pond literally from day one."
Despite Bennett's assertions of adequate inspection levels and funding in the province, Travis said the disaster is an "opportunity" to look at "comparable tailings ponds" province-wide to ensure B.C.'s regulations are reliable to prevent future accidents.
"The government has to be proactive with the other mining sites," he said. "A lot of tailings ponds are coming to the end of what was estimated to be their natural lives. There has to be a review of the regulatory process for the industry to put in better safeguards."
But one area in which the 2010 memo pushes for "consistency" is between the different oversight provided by the mine and environment ministries. Travis said B.C. should ensure that the latter department can assess environmental risk of all dams "free from interference from the Ministry of Energy and Mines," which he argued has proven itself to be primarily focused on promoting private industrial interests.
"They have distinct, separate mandates," Travis said. "Those two mandates are going to naturally come into conflict with each other, and the public has a right to know if the environment is being protected before new mining developments are pushed through."
'Make sure it doesn't happen again': mining minister
Minister Bennett said the province's investigation of what went wrong with the Mount Polley mine tailings impoundment will "take weeks if not months," but promised B.C. "will learn lessons from this, and we will apply those lessons to other mines in this province."
"If there was something that we could have done in the ministry differently, I will acknowledge that and take responsibility for that," he added. "If the company has made some mistakes and are the cause of what happened, they will have to acknowledge that and they will have to bear the cost and responsibility for that. There's no question that, even though this is unexpected and unprecedented, it has happened once and we have to make sure that it doesn't happen again."
Neither Bennett nor the environment ministry could not reached for comment by press time.