A mining worker is accusing his former employer of "misleading" the public on toxins contained in its Mount Polley copper and gold mine tailings, and says Imperial Metals Ltd. is attempting to "sugarcoat" its dam accident that saw 10 million cubic metres of water pour into Hazeltine Creek in the Cariboo region of British Columbia.
The Cariboo Regional District declared a local state of emergency on Wednesday morning, two days after all water use was banned for residents the area. The tailings dam operated by Imperial Metals broke open around 3 a.m. on Monday morning, and the resulting spill also saw 4.5 million cubic metres of solid material dumped into the watershed.
In a tense and confrontational public meeting in the town of around 300 residents Tuesday afternoon, the company's president apologized for the spill, but denied the released slurry contained toxins such as mercury, arsenic, lead and cadmium.
"It's very close to drinking water quality, the water that sits in our tailings pond," Brian Kynoch said at the meeting. "The water in the tailings facility are not toxic."
Residents attending the meeting interrupted him several times, with one unidentified man demanding to know if Kynoch would drink the tailings water.
"Yes, I would drink the water, but it's of no consequence," the company head replied. "I would drink the water once the solids come out."
Others, including local mine workers, were unconvinced, and suggested Kynoch was dodging questions about the heavy metal contents of the solids which turned the water into what the Cariboo Regional District head described as a "slurry."
'We don't know what's in the stuff': former Mount Polley worker
William Macburney worked at the Mount Polley mine as an equipment operator from roughly 1995 until the project closed temporarily in 2000, and hasn't returned since it reopened. Now the 43-year-old works at another mine in Tumbler Ridge, but said he has friends who work at Mount Polley.
"This is catastrophic. We don't know what's in the stuff," he said of the tailings spill. "[The company is] misleading people… They're trying to sugarcoat it, telling everyone there are no harmful chemicals in the rock they mine. But they're ignoring the fact that there are a lot of contaminants they put in."
In the five years Macburney worked at Mount Polley mine, he said he never saw any safety problems. "We didn't have too many issues with the dam that broke, because it was new."
The cause of the dam breach has not yet been determined, but a number of experts have speculated that increasingly high water levels behind the earthen barrier could have played a role.
An independent report conducted by scientists in 2009 issued several warnings about the safety of the tailings pond and dam. The B.C. Ministry of Environment also revealed to reporters that it had warned the mine operator of exceeding safe drinking water guidelines in the tailings impoundment, including high levels of selenium, sulphate, and molybdenum.
2013 records show arsenic, mercury
According to Environment Canada's National Pollutant Release Inventory (NPRI), last year Imperial Metals reported its Mount Polley tailings pond was storing nearly 84 tonnes of the poison arsenic, more than 38 tonnes of lead, 138 tonnes of cobalt, plus 562 kilograms of mercury, a neurotoxin that can cause degenerative disease.*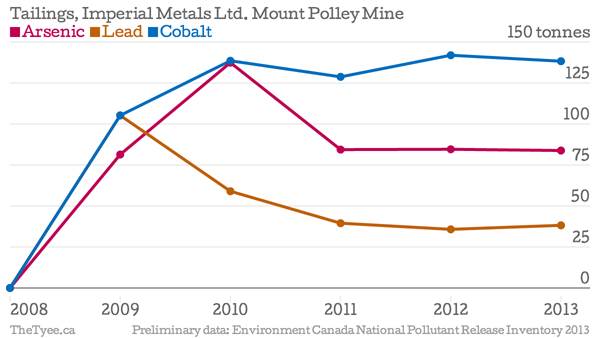 "I haven't been very impressed with Imperial Metals' response, especially the president's comment about being able to drink the water," said Ramsey Hart, Canada programs coordinator with MiningWatch Canada. "The data now shows the water in the impoundment wasn't at drinking water standards.
"To imply that it could be would be misleading… Certainly most toxicity is associated with sediments. Those aren't going anywhere; they're now distributed through the watershed."
Like many Likely residents, Macburney is an avid fisherman. He said he would often go to the affected lakes to catch fish, including freshwater char, gerrard rainbow trout, and bottom dwellers such as ling cod. He could drink the mountain water straight from the lake, he claimed.
Now, no matter what Imperial Metals says about the water quality, he refuses to fish in Quesnel or Polley lakes.
"I'm not taking the chance," he lamented. "If a fish is in those contaminants for five years, if someone takes that home from their dinner, it's not a very good thing."
Story corrected Aug. 5 at 4 p.m.