A new independent technical review on the cause of a large and costly 2013 bitumen leak in northern Alberta found a form of hydraulic fracturing that injects steam into the ground to be the main culprit.
The panel, appointed by Canadian Natural Resources Ltd. to review its initial findings on the cause of the leak at its Primrose facility, also documented that industry frack jobs, contrary to industry claims, can break caprock, shoot out of zone, link to natural fractures and penetrate into groundwater.
Fractures made by CNRL, one of the country's largest bitumen extractors, not only connected to natural fractures in the area, but also cracked their way through several non-targeted formations.
These industry-induced fractures then penetrated "generally impermeable shales" and passed through groundwater before erupting to surface more than 500 metres from the original targeted zone in the Cold Lake oilsands region of Alberta.
All told, more than 12,000 barrels of bitumen seeped to the surface through five different fractures (one fracture opened in 2009) nearly a dozen kilometres apart. The bitumen seeped into a lake, muskeg and the forest for more than a year, killing wildlife and polluting the landscape.
The ongoing clean-up job of what amounted to the province's fourth largest oil spill has cost nearly $50 million to date.  
Steam plant or "in situ" bitumen production, which accounts for half of all oilsands production, employs a form of hydraulic fracturing known as cyclic steam injection.
Using tightly spaced wells in the forest, the carbon-intensive oilsands process pumps highly-pressurized volumes of steam into cold bitumen deposits and then pumps up the melted junk crude several weeks later.
At CNRL's Primrose operation, the company injected an "excessive fluid volume" into the formation that lifted the ground by nearly a foot, fractured the protective shale cap rock, and created "vertical hydraulically induced fractures" through several different formations way above the zone containing bitumen.
Like rock splintering a windshield
According to the review, which only commented on CNRL's first causation report (there will be more), the high pressure in industry-made fractures forced natural fractures to open wider, allowing for the movement of bitumen from the Clearwater reservoir upwards into the Grand Rapids Formation.
Streams of bitumen then travelled vertically. Where the fluid encountered resistance, it simply started a new horizontal fracture in the rock. Shifting from vertical to horizontal fractures, the bitumen then seeped to the surface.
"Uncontrollable enabling conditions" for the incident included the tendency for hydraulic fractures to move vertically in one formation and then to connect to natural fractures and faults in the next. The report suggested that neither industry nor the provincial regulator sufficiently understand all the operational risks and geological hazards in the bitumen-producing region.
Anthony Ingraffea, one of the world's foremost authorities on the science of fracking as well as president of Physicians, Scientists, and Engineers for Healthy Energy, saluted the honesty of the technical review.
"This report highlights the wide-aperture fracture that exists between those in the industry that write advertisements and PR media and those in the industry, the engineers and scientists, who actually know what they don't know," the Cornell University engineer said.
"The latter are honest with each other in conferences and workshops, and with the public when they are allowed to publish on the problems associated with well stimulation. The former do a disservice to the industry and continue deepen the hole they have dug with respect to the public's declining perception of the industry."
The technical panel, which CNRL appointed last March, also found that once industry started these uncontrollable fractures -- much like a small rock shattering a car windshield -- some of the fractures connected to at least two poorly-sealed wellbores, which transported the fluids even higher.
According to industry lobbyists, all wellbores "are carefully constructed," but University of Waterloo researcher Maurice Dusseault recently warned that thousands of leaky wellbores represent potential pathways for groundwater contamination and methane air pollution, and have become a multi-billion-dollar liability for industry.  
Difficult to predict
In addition, the review noted that CNRL had done a poor job of clearly identifying potential geological hazards in the region, such as pre-existing natural fractures.
"Natural fractures and faults of varying densities and properties exist in all of the geological strata at Primrose, however, it can be difficult characterizing their relative connectivities and conductivities."
In simple terms, pressures created by the industrial injection of fluids in bitumen or shale rock can create a zig-zag of traveling fractures that resemble the cracking of ice on a frozen lake.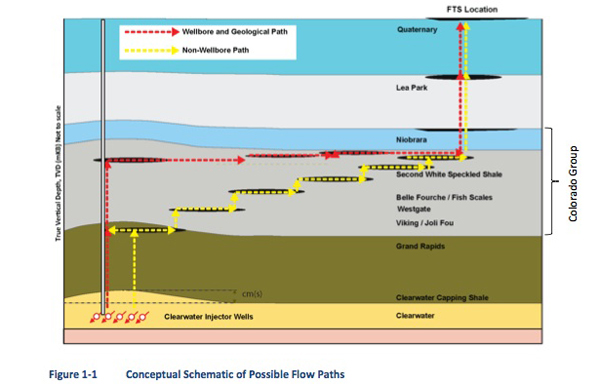 Recent studies suggest that hydraulic fracturing, which uses fluid injection to crack open hydrocarbon-bearing rocks, often works like an uncontrolled science experiment. Engineers can't always predict where their man-made fractures will travel or how they might behave once they connect to existing fractures in the ground.
A 2005 Oilfield Review article noted that "geologic discontinuities such as fractures and faults can dominate fracture geometry in a way that makes predicting hydraulic fracture behaviour difficult."
The same paper added, "All hydraulic fracture models fail to predict fracture behaviour precisely, and in many cases, models fail completely, largely because of incorrect information and assumptions used in the models."
A 2012 paper by the American Association of Petroleum Geologists emphasized the unpredictable nature of hydraulic fracturing by concluding the process doesn't make neat definable cracks in rock, but rather produces "a complex, damaged fracture network."
Review contradicts fracking safety claims
The Canadian Association of Petroleum Producers, a powerful lobby group, has argued for years that fracking technology is safe and proven.
Despite studies showing that methane accumulations in groundwater tend to increase in heavily-drilled and fracked oil and gas fields, the industry group's website also claims that "the technology is carefully used and managed to minimize any environmental impact, particularly on groundwater."
In contrast, the technical review, written by four engineers with more than 120 years of experience in the industry, argues that industry activity can connect to natural fractures, impact groundwater, fracture beyond target zones, and induce uncontrollable reactions underground.
The review also contradicts industry claims that "the risks associated with hydraulic fracturing are very small due to government regulations and advanced technology."
The review's findings may have significant implications for bitumen mining. Steam plant operators will likely have to spend more money to collect better data, as well as perform more sophisticated geological monitoring to pinpoint natural fractures throughout the oilsands.
To date, more than 20 different environmental groups have called for a public scientific review of bitumen mining practices using hydraulic fracturing in the form of steam injection in the oilsands.
The Alberta Energy Regulator, a group 100 per cent funded by industry, has ignored their petitions.