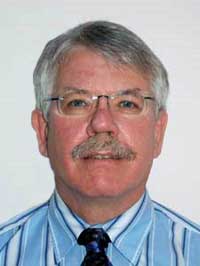 Maurice Dusseault, a prominent petroleum engineer now advising the Nova Scotia Hydraulic Fracturing review panel and the New Brunswick Energy Institute (NBEI) on related energy issues, filed for a patent on the controversial technology in 2011.
But Margo MacGregor, program administrator for the Nova Scotia review, says that's not a problem because all panel members were required to sign off on a code of conduct and "all relevant industry, government and NGO links will be made explicit in our final report."
Last year the government of Nova Scotia appointed Dusseault and nine other experts to a panel to explore "the social, economic, environmental, and health implications of hydraulic fracturing practices."
Chair David Wheeler promised that the Nova Scotia study will be "rigorously independent and evidence led."
Maurice Dusseault, one of North America's most accomplished petroleum researchers and professor of earth sciences at the University of Waterloo, submitted a patent three years ago to fracture shale rock with a radically different process using less pressure and fluid over longer periods of time.
The patent notes that the current process of "frac-and-pack," the subject of intense controversy across North America due to water concerns and large science gaps; injects water, chemicals and sand into formations at a rate of 15 to 20 barrels per minute.
This high-pressure fluid injection cracks open hydrocarbon-bearing rocks on a massive scale and then releases small amounts of oil or gas. (The shallow fracturing of coal bed seams in Colorado, New Mexico and Alberta has resulted in extensive methane contamination of groundwater.)
"However," adds Dusseault's patent, "this is often accompanied by serious environmental consequences such as a large surface 'footprint' for the necessary supplies and equipment as well as relatively high costs."
In contrast Dusseault's invention would fracture a rock formation over several weeks at lower pressures "using process control techniques during injection to: optimize formation injectivity, maximize formation access, and maintain fracture containment with the formation."
Dusseault 'beyond reproach' says NBEI chair
Dusseault recently served on a federal panel that examined hydraulic fracturing. The Council of Canadian Academies report recommended a go-slow approach due to lack of baseline data on many critical issues as well as the total absence of proper groundwater monitoring in any province.
Chair John Cherry said that Dusseault offered invaluable, professional and critical advice to the panel.
The professor, who has authored hundreds of scientific articles on everything from leaky wellbores to cap rock integrity in the oilsands, also wrote a paper for the Nova Scotia Hydraulic Fracturing panel.
It concluded that the risks of leaky wellbores "are not great as shown by years of experience" and that the environmental consequences of seepage of natural gas in aquifers "are not catastrophic, albeit undesirable."
Yet in a separate and much more comprehensive paper on the growing and highly significant industry liability, Dusseault used much stronger language.
Together with hydrologist and co-author Richard Jackson, the professor concluded that natural gas seeping from Canada's 500,000 wellbores represent "a threat to environment and public safety" due to groundwater contamination, greenhouse gas emissions and explosion risks wherever methane collects in unvented buildings and spaces. He also called for major reforms.
Dusseault also sits on the board of the NBEI, another group that has looked at the economic promise and environmental costs of shale gas development in Atlantic Canada.
David Besner, current NBEI chair, told The Tyee that Dusseault's ethics "are beyond reproach" and that his international expertise makes him an invaluable asset for the debate.
"Dr. Dusseault has certainly made a full declaration of his background and interests to my predecessor, the first chair of the NBEI prior to his appointment," added Besner.
The first chair of the NBEI, Louis LaPierre, resigned last year after the professor, a strong advocate of hydraulic fracturing, admitted that he had misrepresented his academic credentials.
LaPierre claimed in his biography that he held a doctorate in ecology from the University of Maine, but a CBC investigation found that LaPierre received a doctorate in education from Walden University in Minnesota instead.
LaPierre opposed a moratorium on fracking and wrote a controversial study suggesting that the citizens of New Brunswick just needed more information on the industry to overcome their fears.
Fracking 'ill understood' by public: Dusseault
Rural communities across Eastern Canada have mobilized to oppose the technology due to the industry's problematic mining legacy: fragmented farmlands, property devaluation, groundwater contamination, damaged public roads, waste water production, air pollution, earthquakes and regulatory neglect.
Dusseault's research on geomechanics, heavy oil and leaky wellbores often criticizes industry practices and has been regularly cited by The Tyee.
Dusseault replied to a Tyee query about his patent disclosure to public fracking panels in Nova Scotia and New Brunswick with one sentence: "I believe you have received answers from both agencies."
In a recent interview on the subject of leaky wellbores, Dusseault said that he views himself as a moderate voice in the contentious fracking debate.
Unlike the Shale Resource Centre, an industry lobby group, the professor does not support a laissez faire approach to the technology and supports strong groundwater protection. In contrast to opponents of the brute force and invasive technology, Dusseault does not favor a moratorium.
He recently told a Newfoundland audience that hydraulic technology is "ill understood and my job, as much as I can, is to try to overcome that."
Dusseault recently recommended that regulators require "multi-level groundwater monitoring" at hydraulic fracturing sites, something no energy regulator in Canada now mandates.
He also serves as a science advisor to the Alberta government on issues such as cap rock integrity and holds a total of 10 engineering patents.