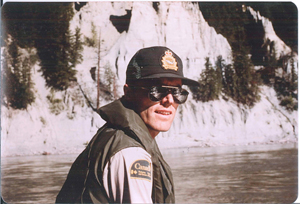 Budget cuts and enforcement downsizing have left British Columbia open to fish poachers with little risk of getting caught while they launder their unlawful catch in the commercial market, according to the former director of the Department of Fisheries and Oceans Canada's conservation and protection branch in the Pacific region.
Randy Nelson, who served as a fishery officer in B.C. for 35 years, called poaching a glaring issue that is only getting worse as the federal government keeps gutting the department's budget.
Five field offices were shut down in B.C. last year as a result of the government's attempts to reduce the federal budget deficit, making it more difficult for fishery officers to patrol and uphold enforcement laws spelled out in the Fisheries Act.
From 2011 to 2014, the number of fishery officers in the Pacific region were reduced from 180 to 160. That might not seem like a lot, but according to Nelson there weren't enough fishery officers to go on daily patrols and keep a check on commercial, recreational, and First Nations fishers to begin with.
The further cuts have left some areas in B.C. so unprotected they are now "becoming a poacher's paradise," Nelson said.
A 'catch-22'
Exactly how big of an issue is illegal fisheries in B.C.? The Tyee asked both the provincial Ministry of Environment and DFO, and neither knows. No one in government is keeping track of the extent of poaching, spokespersons from both organizations said.
A Ministry of Environment website found by The Tyee stated that "some studies estimate that poachers kill as many fish and wildlife as are taken legally," however a ministry spokesperson said they could not locate the studies the text referred to and it was removed from the website shortly after.
In an email, the spokesperson wrote that "poaching can never be perfectly predicted since it is a criminal act, and those responsible hide their actions."
"It's like a catch-22," explained Nelson. "If you don't go looking for the problem, you won't know it's there -- and then it's hard to address it."
Species at risk of poaching include the near-extinct abalone, which has been illegal to harvest since 1990. In 2006, three poachers were caught with 11,000 live abalone in their truck. Nelson said DFO used to have a dive program for abalone, which could've prevented the crime, but the program was one of many enforcement programs discontinued over the years because of budget cuts.
Nelson also said a fishery also needs proper enforcement when it shuts down, and when one opens there should be an equivalent increase in fishery officers to effectively monitor it. "But we're going in the opposite direction," he said.
Sale of illegal catch also unknown
Nelson has dealt with poaching firsthand, and said the biggest problem is the processing plants that launder black market fish into the commercial market.
Past DFO operations have involved seizures of up to 60 tonnes of salmon, typically caught for food, societal and ceremonial purposes only to be sold on the black market or bought by commercial processors.
Restaurants are also buying illegally caught fish, Nelson said.
One summer 20 years ago, he asked some 70 restaurants how many times they'd been approached by poachers intending to sell black market fish. The replies revealed that all of the establishments had been approached more than once. "And that was only the ones who were honest with me," he said. "It's a fairly alarming rate."
Nelson said he doesn't believe the result would be much different today, because DFO hasn't made any efforts to address the issue.
He said illegally caught fish pose a health risk, as there is no control or regulations. Decomposing fish sold to an unknowing public was not a rare event when he was in the field. Even worse were the cases involving shellfish taken from contaminated beaches, he said.
"It's very difficult to put an actual handle on what amount is poached," said Nelson. "But certainly from my experience and officers I've talked to, it's far greater than anybody wants to believe in [DFO]."
Ignorance could lead to resource crash
Dr. Tony Pitcher of the UBC Fisheries Centre is the co-author of the only peer-reviewed paper that attempts to quantify illegal fisheries in B.C.
The study, published in 2005, looked only at salmon and groundfish (such as halibut and flounder) and estimated that around 8,000 tonnes were caught illegally every year -- an improvement over 1990 levels, when poachers brought in upwards of 30,000 tonnes annually.
Pitcher said he wasn't surprised that DFO was unaware of his study as "they don't like to admit anything is going on that isn't fully controlled."
Knowing the amount of something taken illegally every year is key to determining the right limits for commercial fisheries, said Pitcher. Worse still, being unaware of large illegal catches could lead to depletion or stock crashes, he said.
While it's possible that poaching has increased since 2005 because of cuts to DFO's enforcement programs, Pitcher said he does not believe illegal catches in B.C. are higher than 10 to 15 per cent of the total commercial catches every year, which is fairly low on a global scale.
'It makes no sense'
Nelson fears poaching is only going to get worse as the presence of B.C. fishery officers continues to dwindle.
"When you abandon an area and reduce patrols, you're obviously going to have increased poaching and illegal activity," he said.
He called it unfortunate, as it took years to build up the numbers of officers now being stripped away. But he stressed that there are other pressing issues for DFO to address.
"Habitat staff are being reduced in numbers to a point where they're ineffective, science has been clamped down and the scientists can't speak, and libraries are being closed," he said. "It's hard to believe that this is happening in our country."
During B.C.'s Cohen Commission, Nelson testified that it would take $14 million to bring the conservation and protection program up to a level where it would be truly effective.
"But we got nothing. Instead, numbers were reduced," he said.
Nelson said the Pacific region deals with half of all fishery violations in Canada, despite only having one-third of the officers. "It makes no sense."