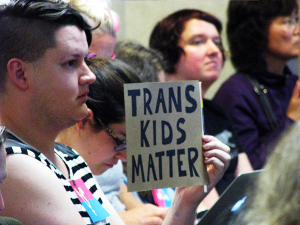 Transgender students will soon have greater peace of mind about expressing their gender identities in Vancouver schools.
Vancouver School Board trustees agreed by consensus at a committee meeting Wednesday night to move an updated policy on sexual orientation and gender identity to the full board for approval.
Because the committee and the board are composed of the same members, it's expected that the board will officially approve the policy at its next regular meeting on Monday.
"I'm very optimistic about the vote," said Cory Oskam, a Grade 11 student at Brittania Secondary School who identifies as trans.
Oskam said he believes the new policy will make schools safer, especially the provision that calls for single-stall, gender-neutral washrooms in all school buildings. That means he won't have to alert people to his gender based on what washroom he chooses, nor will he have to worry that someone in the washroom will harm him for his gender nonconformance. He called the changes "incredible."
In addition to the washroom requirement, the updated policy pledges to "reduce or eliminate the practice of segregating students by sex" and respect a transgender student's right to determine how much information about their gender identity to share and with whom, among other things. The latter provision has been particularly controversial, with opponents arguing it would prevent schools from notifying parents that their children are "out" as transgender at school.
Much of what's proposed in the policy is already being implemented in Vancouver schools, said Lisa Pedrini, manager for social responsibility and diversity for the school board. This includes involving parents as much as possible.
"Whatever we're looking at in education, be it math or something about a child's identity, we're always more successful with our students when we engage their families," Pedrini said. "If they're very young children, then we may bring it up naturally when talking with their parents. If they're older children, we take their lead. This is something you can't really write into policy. It's something that is in practice."
Pedrini presented several changes to the wording of the proposed policy at Wednesday's meeting, most of which were aimed at making it more clear. She said the changes were reflective of the discussion at the board's three recent hearings on the policy, which drew more than 70 speakers.
'They don't care about our concerns': opponents
The changes clearly weren't sufficient for opponents of the policy, who applauded when trustees Ken Denike and Sophia Woo said they opposed bringing the policy to the regular board meeting.
In explaining his position, Denike read a letter to the board from a group identifying itself as Vancouver School Board Watch. The letter said it came with a 3,759-signature petition calling on the trustees "to go through due process, to conduct proper and unbiased consultation with parents, educators, medical and mental healthcare providers" and to get approval of the policy from the B.C. College of Physicians and the B.C. College of Psychologists.
At the beginning of the meeting, representatives from Vancouver Coastal Health spoke to the board about their organization's role in helping to develop the proposed policy. They expressed their support for the policy as written.
After Wednesday's meeting, Cheryl Chang, one of the leaders of the opposition to the policy, stood on a bench in the park outside the school board office on 10th Avenue to address a crowd of like-minded people. She told them the board had lied to them and that the process had not been fair, and she thanked them for their civility and their commitment.
"They don't care about our concerns," Chang said. "They don't care about your voice. So the only response you can think about is in November electing somebody else."
Inside, Cory Oskam was also thinking about the future. Brittania doesn't currently have a gender-neutral washroom, but now that the policy is on its way to passing, he's going to make sure that changes.
"I'm going to make it my mission," he said.