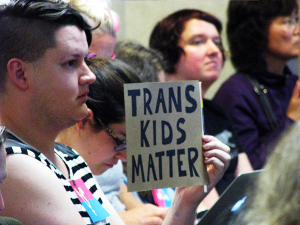 It can be as simple as a pronoun or a trip to the bathroom. For students whose gender identities don't fit into societal norms, choosing which to use can open up a world of confusion and discomfort.
Following the footsteps of school districts in Edmonton and Toronto, Vancouver's school board is scheduled to vote next Wednesday on policy changes that experts say will make the city's schools safer and more welcoming, particularly for transgender students.
After three contentious meetings last month, the changes still face heated opposition. Critics say the guidelines will undermine parental rights, force teachers to make decisions that should be made in consultation with medical professionals, and politicize the education of children.
One of the more controversial provisions states that a student's transgender status is private, and it's up to the individual to decide what to share and with whom. Opponents say this will prevent schools from notifying parents that their children are "out" as transgender at school. Other highlights include: a pledge to "reduce or eliminate the practice of segregating students by sex"; giving transgender students the option to participate in sex-segregated activities that reflect their gender identity; and a plan to consult with transgender students about access to washrooms and change rooms that maximize "the student's social integration."
The board will also "strive to make available an all-gender (or) gender-neutral washroom at all school locations," and make decisions on a "case-by-case basis."
In addition to the policies in place in Edmonton and Toronto schools, there is a large volume of research about transgender people that experts say supports the Vancouver School Board's approach. Moreover, the board is legally obligated to create a policy for the accommodation of transgender people, according to at least one rights lawyer.
The legal argument
barbara findlay spells her name without capital letters. She does this because she likes to, but also because the negative reaction she gets for it underscores society's impulse to enforce behavioural norms. She gives a more detailed explanation of this on her website.
In her legal practice, findlay often works with people who transgress social norms in a more serious way. She says the B.C. Human Rights Code covers transgender people, though many are unaware of that fact.
"Under [the code], all transgender people are protected by the ground of -- in quotation marks -- 'sex,'" findlay told The Tyee. "Many people, including many transpeople, mistakenly believe that unless the Human Rights Code says 'gender identity' then they aren't really protected, but that's not true."
This idea has been established in a series of B.C. court and Human Rights Tribunal cases dealing with discrimination against transpeople. While not every case has been decided in favour of the transgender complainant, in each case, the protected status of transpeople as a group has been affirmed.
Similar cases in Ontario -- including one brought against it and later settled -- led the Toronto District School Board to adopt "guidelines for the accommodation of transgender and gender independent/non-conforming students and staff" in 2011.
The Ontario Human Rights Code explicitly protects "gender identity" and "gender expression," and recent changes to the province's Education Act make schools responsible for providing an environment that is "inclusive and accepting" of all of the code's protected groups.
"The board having guidelines is literally just being compliant with the law," said Kenneth Jeffers, coordinator of the TDSB's Gender-Based Violence Prevention Office and one of the document's authors.
Toronto's guidelines include many of the same provisions proposed in Vancouver, including the requirement that schools not disclose students' transgender status to their parents without permission, regardless of the age of the student. Jeffers said this is to protect transgender students from potentially hostile home environments, but it's also a reflection of their human rights, which are protected in the code and the Education Act.
"Parents need to understand that children aren't property. They have rights. And those rights are enshrined in provincial legislation and federal legislation... They have parental rights, for sure, but they do not necessarily trump that individual's human rights."
One of those rights is to define one's own gender identity. In both Ontario and B.C., transgender people are allowed to change the gender on their drivers' licenses and birth certificates without having surgery.
"For the purposes of the law, one's gender is established not by what's between one's legs, but by what one's gender identity is," findlay said.
That's why every school district should have a policy like the one that Vancouver is proposing and Toronto has adopted, findlay said.
Schools that don't have a policy won't automatically do a bad job accommodating transgender students, but having guidelines in place makes it easier for both students and administrators to know what to expect, Jeffers said.
"There are accommodations that happen every day that don't have a particular piece of policy that directs the administrator how to do it," he said. "We just felt it was really important to give our administrators and staff the best tools that they need."
So far, it's worked. Jeffers said his office, which deals with a wide spectrum of gender issues, has seen an increase in the number of transgender students it sees since the policy was put in place.
"In 2009, when my office first opened, we may have had five per cent per cent of our work may have been dealing with transitions and gender independent kids. And now it's about 33 per cent. I don't think it's because more have just appeared. I think it's because you have a very clear and transparent and very supportive guide in place."
The medical argument
Opponents of the VSB's proposed policy say it should be submitted to the B.C. College of Physicians and Surgeons and the B.C. College of Psychologists for review before the board approves it.
But the World Professional Association for Transgender Health -- which includes medical professionals of all types who work with transgender people -- does not consider being transgender an inherently medical issue. In its Standards of Care, WPATH notes that transgender people are marginalized in society and the mental health issues they experience are "socially induced."
WPATH's standards call for mental health professionals to "help families to have an accepting and nurturing response to the concerns of their gender dysphoric" children. For Melady Preece, a psychologist and professor at the University of British Columbia's Faculty of Medicine, this mandate ought to extend to schools as well.
Without a policy in place, it's up to individual teachers and schools to decide whether to -- for example -- allow a male child to wear a dress to school if he wants. In cases in which a child wants to explore their gender identity or expression at school, the school should accommodate that, Preece said.
In most of the cases Preece sees in her private practice, the parents want to support their child's gender exploration and the potential reaction of the school is an unknown. She said the opposite -- a child whose parents are unsupportive but is able to express their gender variance at school -- is extremely rare. The idea that the VSB's proposed policy would allow six-year-old children to transition from one gender identity to another at school without their parents' knowledge seems far-fetched to her.
"I doubt very much that there's going to be a rash of elementary school kids who start demanding social transition," Preece said. "I think it's going to be pretty hard for a kid to be one gender at school and another at home."
The WPATH Standards of Care are less clear on the question of "social transition" in childhood -- in other words, allowing children to live as a gender that doesn't "match" their sex assigned at birth. The standards refer to the idea of social transition as "controversial" and say that mental health professionals should assist families in making decisions about it.
The concern people have, Preece said, is that only a small percentage of gender nonconforming children -- between six and 23 per cent for boys and 12 and 27 per cent for girls, according to WPATH's standards -- persist in their nonconformance as adults.
That's only a problem for people who subscribe to a rigid binary understanding of gender, Preece said. If a male child who wore a dress to school in Grade 1 decides he doesn't want to in Grade 5, he's not obligated to continue to do so. Conversely, if that same male child becomes adamant about living as a girl and changes her pronouns, chances are she's one of the ones that will persist.
"When you just support kids to do what they need to do and follow their lead, those kinds of problems shouldn't occur," Preece said. "It's only our culture that says, 'Pick a gender, right now, and don't you dare change your mind.'"
The humanitarian argument
For Sarah Hoffman, chairwoman of the Edmonton Public School Board of Trustees, the need for the school district to create a policy for such issues was obvious. It went beyond a desire to create safe place for children to experiment with gender or to comply with a legal precedent. It was about a simple principle: school should be a welcoming place for everyone.
"It wasn't enough for us to just say, 'don't worry kids, you can wait it out and it will get better,'" Hoffman said, referencing the "it gets better" campaign aimed at LGBTQ youth. "We have a legal -- and I'd say even more so moral -- responsibility to ensure that every student in our schools feels safe, respected, and included."
Edmonton's guidelines are less specific than Toronto's or the proposed Vancouver policy, but they still provide a procedure for establishing gender-neutral washrooms, changing transgender students' records to match their gender identities, and minimizing gender-segregated activities.
On each of these issues, Hoffman comes back to the theme of inclusivity.
"Bathrooms can be an unsafe place for a lot of kids," she said when asked about the oft-repeated fear that these sorts of policies lead to harassment in the washrooms. "This is about making sure that everyone feels safe and respected. This isn't about having girls or boys feel uncomfortable with who they're sharing a washroom with, it's about having everyone in that washroom feel safe and included."
Jeffers said the Toronto policy has allowed transgender students to feel at home in the school system, and that has an effect on the rest of their school experience.
"As we begin to understand the value of having these students feeling completely accepted, completely comfortable, and completely supported in our schools, we realize the direct impact that has on their learning outcomes and academic successes," Jeffers said. "It's a no-brainer."