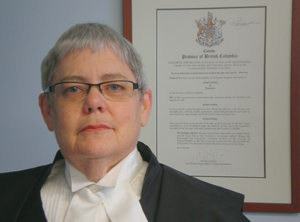 Like most members of her baby boom generation, barbara findlay was raised to believe the following: That it's possible to know a baby's gender from the moment it's born, that there are two and only two genders, and that a person's gender can never change. (For an explanation of why findlay spells her name without capital letters, go here.)
"All of those beliefs are mistaken," findlay told the Vancouver School Board's education and student services committee Wednesday night.
Her comments were met first with silence, and then with a smattering of voices saying "no." The nos built to a chorus before being matched by a wave of supportive applause for findlay's words. The massive crowd that spilled out of the boardroom and into the lobby was fairly evenly divided into two factions, each of which spent the night cheering and clapping for the speakers on its preferred side of the issue.
The issue is a proposed revision of the board's policy and regulations on sexual orientation and gender identity, which some parents say hasn't been properly vetted by medical professionals. They say the proposal goes too far because it allows students to define their own gender identities -- without medical or psychological consultation -- and requires teachers to "support and advocate for" transgender students based on these self-identifications.
In practical terms, the changes would allow transgender students to use the washrooms that correspond with their gender identities. They also require the board to "strive to make available an all-gender (or) gender-neutral washroom at all school locations and worksites."
The policy also treats students' transgender status as confidential, leaving it to them to decide how much private information to share and with whom. Opponents of the policy worry that this will leave parents without notification that their children are "out" as transgender at school.
Cheryl Chang, chairwoman of the Lord Byng Secondary School parent advisory council, wrote a letter to the board last month asking that it delay its vote on the revised policy until such concerns could be addressed. The letter also criticized the board for failing to publicize the proposed changes, leaving many parents unaware of the plan.
In response to the letter and the large number of people who signed up to speak at Wednesday's meeting, the board delayed its plan to approve the policy at its May 20 meeting and scheduled an additional committee meeting for May 22, at which more public comments will be heard. As of the beginning of Wednesday's meeting, the speakers lists for both committee meetings were full, but the board is still accepting written comments on the policy.
'Not a mental illness': UBC professor
Speaking to the committee on Wednesday, Chang said she hoped the board would do two things. First, it should further slow down the approval process in order to consult with parents and medical and mental health professionals, she said. Second, it should submit the policy to the B.C. College of Physicians and Surgeons and the B.C. College of Psychologists for feedback.
"If they say it's a good policy for everybody, fine," Chang said. "This debate is going on in the medical and mental health communities. If they don't know what's right, then all you are doing is using our children in a social experiment to prove that one side of the debate is correct. And that is completely inappropriate."
Members of the medical and mental health communities who had signed up to speak at Wednesday's meeting didn't share Chang's view of the debate as ongoing. Melady Preece, a registered psychologist and professor in the faculty of medicine at the University of British Columbia, cited several recent studies of transgender youth that found minimal signs of mental illness in their subjects.
"It is now generally agreed by researchers and clinicians that gender variance is not a mental illness," Preece said.
'We are all some of you': lawyer
There were also several lawyers who spoke in favour of the proposed policy, including findlay. She said she has been involved with two B.C. Human Rights Tribunal complaints brought by transgender students against school districts that didn't adequately maintain their privacy or accommodate their needs.
"For the purposes of the law, gender equals gender identity," findlay said. "In Canadian law, trans children are protected from discrimination, and we owe them a duty to accommodate."
findlay also spoke to the opponents of the policy in the room, many of whom carried protest signs. She talked about the need for the changes in a moral context as well as a legal one.
"We are all some of you, and you are all some of us, because some of your children are trans," findlay said.