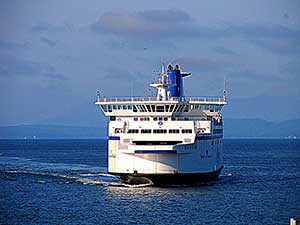 The British Columbia Lottery Corporation proposed introducing slot machines on as many as five BC Ferries routes, documents from the Crown corporation responsible for gambling in the province show.
The heavily censored records obtained from the BCLC through a freedom of information request outline two scenarios for gambling on BC Ferries, neither of which match what the provincial government announced in November.
They also suggest that the proposal arose out of a discussion between BC Ferries and the BCLC, that the ferry company didn't want to be seen as wanting to put slot machines on its vessels and that government officials were interested in how much money could be generated.
"The pilot project would be implemented on BC Ferries' busiest route between Swartz Bay and Tsawwassen," Transportation Minister Todd Stone told reporters on Nov. 18, 2013 when the plan first became public amid news of cuts to service and to the discount for seniors. "If successful, gaming revenue would help reduce the pressure on fares with net revenues reinvested into the ferry system to support general fares."
The announced pilot was scaled back from what BCLC described as "scenario 1" in a July 2013 document. That proposal would put slot machines on five routes which would have meant introducing gambling on some 10 vessels.
The routes under consideration for slots included all three between the Lower Mainland and Vancouver Island, as well as route 10 from Port Hardy to Prince Rupert and route 11 from Prince Rupert to Haida Gwaii.
Escape the crowd, gamble
A second scenario outlined in an October 2013 BCLC document looking at "room options" suggested putting slot machines in the Seawest Lounge on the Coastal Renaissance, a vessel mainly used on route 30 between Horseshoe Bay and Departure Bay in Nanaimo.
"Seclude [sic] area aboard the Renaissance could be a good area to host slot gaming," it said. It noted the lounge, where passengers can now pay a fee to "escape the crowd," has the advantage of a private entrance which would allow operators to control the age of entrants and provide security.
The document appears to build on a September 2013 "Gaming Market Evaluation for Route 30," the number referring as well to the route between Horseshoe Bay and Departure Bay.
The evaluation is almost entirely censored, but page headings make clear it looks at how much money should be expected based on introducing 25 slot machines on the vessel used by 1.5 million passengers a year.
One of the BCLC documents says "various scenarios" were under consideration, but just two were included in the uncensored sections of the 39-pages the BCLC released.
Besides the censored sections, seven pages were withheld in their entirety, with BCLC's FOI office citing parts of the provincial law that allow them to refuse access to records that would cause harm to a public body by revealing plans about the administration of a public body that have not yet been made public, that would reveal cabinet confidences, that contain advice to a public body and that are subject to solicitor-client privilege.
Minister back pedaling, says critic
It is unclear why Stone's November announcement differed so significantly from the scenarios included in the July and October BCLC records. A Ministry of Transportation spokesperson took questions about who made the decision to first test slot machines on the Swartz Bay-Tsawassen route and why they chose that route.
"While Route 1 was identified as having the best potential given it has the highest traffic volume, we are still in the preliminary stages of exploring the feasibility of a gaming pilot," a spokesperson responded without saying who selected that route. "As there is still a lot of work to do before a gaming pilot could be introduced, no timelines have been set."
The NDP's transportation critic, North Island MLA Claire Trevena, said that when she raised questions about gambling on ferries during debate of the ministry's budget on April 1 with Stone, "He basically back pedalled."
"I would suggest that the gaming consideration is one that does require a tremendous amount of thoughtful analysis," he told her. "That is why there are conversations being held with B.C. Ferries, B.C. Lotteries, the Ministry of Transportation and the Ministry of Finance ... to really determine: is gaming truly a viable opportunity to generate additional revenues for B.C. Ferries and to do so in a safe and responsible manner?"
He said, "If we cannot meet the test of safety and responsibility, we will not proceed with gaming on ferries."
"There is no sure thing here," said Trevena. "It indicates two things as far as I'm concerned. One is there really is no plan for BC Ferries ... The second thing is a sense of desperation."
The plan for slot machines on BC Ferries vessels feels like it was developed on the back of a napkin and should have been more thoroughly thought out before it was floated publicly, she said.
Ferry riders have repeatedly said lowering fares would increase the number of passengers and vehicles and therefore raise revenues, she said.
Following Stone's November announcement the Victoria Times Colonist quoted a gambling addiction expert criticizing the proposal to put slot machines on BC Ferries and CBC's website noted in its coverage that problem gambling has doubled in B.C. over five years.
BC Ferries 'exploring possibilities'
BC Ferries has previously said the idea to put slot machines on its vessels came out of a "community engagement" process in 2012.
Email messages included in the FOI response package make no mention of that process. Instead the issue is first raised in an April 3, 2012 email that the BCLC's then-director of product management, Serge De Iure, sent to Jeff Davidson, director of retail services for BC Ferries.
"Jeff I had a conversation with Owen Gormley this morning, he had mentioned the two of you had a conversation and that you were exploring Gaming options on the Ferries," De Iure wrote. Gormley was a senior manager at BCLC. "If this is accurate feel free to give me a call and we can discuss your thoughts."
Davidson's partially censored reply, written less than half an hour later, said, "I am ... really just doing some background research on what revenue generating possibilities there might be. As I explained to Owen, I don't want there to be any perception BC Ferries wants to go this way."
He concluded, "I am exploring options to present to our Executive at a future date to see what initiatives they are interested in persuing [sic]."
By May 23 the two had spoken on the phone. Davidson wrote, "It was very informative and sounds like it may be possible to do something here. We'll see."
Other emails in the package include ones between Ministry of Transportation officials and BCLC representatives asking about the revenue potential for slot machines on ferries, and others between BC Ferries and BCLC discussing technical details such as the weight of slot machines and the need for security cameras.
Minister Stone has publicly suggested BC Ferries is driving the push to put slots on the vessels, but Kirk Handrahan, the executive director of the ministry's marine branch, appears from the emails to actually be leading the drive, said the NDP's Trevena. "There clearly is interest in the ministry to be following up on this."
Trevena, by the way, observed that despite the attempts to make BC Ferries appear arm's length from the government, it is abundantly clear the government still has its fingers deep in the publicly-owned private company's operations.
Finally, a Feb. 6, 2014 Business Development Analyst Memo by Carl Severson in BCLC's Casino Division looked at the "costs, challenges and [return on investment] related to slot machines on a single BC Ferries route (assumes 20 slots per vessel)."
Its findings and conclusions were censored before release, but the "background/analysis" section noted that a previous offering of gambling on BC Ferries had ended because of low uptake from passengers. "In 2007, BCLC removed lottery Scratch & Win tickets on all BC Ferries routes," Severson wrote. "The reason for this change in distribution was due to low sales (approximately 5 per cent) and at the time there was no validation method."