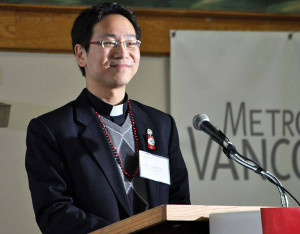 In the words of a Little Richard classic, "the joint was jumping down at the union hall" in Vancouver last week, pulsing with a happy energy not often found in solemn political and labour gatherings.
Hundreds of people gathered at the Maritime Labour Centre on March 19 for a two-hour meeting one speaker described as "a chance to make history."
And by the time it was over, the crowd seemed convinced that the organization inaugurated that night, the Metro Vancouver Alliance, might do just that.
The over 600 people thronging the spacious hall included representatives from union locals and labour groups, various faith denominations, and community organizations ranging from business associations, to credit unions, to universities.
They came to kick-off the MVA, a new umbrella group that aims to create social and political change in Victoria and beyond. After years of consultation, four shared areas of action were identified: housing, poverty, transit and social isolation.
Similarly organized alliances in the United States, United Kingdom and Australia, which focus first on creating relationships among community groups and then developing specific demands, have produced significant reforms in those jurisdictions.
Intended as a non-partisan network, the MVA's founding assembly drew supporters from local and provincial government. While there were plenty of NDP MLAs present, no BC Liberals made it, as MLAs Suzanne Anton, Linda Reid, and Sam Sullivan were tied up with prior commitments. Vancouver city councillors in attendance included several from Vision Vancouver and Elizabeth Ball from the Non-Partisan Association.
At least one former B.C. premier, Mike Harcourt, attended, grinning cheerfully at a Tyee reporter as he left. "This was a lot like the old days," he said.
Some people in the hall, like Clarence Li, an Anglican priest, had worked on creating the MVA for over a decade, and others there represented organizations that joined within the past weeks.
All were present to commemorate the new network, which represents more than 200,000 members, and to formally launch its direct campaign to change the nature of life in the Metro Vancouver region.
Alinsky gains worldwide
Using an organizing method pioneered by Chicago social justice activist Saul Alinsky and the Industrial Areas Foundation, local religious leaders, trade unionists and community group leaders met regularly for more than a decade to seek out groups interested in supporting a social justice network in the Lower Mainland, to identify issues the network could pursue, and to build relationships.
The Alinsky method has been successfully used by over 65 affiliates in North America, Europe and Australia, leading to significant victories for organizers in communities like London. There, Citizens UK campaigned to end the penal detention of children of families who run afoul of immigration and refugee regulations. The achievement was not without controversy, as some refugee advocates accused organizers of over-cooperating with the British government and its detention of asylum seekers.
The group also successfully campaigned for the adoption of living wage levels by many U.K. employers, including HSB and Barclay's Bank. The campaign reportedly won over £210 million in additional wages and lifted over 40,000 families out of working poverty.
The group also pushed for a comprehensive program to promote street safety, especially for young people, and for the establishment of a "Peoples Olympic Legacy" for the 2012 Olympics.
The Olympic campaign, according to Citizens UK, included the government's promise to build 2,012 permanently affordable homes through a community land trust and mutual home ownership, and set aside £2 million for a construction academy to train local people. The deal guaranteed at least 30 per cent of Olympic-related jobs would be reserved for locals.
Impressive gains have been achieved by groups organized around Alinsky methods in the Seattle area, where the Sound Alliance successfully lobbied for a municipal ordinance in the U.S. "establishing clear guidelines for local law enforcement's involvement in federal immigration enforcement and making the Puget Sound community safer."
The Sound Alliance also conducted a campaign to prevent home foreclosures in the wake of the financial meltdown of 2008, and helped establish Sustainable Works, a non-profit contractor that promotes affordable retrofits for Washington State homeowners.
Uniting unlikely allies
"People need to realize that the MVA represents a methodology, not an ideology," said former president of the Vancouver and District Labour Council Bill Saunders, who took part in some of the alliance's earliest meetings.
One of the strengths of the Alinksy model, Saunders explained, is its insistence that diverse participants focus on areas of agreement, not the many issues that divide them.
"I will never agree with the Catholic Church about abortion, for example," he said. "But the Church and I do share a lot of goals about social justice and poverty, and we can work together on the goals we share. You have to ask the question, 'Who needs to be in the room with us for us to win?' I need all the help I can get, and I am happy to buy into the MVA idea."
Paul Schratz, who speaks for the Roman Catholic Archdiocese of Vancouver, also sees the MVA as a way to unite unlikely allies around areas of agreement. "We cannot, as Catholics, keep silent about our love for the poor," he explained.
Schratz credits Franciscan Sister of the Atonement Elizabeth Kelliher as a key figure in mustering Catholic support for the initiative. Kelliher, an activist nun who died last year, urged community groups to build a coalition based on relationships, careful listening to members and each other, and shared values, not just short-term campaign goals.
Veteran labour organizer Joey Hartman, president of the Vancouver and District Labour Council, said that the MVA is something new for her movement. "The MVA offers us a new way of organizing with like-minded people for equity, a strong civil society and control over the conditions of our lives," she said.
"So often in coalitions we focus on what divides us, but here, with 100 per cent consensus required before a position is taken, we focus on what unites us. This approach is enduring, about relationships that go beyond specific issues. We've seen this approach work around the world."