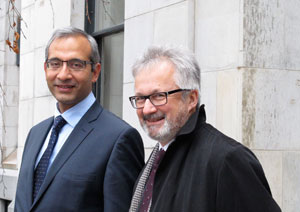 On the phone from the home he shares with his wife and children in East Vancouver, David Wong's voice is heavy with exhaustion. The Vancouver-raised architect and author is burnt out, he says. He's spent the last two weeks speaking out publicly on behalf of the Ming Sun Benevolent Society, whose former headquarters at 439 Powell Street made headlines when news of the 122-year-old building's impending demolition spread.
Until recently the building's upper floor housed 10 low-income, Chinese-speaking seniors, a population known to struggle to find affordable and culturally appropriate housing. The Ming Sun Benevolent Society, which owns the building, also rented out the 1,000-square-foot space on the main floor to a local artists' collective, Instant Coffee, for $1,000 a month. In late November, City engineers ordered both the seniors upstairs and the artists downstairs out, saying the aging building had become unsafe.
Most of the seniors are now living with relatives outside the inner city, says Wong, a third-generation descendant of one of the Ming Sun society's founding families. They're not happy, he adds. According to Wong, residents "were given no notice" of the emergency eviction. Some were so rushed they "left their things behind. One old lady, she came back several times. She came back with a little plastic bag and did a whole bunch of trips back and forth all by herself on the bus. She was crying on the floor. I had to pick her up off the floor and comfort her."
Wong says he considers some city councillors to be friends. "[Vision Vancouver councillor] Kerry [Jang] and those guys... I still consider them friends," Wong says. "Their job's difficult. They've got lots of pressure. I understand where they're coming from. And I don't really want to vilify the City [of Vancouver] because it takes good people to run it." Nonetheless, Wong is an outspoken critic of many of the City's decisions, particularly regarding the Ming Sun building. "I'm just sad that [the City] somehow put the blame on this old family society. They say that [the Sun Ming Society] are bad landlords, which isn't true."
'Willful confusion'
Geoff Meggs bristles at Wong's comments.
"David Wong is not telling the truth about what the City has said and done with regard to the Ming Sun project," says the two-term Vision Vancouver councillor, "and that's caused a lot of confusion." The demolition, Meggs insists, was not initiated by the City, as Wong describes it. Rather, it was a necessary response to the building's imminent "landlord-caused collapse."
"This is a very, very old building. And the building next door did collapse. So life-safety issues came to the fore and city engineers intervened and established that further work was needed." After the brick east facade of the Ming Sun building collapsed onto its neighbour in July, City inspectors determined that the entire building was inadequately maintained, and required significant structural improvements to remain habitable.
"People condemn the City for shutting down a building that could burn down at any moment!" Megg objects. "The job of our city staff is to make sure people don't die in fires. So we make no apology for enforcing the basic rules around those buildings, even if unfortunately, from time to time, there's consequences."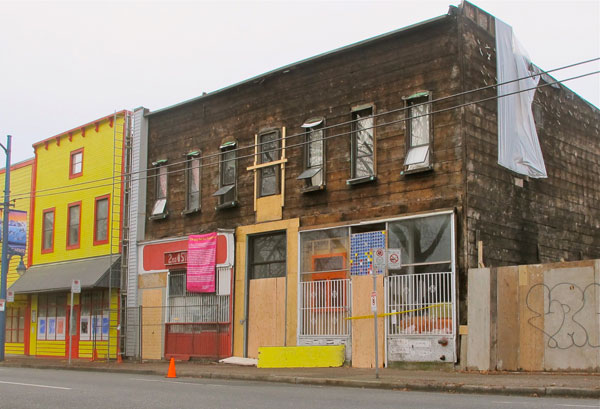 The controversy surrounding the Ming Sun demolition, Meggs says, is an example of what he describes as frustratingly widespread, "willful confusion" within the affordable housing advocacy community.
Irked by what he heard from panelists at The Tyee Solutions Society's Generation Rent storytelling night and panel discussion last month, Meggs fired back in an opinion piece lauding City progress in addressing rental housing -- efforts he felt the panelists failed to acknowledge.
His remarks set off a spirited exchange. First Filipino community advocate R.J. Aquino and former NDP MLA David Chudnovsky countered Meggs' commentary. Then Sean Antrim, a frequent Meggs critic and executive director of the Coalition of Progressive Electors, the far-left municipal party that has lost members to Vision Vancouver recently, penned an essay on the Mainlander news site that lays out three recommendations for the city to move forward on affordable rental housing solutions.
Antrim called on the city to:
1. Stop zoning high-end market rentals and condominiums in neighbourhoods with high existing concentrations of affordable housing;
2. To curb evictions for renovations, or "renovictions," refuse renovation permits unless the landlord can guarantee tenants will be allowed to return to the new unit without an extraordinary rent increase;
3. Reactivate the city's dormant public housing corporation.
Meggs dismisses Antrim's ideas as infeasible. Allowing tenants back into renovated suites without extraordinary rent increases, he says, would unfairly force landlords to lose money. "I don't think anybody, regardless of their perspective on rents, can afford to renovate a home and not pay off that renovation somehow," he reasons.
Drawing another distinction, Meggs adds: "Our critics reject new [housing] supply as part of the solution because they consider it too expensive. We [in Vision Vancouver] think there's a value to building new rental housing, provided it doesn't destroy old rental housing, because it's at price points that are very accessible to people who could not afford to buy a home. And we are trying to respond to the housing needs of everybody below the home ownership level to the degree we can."
Meanwhile, he insists that Vancouver is using what regulatory tools it can to protect existing rental stock, "which is very significant, and has been completely ignored [by the City's critics]." Meggs places the blame for threats to that housing on forces beyond city hall's control. "It's at risk because the [Canada Mortgage and Housing Corporation, or CMHC] mortgage program is ending, the CMHC itself may be ending. Our leases [on city-owned land] are coming to an end."
He's talking about the expiry in 2014 of the federal housing agency's Investment in Affordable Housing (IAH), though work is underway to extend the program to 2019;* federal Finance Minister Jim Flaherty's recent musings that the agency itself has grown too large and needs trimming back; and the somewhat more distance expiries of leases on city-owned sites occupied by affordable and market rental housing.
As for adding to affordable housing units, "what we've heard from our critics is, well, the City should build housing: it should become a landlord. That's a viewpoint that simply ignores a lot of the financial realities," Meggs insists.
The idea, popular among advocates, that the City could tap the $3-billion value of its property endowment fund to construct housing in the city, he says, misunderstands the nature of that fund. "Very little of those assets are in cash form. A lot of them are parks, schools, other community assets like community centres and so on, which have a value from the standpoint of managing the City's finances as collateral," Meggs says. "But they could never be developed."
The challenge is regional, not city alone
According to Meggs, the City of Vancouver has "the best record in the region" for affordable housing initiatives. One such initiative was its October appointment of new chief housing officer Mukhtar Latif. Vancouver wooed the housing project manager and development director away from London, U.K., in response to a 2012 recommendation from the Mayor's Task Force on Housing Affordability.
Latif's first assignment is the creation of a Vancouver housing authority, but he'll also spend part of the next year investigating ways to make two- and three-bedroom units more affordable to families in the private rental market. Expectations for Latif's mission are hemmed in by what Meggs calls the city's "brutal" land costs. "And we are not able to repeal those market laws on our own."
He finds it frustrating to see the city so criticized, Meggs says, when he doesn't see the same pressure placed on surrounding municipalities. "The rental stock that's in Burnaby, New West, and Surrey, in many cases, doesn't have the same protection that it does here," he says. "I think it's long overdue that people looked at the housing crisis in the region as a regional problem."
It's not only the other regional municipalities he'd like to see called out on their support for housing. "It's frustrating to be in a debate where the alleged shortcomings of our program are 80 per cent of the focus," Meggs says, "when we know that to fix the problem we need action at senior levels [of government]. The City has demonstrated the possibility and raised the hopes, I think. But we can't close the deal without provincial action and federal action. And those are very remote right now."
A new rise for the Ming Sun?
Residue from December's rain darkens the wooden exterior walls of the former Ming Sun Benevolent Society headquarters. For the first time in over a century, its upstairs hallways are no longer full of people.
David Wong remains optimistic about the future of the society. He's hopeful that community members could collaborate with the City on building a new space for Ming Sun. "After this incident, a whole bunch of different groups have come together, from the Dunbar Residents Association, to Downtown Eastside groups, to the Nikkei Museum, the Powell Street Festival, the Chinese-Canadian Historial Society," he says. "I'm sure the artists and the whole community could come out to work with the city."
Meggs is less sanguine. "There may be a solution there, but it seems like the situation's becoming more irretrievable by the day. There are buildings of that age that are perfectly safe. And this one is not," he says. "And why is that? Is that the City's fault? I get impatient with people who feel that the City should be able to fix everything after the fact, retroactively. It's simply not possible for us to do. "
Meggs is aware that his stand garners him criticism. But he's clearly unapologetic in his view that the City is moving in the best ways possible to build affordable housing for lower- to middle-income citizens -- those identified as a priority by the Mayor's Task Force on Housing Affordability. Very low income citizens on social assistance are the responsibility of the provincial government; those who can afford to buy condos are, as Meggs puts it, "not our department."
Meggs will take his case to voters next year, when Vision Vancouver prepares for the fall's municipal elections. But even if he fails to win a third term next November, he says, "at least I'll have the satisfaction of knowing that there's two to three thousand additional rental units that wouldn't have been there otherwise.
"And I invite those like Sean [Antrim], who hope I'm defeated next year, to produce some practical proposals to do better. I haven't heard them yet."
*Correction, Dec. 17 at 1 p.m.: A previous version of this story misstated the federal housing program in question. It has since been corrected.