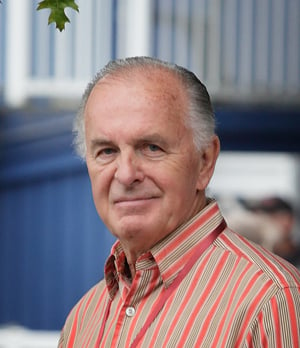 The newest client of British Columbia's most-prominent lobbyist and political strategist is a recent entrant to a budding industry.
BC Liberal insider Patrick Kinsella is lobbying Victoria and Ottawa on behalf of MariFarma Hydroponics Inc., a company incorporated Sept. 19 by Cloverdale resident Allan Watt.
The B.C. Lobbyist Registry shows that Kinsella and his Progressive Group partner Cynthia (Burton) Shore are acting for MariFarma from Sept. 23 until Dec. 31, "to provide information and analysis of (the) medical marijuana regulatory program." Their target contacts are Deputy Premier Rich Coleman, Health Minister Terry Lake and Finance Minister Mike de Jong.
Watt did not respond to interview requests.
Kinsella was listed Oct. 2 with the Office of the Commissioner of Lobbying of Canada to represent MariFarma to the Canada Revenue Agency and Health Canada regarding the Marijuana for Medical Purposes Regulations, the Conservative government's June overhaul of the pot prescriptions for patients policy.
Kinsella's lobbying activities in B.C. once included gambling (Great Canadian Gaming) and liquor (Mark Anthony Group, Pacific Western Brewing and Exel Logistics), but the 72-year-old has shed most of his clients and is spending substantial time in the Arizona desert.
In February 2012, Kinsella's wife Brenda paid $1.15 million for a Scottsdale, Arizona house. After almost two years on the market, the Kinsellas sold their Shaughnessy mansion in March. The original asking price of $7.28 million was cut to $6.2 million and finally to $5.99 million.
Kinsella's only other provincially registered undertaking is for MWH Business Solutions, a Colorado-based engineering firm that BC Hydro paid $7.6 million for the year ending March 31, 2013. MWH wants to "explore business opportunities in B.C. that pertain to water, waste water, energy, natural resource, program management, consulting and construction services to municipal and provincial governments." The target contact is Energy and Mines Minister Bill Bennett.
Shore, Kinsella's partner at Progressive Group, is the sole lobbyist registered for Seattle-based garbage and recycling company Rabanco Ltd., which wants an open bidding process when Metro Vancouver's Cache Creek landfill contract with Belkorp Industries' Wastech expires in 2016. Neither Kinsella nor Shore responded to interview requests.
Progressive goes to the net
Former Chilliwack Liberal MLA John Les, who retired from politics before May's provincial election, registered in August to lobby for Belkorp. The previous month, Liberal pollster and former assistant deputy minister Dimitri Pantazopoulos registered for garbage hauler BFI.
Though there is no ban for ex-public office holders, Public Service Agency (PSA) post-employment rules include a one-year restriction from lobbying "any ministry or organization of the government" in which the ex-bureaucrat was employed. In the case of Pantazopoulos, who resigned the week after May's election, the PSA said he is only restricted from lobbying the Intergovernmental Relations Secretariat that he once headed.
Registrar Elizabeth Denham recommended in January that politicians and senior bureaucrats be prohibited from lobbying for two years after they leave government because "lobbyists who are former high ranking public office holders can have influence that is, or is perceived to be, more amplified than is appropriate." The federal cooling-off period is five years.
Kinsella founded Progressive Group in 1984 and finally launched a website at ProgressiveGroup.ca this year. The domain was registered June 10, which coincidentally, was swearing-in day for Premier Christy Clark and her post-election cabinet.
The website includes a corporate presentation in English and Chinese that describes Kinsella as a "political affairs advisor" whose career achievements include chairing the 2001 and 2005 BC Liberal campaigns, work on Clark's successful 2011 leadership campaign and her party's 2013 election win.
It does not mention Kinsella's consultancy roles in the controversial $1-billion sale of BC Rail to CN (whose chair is Liberal donor David McLean) or the $1.45 billion outsourcing of BC Hydro customer service, billing and IT to Accenture.
Former Progressive partner Mark Jiles is now B.C. principal for the Canadian Strategy Group. Progressive became a trio again in September when Don Fast joined.
Fast was among three deputy ministers fired without cause by Clark on June 6, a day before the cabinet naming ceremony in Vancouver. Fast received a $406,246 severance package, according to Freedom of Information documents obtained by The Tyee.
"I've known both Cindy and Patrick for a long time and have a great deal of respect for both of them," Fast told The Tyee. "I enjoy knowing them and it'd be fun to work with them."
Fast has a master's degree in science from York University and was Environment Canada's Pacific and Yukon regional director for six years before joining the B.C. government in 2006. From 2006 to 2010 he was Economic Development Deputy Minister until he was shuffled to the Community, Sport and Cultural Development Ministry.
"I've always enjoyed a great deal working with my clients, whether they were environmental agencies, or social agencies or business agencies," Fast said. "As a public servant I've tried to help people and find a way to get things done, to serve taxpayers of B.C. Now it's just a little different contractual-type agreement, but in many respects the type of work is quite similar."
Fast said he recently moved to Sooke and has not started working full-time with Progressive. His name does not yet appear in the B.C. Lobbyist Registry. The Public Service Agency said that it has not received a request to reduce or waive the post-employment lobbying restriction from Fast or the other two deputy ministers who were terminated in June.