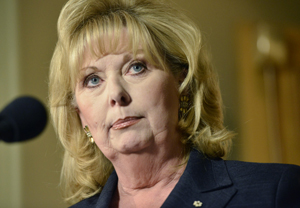 The fates of senators Mike Duffy, Pamela Wallin and Patrick Brazeau are hanging in the balance this morning after a day that saw Prime Minister Stephen Harper's government -- and his credibility -- under fire in both the House of Commons and the Senate.
In the Senate, Wallin accused fellow senators Marjory LeBreton, Carolyn Stewart Olsen and the prime minister's office of orchestrating a series of leaks to discredit her and then trying to push her out of the Conservative caucus.
Down the hall in the House of Commons, Opposition Leader Thomas Mulcair went on the attack with a line of questions designed to determine what Harper knew about Duffy's expense account claims and when he knew it.
Harper fought back with an attack of his own on the man he once named to the Senate. Harper confirmed that he had met with his former chief of staff, Nigel Wright, and Duffy. He said he told Duffy in no uncertain terms that his secondary residence expense claims were "inappropriate" and should be paid back.
However, Harper continued to deny all prior knowledge of the $90,000 cheque that Wright gave Duffy to allow the embattled senator to repay housing allowances he collected. Harper also served notice that there would be zero tolerance for Conservative MPs and senators who flout expense account rules.
"What I said to our caucus and I said to the caucus as a whole when this issue came up is, 'You cannot claim an expense you did not incur. That is not right, that is not proper and that will not be tolerated in this party.'"
Senators fight for their futures
After two days of debate, the Senate rose for the evening Wednesday without voting on the three motions that have triggered three days of political high drama as Duffy, Wallin and Brazeau fight for their political futures -- not to mention their pay cheques and health plans.
The Senate is to resume debating the motions to suspend the three senators Thursday. Meanwhile, the Liberals have proposed the motions be referred to a televised committee where witnesses can testify and documents can be tabled.
It is not yet known when either proposal will be put to a vote.
Duffy and Wallin have already threatened a court challenge should the Senate vote to suspend them and strip them of their salaries pass.
However, the bigger problem for the Harper government at the moment could lie in the court of public opinion. The battle that has gripped the attention of Canadians pits Harper against two very high profile, very capable communicators who have intriguing tales to tell.
As that battle unfolds, Canadians will have to decide who is more credible -- Mike Duffy or Stephen Harper? Pamela Wallin or Marjory LeBreton?
It also comes at a difficult time for Harper, only a week before hundreds of Conservative supporters and organizers are to gather in Calgary for the party's policy convention.
Kicked a hornet's nest
Speaking in the Senate Wednesday, Wallin said that convention is one of the reasons the government has moved to suspend the three senators without pay.
"It is also designed to appease the party faithful before the Conservative party convention at the end of the month," Wallin charged. "It is intended to intimidate -- not only me but others in this chamber. It is about political expediency -- to get rid of someone it considers to be a political liability."
Wallin has also complicated matters for the Conservatives by suggesting that she's not the only senator whose spending could be the subject of questions.
"If today's travel and other rules are applied to you retroactively, many of you too may be asked to pay back," she said. "I'm not just speaking theoretically -- many of you have privately told me you are concerned."
Wallin also called into question Stewart Olsen's residential expense claims. Earlier in the day, Stewart Olsen stepped down from the Board of Internal Economy, which deals with questions such as expense claims, saying she wants to focus on committees more closely aligned with New Brunswick issues.
In the end, the attempt to close down Duffy, Wallin and Brazeau could instead have kicked open a hornet's nest for the Conservatives that will continue to buzz for days and weeks to come.