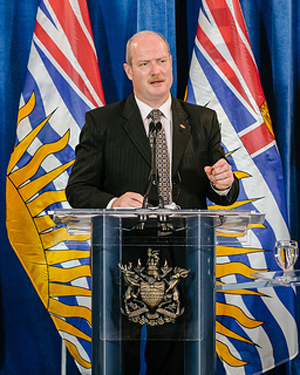 British Columbia's financial position has deteriorated since February's provincial budget presentation, though a thin surplus is still expected, according to an update Finance Minister Mike de Jong released today.
Reduced estimates for economic growth and more people leaving for other provinces were among the explanations for the worsening bottom line. The surplus for 2013-2014 is now projected at $153 million, down from $197 million in February, on a total budget of $43.9 billion.
"I won't profess to be entirely comfortable, but the numbers are what they are," de Jong said. "No argument from me that what we're talking about is a balancing act that requires attention to details."
Meeting the revised surplus figure includes drawing down $50 million of the $200 million forecast allowance and the assumption the government will be able to find another $30 million in savings.
The needed savings are a small part of the province's total budget, said de Jong. "It's not really that easy, but it is achievable."
Pacific Carbon Trust could be cut
No one area would be targeted, de Jong said, but he gave the Pacific Carbon Trust as an example of somewhere the government might be able to find some savings while still achieving its environmental goals and addressing issues the Auditor General raised earlier this year.
The government decreased its estimate of real GDP growth for the province to 1.4 per cent, down 0.2 per cent from February's assumption. The drop is smaller than the one projected by the province's economic forecast council, which lowered its GDP projection from 2.1 per cent to 1.6 per cent.
Tax revenues projections are down in part due to "a weaker outlook for personal income, wages and salaries, employment, corporate profits, consumer expenditures and B.C. housing starts."
Transfers from the federal government are dropping because B.C. has been losing population share to other provinces. As the budget document puts it, "Statistics Canada has recently provided its preliminary 2011 census net undercount estimates, which show B.C. has a lower population share of the national total than projected in the Feb. 2013 budget, resulting in reduced entitlements over the fiscal plan period."
Revenue projections increased thanks to an increase in the outlook for natural gas prices, but expectations for revenue from coal and forestry have dropped.
Budget still not really balanced: NDP
"Things are getting worse, but this fact-free government continues to insist the budget is balanced," said Mike Farnworth, the New Democratic Party's finance critic. "It wasn't balanced in February and it isn't balanced today."
The budget includes $130 million in cuts over the next three years, he said. "Cuts that will be felt by B.C.'s most vulnerable citizens."
He also drew attention to the fact that the movement of people out of the province has put a hole in the budget. "So many people have left that government transfer payments are down."
Phil Hochstein, president of the Independent Contractors and Businesses Association of BC, said he thinks controlling spending is the right thing to do and that the NDP is wrong when it says the budget is not balanced. "I think the people of British Columbia believe it is balanced, because that's what they voted for," he said. "Their opinion was not accepted by the population."
The budget bodes badly for health care, said Mike Old, the communications director for the Hospital Employees' Union. "There's a quarter billion dollars of spending pressures that the BC Liberals recognized last year that they're not funding in this year's budget, and that's going to mean a summer of cuts and a fall of cuts for health care," he said. "It's going to be very tough on front line health care services."
The BC Liberals didn't mention during the election campaign that they were going to starve the health care system, he said.
"British Columbians will be very surprised to know that this election was about cutting health care," he said. "That's certainly not what the premier campaigned on, but that's what they're going to get as a result of this budget."
"It's a bad news budget, really," said Jim Sinclair, president of the BC Federation of Labour. "It says unemployment's up, the economy's weakening, housing starts are going down, and in general, we're in trouble."
The BC Liberals' response is to make cuts that will result in more job losses, he said.
"What I saw today is not an answer to the problems," he said. "I don't have all the answers, I'm the first to admit that, but I know that cutting services and cutting jobs when unemployment is already rising is not an answer. That's not solving the problem, it's making it worse."
Business, labour and the government should sit down together and discuss solutions, he said.
The budget's promise to cut money from core services creates uncertainty for people who work in the public sector, said Darryl Walker, president of the BC Government and Services Employees' Union. "We probably have more questions today than we had answers yesterday."
Walker also questioned yesterday's throne speech pledge to freeze income taxes for five years.
"If they want to freeze them for a year at a time, I think that's fair, British Columbians will understand that," he said. However, the province has a revenue problem because it has cut taxes so far and it makes little sense to handcuff itself, he said.
Total debt growing
Since February the government has restructured some ministries, transferring both responsibilities and budgets. The budget documents don't include details on what moved, but $33 million is coming out of Jobs, Tourism and Skills Training, $9 million from Advanced Education, which is now also responsible for Innovation and Technology, and $2 million out of Community, Sport and Cultural Development. *
The finance ministry budget is up by $20 million and Transportation and Infrastructure is up by $9 million. Finance is now responsible for the gambling industry and transportation now includes the B.C. Pavilion Corporation, a finance ministry spokesperson said. *
In February Energy, Mines and Natural Gas had a budget of $425 million. The update gives $24 million to Energy and Mines and $372 million to Natural Gas Development.
The total budget for the ministries and the premier's office, $32.05 billion, remains the same as what was presented in February. *
With three weeks until the public accounts for last fiscal year, 2012-2013, de Jong said they will show that year's deficit has grown from the original estimate by $172 million to $1.15 billion. Part of the larger deficit is the failure to sell the Little Mountain property in Vancouver last year, but that sale is expected to complete in 2013-2014 for some $300 million.
The province's total debt will rise to $62.5 billion by the end of the fiscal year, and is projected to grow to $69.8 billion by the end of 2015-2016. That includes $336 million more in debt accumulation than was expected in February. *
"We continue to build and there's a borrowing component to that and that adds to the debt," said de Jong, who added that running surpluses allows the province to begin paying that down.
* Paragraph clarified at 4:20 p.m. on June 28, 2013.