[Editor's note: In part one of this series, Tyee Solutions Society Food Hub reporter Colleen Kimmett visited a hospital in Guelph, Ontario, where patients are served meals cooked that day from fresh, often local, ingredients. Other hospitals are catching on to the "good food" notion. Could the idea find a foothold in British Columbia? Turns out the Lower Mainland's four big health authorities weren't talking, as Kimmett discovered in part two. But there's hope in the kitchen after all, as she reports today in part three.]
Local fish, pulled from the cold water off the north coast, is a staple on the menu at the eight-bed hospital in Masset, a town of roughly 1,000 located on the largest island of Haida Gwaii.
Patient meals also regularly feature local potatoes and onions from nearby farmers; part of a farm-to-cafeteria initiative that got its start in the Masset public school two years ago under the leadership of Shelly Crack, a community nutritionist with the Northern Health Authority.
The program, though well received by hospital patients and the farmers involved, has been "on again, off again," says Crack. Part of the reason, she says, is fear from some hospital staff that "maybe they're breaking the rules."
One might think that hospitals cooking fresh local food would be eager to spread the news.
But Crack acknowledges she's taking a bit of a risk even talking about it -- at least, she jokes, she's going on maternity leave soon. Even though her bosses know what's going on, she and other staff are keenly aware that they operate in a kind of legal grey zone, bound by food service contracts that have rules against purchasing food from off-contract suppliers -- including local farmers.
Other sources, on and off the record, told The Tyee the same thing: there are good food projects happening in small pockets across the province, but thanks to contract terms that favour supplier monopolies, to scale up those efforts or to speak out about them is to risk being shut down.
Food supplier myth-busting
Last spring, the Public Health Association of B.C. (PHABC) hosted a "farm to cafeteria" conference, focused in part on this very issue: how do we get more fresh, more local, more wholesome food on the plates in our hospitals?
It was an opportunity for the PHABC (an arms-length organization that receives government funding to promote public health) to gauge the level of interest in the topic. As it turns out, there's a lot.
"We found out there are movers and shakers all around the province," conference organizer Joanne Bays told The Tyee. "Most are doing really great things."
An organization called Farmers on 57th runs a therapeutic garden for residents at the George Pearson Centre, a long-term care facility in Vancouver for people with disabilities. The fruits and vegetables grown there are used in smoothies for patients.
Jen Rashleigh, the program's founder, says that she was hesitant to speak publicly about what's happening at George Pearson. "We've been flying under the radar for the first four years," says Rashleigh. "We're trying to make slow and gentle inroads."
She says that making homemade smoothies for patients is politically sensitive because of the perceived risk of choking. But the nutritional benefits of fresh juice and yogurt-thickened smoothies made from fruits and vegetables that the patients help harvest themselves are tremendous.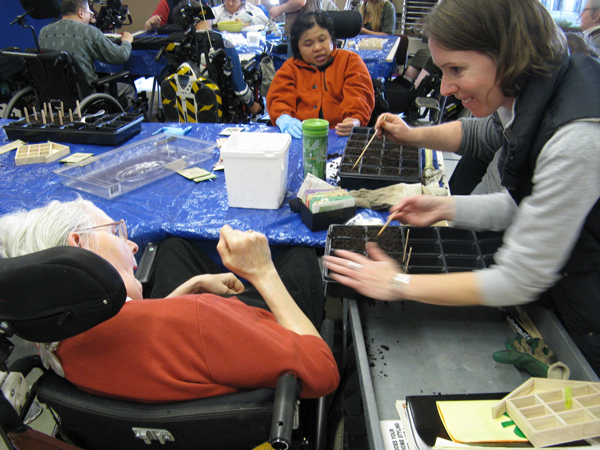 "It's all raw, which people don't get in this particular institution," Rashleigh says.
But hospital administrators who'd like to follow suit and source more local food face a double-edged sword. To do so on their own is to risk breaking tightly worded contract agreements that bind them to buying from specific suppliers or food service providers. The scope those same suppliers and food service providers have to try something new is also limited, by the risk of liability.
"Paramount to us is food safety," says Chris Roberts, director of corporate citizenship for Sodexo, the company that provides patient food services for Vancouver Coastal Health, B.C.'s largest health authority. "That's why we don't allow food service directors to go out and make deals with suppliers."
While Sodexo's internal regulations require that all its "vendors" -- the companies it buys from -- be federally inspected, no provincial or federal regulations prevent uninspected produce from entering a hospital, according to Greg Thibault, manager of public health protection for the Northern Health authority (which is served by Sodexo competitor Aramark, based in Pennsylvania).
"What about going directly to a farmer, picking up a head of lettuce, washing and chopping it up and serving it?" he asks rhetorically. "The myth is that's not allowed. But there's no regulation on things like whole produce, fruits and vegetables."
"The way the system has been set up over the last 20 years, 30 years, it's been driving the entire system to larger and larger industry to supply at a lower and lower price," said Thibault. The trouble with that starts when something goes wrong: it happens on a very large scale, says Thibault, citing the Maple Leaf Meats listeriosis recall in 2009 as one example.
"So how do you go about reversing that trend?" he asks. "Good luck."
Not 'all or nothing'
An organization called My Sustainable Canada is trying. It's been working in Ontario on various projects and is now in the process of signing a contract with the Provincial Health Services Authority to do work at a Vancouver health care facility.
The situation here is slightly different than in Ontario, explains Hayley LaPalme, the organization's sustainable food systems coordinator. In Ontario, many hospitals are part of group purchasing organizations -- sort of like a bulk buying club -- but retain relative autonomy over food service. In B.C. it's the health authorities, not hospitals, that make decisions about food and other service contracts.
What's important about many of these, says LaPalme, is that hospitals often aren't in fact locked into "all or nothing" situations. A hospital could, for example, choose to purchase its dairy from a group purchasing organization, but not its produce.
Contracts and trade issues are major barriers to scaling up efforts to source local food, according to LaPalme, who says that facilities are cautious about staying in the margins of what they can independently source, typically about 10 per cent.
"In addition to that, they are worried about whether they are legally able to give preference to local," wrote LaPalme in an email. "That said, health care facilities are often going beyond due diligence to ensure that they are not violating the terms of their contracts or of trade agreements, and we are not encouraging them to. Instead, our strategy has been to work with the contractor to help them build their lists of approved vendors..."
Finnish Home, a 75-bed long term care facility in South Vancouver is one of the few health facilities in the Lower Mainland that's not part of Vancouver Coastal Health and its system-wide services agreement with Sodexo.
"We decided the contractor was not the way to go," says Annika Treffner, Finnish Home's director of food services.
She says part of the reason was her clientele's specific ethnic preferences. Finnish Home caters to a population that is 40 to 60 per cent Finnish; the rest is mostly German. "We're very client-oriented," says Treffner. "We're obligated to do meat and potatoes."
Treffner says two cooks -- a morning cook who comes in early and does breakfast, and a regular cook who does lunch, dinner and baked goods -- do all the food preparation in-house.
She says she doesn't feel too much pressure to meet the bottom line. She tracks food costs per month, and estimates the raw costs (of food only) are six dollars per day, per resident.
Most of the cooking is done from scratch. When Treffner does have to reduce costs, she tries to do more from scratch or buy slightly cheaper ingredients without altering the menu too much; chicken thighs instead of breasts, for example.
"Administration knows that for residents, food is so important," says Treffner. "I have a lot of latitude."
She's taken it upon herself to try to include more local food. She has volunteers pick blueberries and raspberries when they're in season, and freeze their harvest. The hospital has its own small herb garden, apple and fig trees; Treffner does the necessary climbing and picking herself.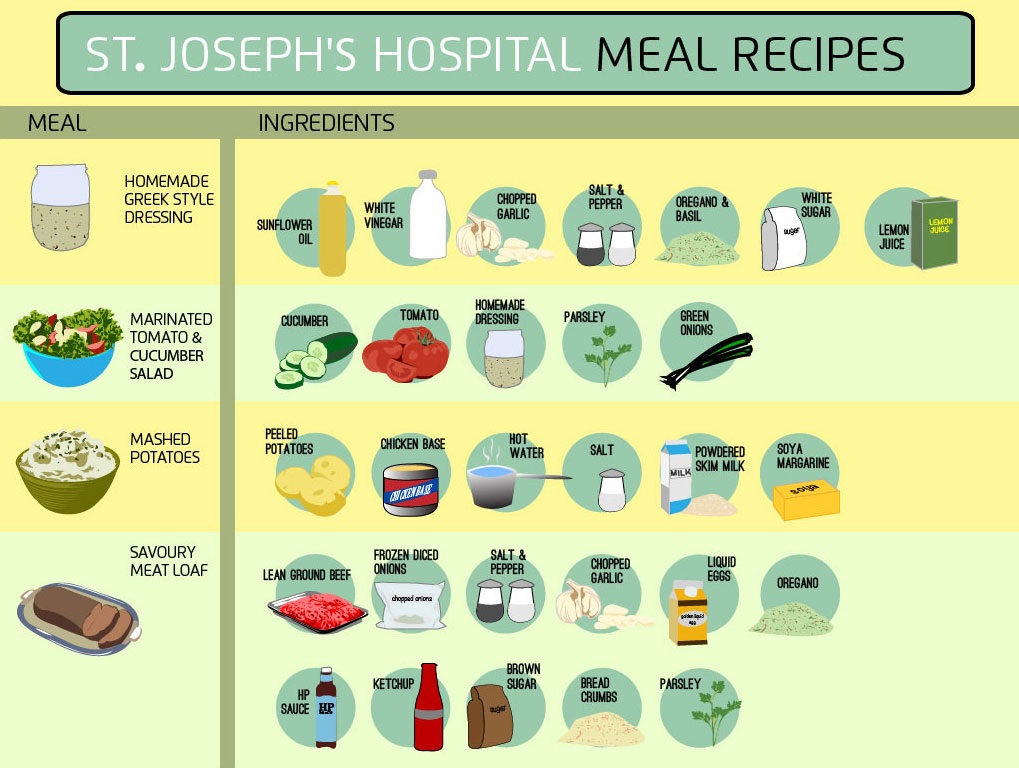 "It's become a recent passion of mine to try and include that sort of thing," she says. "Working with tax dollars, you have to be mindful about how to use that money. But staff and residents are very enthusiastic about local food... many residents were farmers."
According to Treffner, Island Farms supplies their dairy. Coffee and juice come from Sunglo, and Sysco supplies big grocery items like flour and baking supplies. Centennial supplies meat, and Canada Bread does their bread. Most of their produce comes from Yen Brothers, which are good, she says, because they accommodate very small orders, which means they can have more variety of fresher ingredients.
"Finnish Health is highly regarded," says Treffner, "and food is a part of that."
She says she's excited about the potential for more local food in hospitals. "I think this is the beginnings of something that's really going to take off."
Room to grow
Paris-based multinational Sodexo is keenly aware of the trend towards local and sustainable food purchasing. Three years ago, when he served as Sodexo's district operations manager for Brock University, Chris Roberts worked with campus food suppliers to try and figure out where their produce was coming from.
The goal was to get Sodexo's suppliers to identify farms in invoices and ordering sheets. "At that time, no one was really asking those questions of suppliers," says Roberts.
It's taken some time to get these companies on board. While Freshstart Foods (a produce supplier in Ontario that advertises "stop cutting produce and start cutting costs"), has done a "fantastic job" with their ordering system, and according to Roberts, "it's been slower with the bigger guys, GFS (Gordon Food Services) and Sysco."
Roberts says that over the past two years he has seen more requests for proposals that specifically ask for local and sustainable foods. This has mostly come from universities and colleges driven by student demands. Corporate locations and hospitals, "not so much," Roberts says, although they too are starting to change.
"We can source the local, organic, sustainable product," says Roberts. "But if a client doesn't want to purchase it, we can't force them."
Roberts says that while people like to "point the finger" at big contractors, Sodexo is leveraging the hundreds of million of dollars it spends on seafood to support sustainable fisheries. He notes that his company worked with the World Wildlife Federation to develop a sustainable seafood purchasing policy, and in 2011, removed all red-listed seafood species from its menus. "We leveraged our global buying power and it will actually have an impact on fisheries," says Roberts.
Recently, Sodexo also created a set of community garden guidelines for sites where it operates. These serve more to raise awareness among staff and provide the occasional meal, says Roberts, than as a regular food source. "Not enough to supply our units," he says.
Amy Frye, acting director of the Centre for Sustainable Food Systems at UBC Farm told Tyee Solutions that UBC hospital's food service director had seemed interested in establishing an ongoing relationship with the farm. But "we never heard back about meeting to discuss," wrote Frye in an email.
"It's something we'd be open to," she added. "Though realistically we already have many established partnerships to honour and would have to determine if the hospital could work with the quantities and seasonality of produce we could offer.
"If so, that could be exciting."
Fresh local food in B.C. hospitals may still be a movement in the bud. But it's one with plenty of enthusiasm and room to grow -- so long as no one pays it too much attention.