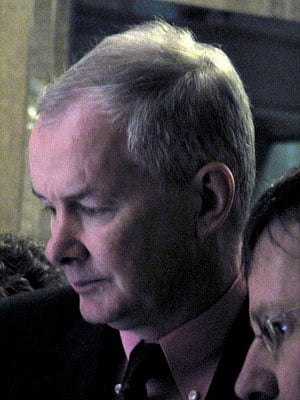 [Editor's note: This story was updated with new information at 9:30 a.m., 12:49 p.m. and 5:50 p.m on Friday, Sept. 29, 2012.]
A story by Ontario journalist Laura Robinson published by the Georgia Straight on Sept. 27 alleges that several of Vancouver 2010 Olympic CEO John Furlong's ex-students have sworn affidavits claiming he abused them while he taught at a northern British Columbia Catholic school in the 1970s.
Robinson's story also claims significant inconsistencies in Furlong's post-Olympic memoir, Patriot Hearts: Inside the Olympics that Changed a Country, which was published in February 2011.
Furlong held an afternoon news conference on Thursday in The Landing in Gastown to angrily deny the allegations of physical abuse in the Straight story and allegations of sexual abuse in a story published that same day by the Anishinabek News, an Ontario First Nations publication.
"I categorically deny absolutely any wrongdoing," Furlong said, reading from a prepared statement. "It just didn't happen."
"Advancing this after more than 40 years, particularly when I have been in the public eye constantly for the past 14-plus years is beyond me. Having experienced this reporter on many occasions in the past this feels very much like a personal vendetta."
Furlong's lawyer Marvin Storrow said Furlong will "pursue his rights against (Robinson) and her publisher through the court system to their fullest extent."
RCMP spokesman Sgt. Rob Vermeulen issued a statement an hour after Furlong's news conference to confirm police are investigating the abuse allegations.
In a statement on Straight.com, the newspaper said the story was "backed up with eight sworn affidavits. Marvin Storrow, Furlong's lawyer, did not make his client available to respond to questions from the journalist, Laura Robinson. She also attempted without success to reach Mr. Furlong through his publisher, Douglas & McIntyre. Ms. Robinson was told that Mr. Furlong had 'nothing more' to say to her."
Robinson told The Tyee she would be consulting with her lawyer.
"I have absolutely no vendetta against Mr. Furlong," Robinson said.
She said she has only met Furlong twice. She said she tried asking him in 2008 or 2009 in Ottawa about the lawsuit against VANOC by women seeking to ski jump in the 2010 Winter Olympics. She said the second time was in April 2011 at a newspaper industry convention in Richmond, B.C. She said she tried asking him questions about his time as a Catholic missionary.
"He wouldn't let me finish my sentence, he screamed stop it and walked away," Robinson said.
Details of memoir questioned
Robinson's story claims Furlong arrived from Ireland in Canada as an 18-year-old in 1969 as an Oblate Frontier Apostolate missionary and taught physical education to mostly First Nations students at Immaculata elementary school in Burns Lake.
Neither Furlong nor Storrow took questions from reporters Thursday afternoon, but Furlong did admit in the prepared statement that he was in Burns Lake, B.C. before permanently settling in Canada. He did not say when he was in Burns Lake, but said that his time there "was fairly brief and fairly uneventful." Furlong's book said he arrived in Edmonton from Ireland with his wife, son and daughter in 1974 and settled in Prince George, a claim that he has repeated in numerous public speaking engagements.
Patriot Hearts was co-written with Globe and Mail columnist Gary Mason, who told The Tyee via email on Thursday morning:
"I have been asked if John Furlong ever mentioned working in Burns Lake for several years before 1974 during the course of our interviews for Patriot Hearts. I can say he did not. As for the rest of the allegations in a Georgia Straight article about John, I have no knowledge and can't speak to them. Patriot Hearts was John Furlong's Olympic memoir. Any questions about it arising from the article written by Laura Robinson are best directed to John."
Robinson's story also calls into question Furlong's version of his cousin Siobhan Roice's death in a Dublin terrorist bombing.
Roice was one of 26 victims of a Protestant paramilitary group's bombing in Dublin on May 17, 1974 (Furlong's book said it was May 14).
Furlong claimed it was his father, Jack Furlong, who identified the 19-year-old's body at the morgue and he speculated the trauma led to his death from a heart attack less than a month later.
Robinson's story quoted Furlong's cousin, Jim Roice, who said Siobhan Roice's father Edward identified her body.
"Uncle Jack was a lovely man, but he did not identify my sister's body," according to Jim Roice.
Edward Roice died June 15, 2012 at age 93.
A Dec. 13, 2003 story published by the Irish Independent quoted Edward Roice, but mentioned nothing about Jack Furlong.
Leader in Canadian sport
After the Games, Furlong was hired as a director of Whistler Blackcomb and chairman of Rocky Mountaineer Railtours, companies that did business with VANOC before and during the Games. Furlong was also appointed chair of Own the Podium, the body that uses taxpayer funds to finance high performance Olympic sport in Canada.
In April of this year, Furlong was hired as the executive chair of Major League Soccer's Vancouver Whitecaps.
Furlong also derives revenue from speaking engagements where he promotes his book. He is scheduled to speak Oct. 13 -- the day after his 62nd birthday -- at the Alberta Sport Development Centre Northwest Sport Recognition Banquet in Grande Prairie, AB. A Freedom of Information request found that Furlong was paid $20,000 to deliver his "Vision That Changed a Nation" keynote presentation to the 2011 Alberta Sport and Recreation Leadership Summit in Banff.
A request for comment from Own the Podium, of which Furlong is the board chair, was referred to former VANOC marketing vice-president Andrea Shaw of the Twentyten Group. Shaw introduced Furlong at the news conference in the atrium of the Landing, where both the Whitecaps and Twentyten Group are located. In a 2011 interview, Shaw said Furlong "coached" her through her successful battle with colon cancer.
The building was also where Furlong worked with the Vancouver Whistler Bid Corporation when it won hosting rights for the 2010 Games in 2003. The Bid Corporation became the Vancouver Organizing Committee for the 2010 Olympic and Paralympic Winter Games.
Furlong was hired as the $300,000 a year CEO in 2004 and attracted immediate criticism from Dick Pound, the Montreal lawyer and International Olympic Committee member. Pound was critical because of the perception that Furlong, who formerly managed the Arbutus Club, was too close to then-premier Gordon Campbell.
The ninth anniversary of VANOC's incorporation is Sept. 30 and the Twentyten Group is the mailing address for VANOC, which still exists as a legal entity to deal with insurance and legal claims. It must hold an annual general meeting this fall.
At the IOC's annual meeting on July 7, 2011 in Durban, South Africa, Furlong told IOC members: "We're very close to being no longer and by this time next year, we will, in fact, be no longer."
VANOC's last public financial disclosure was Dec. 17, 2010, when it claimed a break-even, $1.884 billion operations budget. The tally included nearly $188 million of bailouts from the B.C. and federal governments. Furlong said in May 2007 that no taxpayer funds would be necessary.
Furlong did not attend the London Olympics.
The last time Furlong was the subject of a media frenzy was in February 2011 when email obtained by CBC via Freedom of Information showed Furlong knew in March 2009 of safety concerns at the Whistler Sliding Centre. The International Luge Federation had complained that the track was built for speeds faster than the design called for.
"An athlete gets badly injured or worse and I think the case could be made we were warned and did nothing," Furlong wrote to VANOC senior executives on March 24, 2009.
Georgian luger Nodar Kumaritashvili died on Feb. 12, 2010, the opening day of the Games, after he flew off his sled near the end of his last training slide and struck an unpadded steel post.
"You name it and we prepared for it. But never in our wildest dreams did we imagine the death of an athlete on opening day," said Furlong's book.
[Editor's note: due to the sensitive nature of this story, comments are closed.]