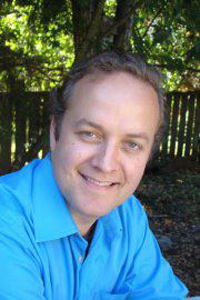 [Editor's note: This is one of a number of profiles of municipal candidates running on hot-button issues around the province, a series published on The Tyee between now and election day, Nov. 19.]
Zeb King had two successful campaigns and six years of municipal politics under his belt when he ran for -- and lost -- a seat on Central Saanich city council in 2008 by just 59 votes.
Now, he hopes to regain that seat by campaigning for a more accountable and transparent local government. The 36-year-old senior policy analyst (who works for the Ministry of Health) served on council from 2002 to 2008.
Transparency, at least around municipal campaign finance, was a key issue in the 2008 election. That was the first year in which municipalities across the province were subject to new rules under the Local Government Act that required third-party registration and disclosure.
Following the election, the RCMP investigated complaints of financial irregularities in five municipalities, including Central Saanich, where the Peninsula Co-op spent $16,483 endorsing candidates who supported its bid for a controversial rezoning approval. Officers eventually recommended charges against 19 individuals in Central Saanich, none of which were pursued by Crown counsel on the basis that it was not in the public interest.
"I think that was a bad precedent," says King, who notes that the provincial government even launched a commission [headed by Bill Bennett] looking into municipal campaign finance reform, but nothing further was put forward in legislation.
Development 'at all costs'
Although King doesn't think campaign finance is a top of mind issue for many voters, he does see growing concern about "where we've been" in the three years since the last election.
"One of the key reasons I'm running certainly is because we've changed course in Central Saanich, I think for the worse," says King. Specifically, he thinks the current council is promoting development "at all costs."
Although the co-op's rezoning bid ultimately fell through (the co-op recently made a deal with the local first nation) King says the whole thing showed a disregard for proper process and public input.
"What we've seen is [council] supporting development outside the regional growth strategy's urban containment boundary, which is contrary to their agreement with residents and neighbouring municipalities," says King.
"People are going to council meetings and they are getting the impression that there's sort of a contempt for public involvement. They are not happy with that."
His plans to bring more transparency to council by reversing amendments to the council procedural bylaws that were made shortly after the new council formed in Dec. 2008.
These include removing the names of movers and seconders in the official council minutes, as well as how individual councilors vote on any particular motion. Someone reading those minutes can now only see whether motions passed unanimously, whether it was carried, or whether it was defeated. "So how do you have accountability?" wonders King.
Another recent development that troubles King is a motion passed by council that bans district staff and councilors from speaking to the media.
"I've seen some councilors speaking without worrying about it," says King. "If they don't want to speak, they can use it as a shield."
King's ideas mean red tape: opponent Kubek
King is promising office hours every week (on Mondays before the council meeting) and a return to his former practice as a councilor of having regular café gatherings open to the public.
In response to King's criticisms, councilor Adam Olsen, who was elected in 2008 and is running again, said he is "supportive" of recording the movers and seconders as well as the individual votes. In a recent blog post on his website, he notes that while door knocking, "concerns have been expressed about the transparency and accountability of the current Council."
Olsen says that when he was on council he attempted to have the procedural amendments in question deferred a month to allow for more discussion, and has since requested that all of his negative votes be officially recorded.
However, councilor Ron Kubek has a different take on it. He wrote in an email to The Tyee that council passed the procedural amendments based on the advice of a municipal consultant. He said that committee chairs sometimes have to introduce motions they are personally opposed to because it was passed in committee, and having that person's name attached to the motion "gave the wrong impression." He also said that councilors who are opposed to a motion can request having their name recorded in the official minutes.
More generally, Kubek suggested that King lost the last election because "people were tired of his focus on procedures and policys [sic] vs. getting things done in the municipality." He claimed that in the past three years, rezoning applications have been reduced from a one- to two-year process to a four to six months.
"Our council was just trying to move into the 21st century and bring about processes that are in place in over 90 per cent of the province... trying to fix what was broken. No hidden agendas, no hidden motive, just trying to do a better job for the tax payer," Kubek wrote.
King contends that council has traded accountability for efficiency, and transparency in favour of making things expedient.
"It's a different philosophy and it's not one that I share," says King. "It seems to come from the idea that very three years we have an election, and once you're elected, citizens should go away, while the village fathers make all these decisions without hearing form the republic."
"I think that's the old school way but it's not the best way."