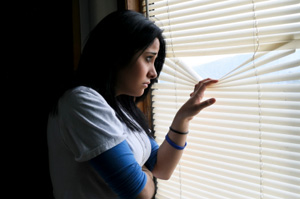 With close to 40,000 immigrants arriving in British Columbia each year, newcomers to Canada are one of the fastest growing populations in our province. But although government encourages this growth, resettling here isn't smooth sailing, particularly for the youth who represent about 6,500 of the annual newcomers, and face everything from sexual exploitation, to racism, to ineffective academic counselling.
The Office of the Representative for Children and Youth wants to see that change. Their solution began last week with a two-day conference run by refugee and immigrant youth from the Lower Mainland, giving kids the opportunity to have their say in front of policy-makers and politicians about the issues they face as newcomers to B.C.
"In British Columbia, we do not have a lot of opportunities to listen to young people, we haven't built it into our systems very well," Mary Ellen Turpel-Lafond, representative for children and youth, told The Tyee.
"When I looked broadly at the issues, around about 20 per cent of our youth population in British Columbia is immigrant youth, and I really got to thinking about how can I be involved with and partner with them, and bring some decision makers and leaders in business and government to work with them."
Speak up, speak out
Turpel-Lafond's office partnered with The Vancouver Foundation, a local philanthropic organization, to create a panel of 16 Lower Mainland immigrant and refugee youth and four youth workers that would plan a youth-led conference.
After countless weekly meetings this past summer, the Fresh Voices from Long Journeys: Insights of Immigrant and Refugee Youth conference was held Oct. 13-14 at the Morris J. Wosk Centre for Dialogue in downtown Vancouver.
Approximately 80 youth from 50-60 different countries participated, taking part in panel discussions about school inclusion, equity for women and girls, sexuality and identity, youth programs and services, family expectations, and English as a second language (ESL) and academic experiences, among other issues.
The conference also featured a keynote address from hip-hop artist and refugee K'naan, who came to Canada from Mogadishu, Somalia, as a teenager, and speeches from prominent local immigrants such as Ujjal Dosanjh and Shashi Assanand.
Tiba Al-Humaimidi came to Vancouver by way of Dubai a year and a half ago, though she's originally from Iraq. At 14 years old, she was one of the youngest participants in the conference and on the youth committee. The issue she's most keen on addressing is the school experience.
"The (academic) counsellors are not really that good: they don't tell you what's count, what's not count, they just give you a bunch of (subjects). Or they choose for you, they don't ask you, they just pick the subjects," she told The Tyee.
"And for people who have ESL, counsellors always give them the electives, they don't give them the academic subjects, so when they have to graduate, they realize they have to take a lot of academics they didn't take. They're way late."
Josiane Houngbo-Anthony also had problems with school when she came to Vancouver three years ago from Togo. But it wasn't so much the academics she had issues with as it was fitting in with her Canadian-born peers.
"As a refugee youth and black, we don't have equal rights both in the school system and socializing, and everything," she says.
Now 20 years old, she wants to use opportunities like this conference to help other youth like her facing discrimination.
"It's a great opportunity for me to be able to work on this and bring my other peers into this and feel comfortable and speak out to stop bullying, racism against young immigrants and refugee kids."
Young people teach us a lot: Turpel-Lafond
Not every youth involved in this conference, however, was an immigrant.
"Some kids are Canadian born, and there (are) a handful of kids that either haven't had an immigration experience themselves, or their parents may not have, they're just young people that are just interested in supporting a conversation of how to make communities a more welcoming and inclusive place for immigrant kids," explains Mark Gifford, director of grants and community initiatives at The Vancouver Foundation.
Nor was everyone a youth. Sixty politicians, policy-makers, and youth workers were also invited to attend. But instead of telling kids how they would do better or how they would improve the systems designed to support immigrant and refugee youth in B.C., they were there to listen.
"I think that they'll be quite moved by what they learn and they'll see the potential to get some very good feedback in terms of how we can improve systems," says Turpel-Lafond.
"These young people can teach us a lot about how do you work together across really large differences, in terms of their culture, their origins, their experiences, but still, they're here working together. And I think we need to tap into that and really understand how we're building communities in British Columbia."
Houngbo-Anthony wants the adults to do more than just listen.
"All the adults, they do listen, but by the time they get out of the door, they don't have no clue what those people have just said. So I'm hoping, personally, that they don't really come only to listen today, but to try to make a next step to that," she says.
Federal-level trauma
Turpel-Lafond says this conference isn't a one-time thing, and hopes the youth engagement process will expand beyond the Lower Mainland, and even British Columbia.
Many elements of the immigration process fall under federal jurisdiction, and Turpel-Lafond wants to work with government on improving those systems, particularly in regards to how refugees are treated.
"I saw this especially when the Tamil migrant families came and I visited them in the youth jail and was very concerned about what happened there. The individuals working with them there were very supportive, but basically they were met at gunpoint and incarcerated and separated from their parents," she says.
"I could see the grief that caused to families, and I could see how many of the young people here have experienced that, and I'm not sure how, but I would very much like to support the federal government and federal officials to spend more time talking to young people."
And the interest from youth is there. Gifford told The Tyee before the conference that they had to turn away many youth from outside the Lower Mainland who wanted to take part.
With a population growing by the thousands each year, interest in the rights and needs of immigrant and refugee youth will only continue to rise.
[Find similar Tyee stories in: Rights + Justice, and Education.]