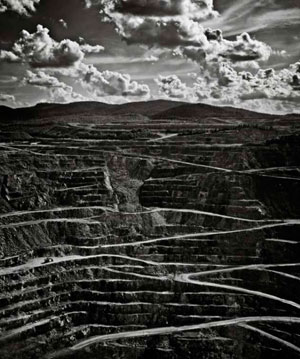 "Shameful" and the "crassest form of politics." That's how Canadian Labour Congress president Ken Georgetti described Canada's support for chrysotile asbestos mining and export. Earlier this week he called on the government to vote with countries wanting warning statements to customers who import the poisonous mineral from Canada.
But yesterday Canada threw its weight in the opposite direction. In Geneva at a meeting of the Rotterdam Convention, the Harper government came down surprisingly boldly on the side of asbestos again.
The United Nations-sponsored Rotterdam Convention had been debating whether Quebec's chrysotile asbestos exports ought to be added to a toxics warning list for recipient countries. The Rotterdam Convention is a multi-party treaty about trade in hazardous substances associated with the United Nations Environmental Program. Canada signed on to the Rotterdam Convention in 2002, but Canadian delegates have helped prevent the treaty group from listing chrysotile asbestos by blocking consensus ever since.
Yesterday, in a move that the pro-asbestos Chrysotile Institute called a "bombshell," the Canadian delegate to the Rotterdam Convention announced it will once again block adding chrysotile asbestos to the toxics warning list.
Until Wednesday, Canada was sitting silent in the debates, reportedly counting on opposition from nations like Vietnam, Kazakhstan, and Kyrgyzstan to keep the Canadian product off the UN list.
At the end of the day, Postmedia News reported that Canada, fearing that momentum was building to add asbestos to the list, openly expressed its opposition to UN-mandated warning labels. As a result, nothing will change in how Quebec asbestos is sold into third world markets, where the likelihood of the elaborate safety protocols needed in handling asbestos being followed is almost non existent.
Madhu Dutta, an Indian anti-asbestos campaigner, told Postmedia News from Geneva that "Canada was hiding behind the smokescreen of dissenting voices of smaller exporting countries and a 'non-consensus' excuse, but when it sensed that there might be a consensus and chrysotile will be listed, it broke its sinister silence and said no."
Canada's defiant asbestos industry has the support of not only Prime Minister Harper but also unions in Quebec representing some asbestos workers.
And a mining executive and key figure in the Chrysotile Institute, an asbestos industry lobbying group supported by grants from the federal and Quebec governments, says that Canada should expand its asbestos production and export by re-opening the Jeffrey Mine in Quebec.
Health groups allied with CLC
"Our position," CLC head Ken Georgetti told The Tyee, "is that all mining and export of chrysotile asbestos should be ended in Canada, and the government should provide just transition programs for the miners at Quebec's one working asbestos mine as that ban goes into place. We've said this since 2006."
However, Canadian labour has not spoken with a single voice on this topic over the years. Quebec labour organizations, including the United Steelworkers who represent workers at Canada's only producing chrysotile mine, have historically lined up with government and industry in opposing an asbestos ban.
Tyee calls to the offices of the Steelworkers in Quebec seeking comment for this story were not returned.
In calling for an end to asbestos mining and export, the CLC is a voice among mounting criticism aimed at the export trade in a substance that has been effectively banned in Canada since the 1990s. Groups like Canadian Medical Association, the Canadian Public Health Association and the National Specialty Society for Community Medicine have endorsed a ban on asbestos.
On June 10, the International Labour Organizations responded to requests from the CLC and many other Canadian organizations, including the Canadian Medical Association and the Canadian Cancer Society, by issuing a statement calling on Canada to fulfill its obligations under the Rotterdam Convention.
CLC vice president Barbara Byers told the ILO:
"In our view Canada has failed to review national laws and regulations governing occupational exposure to asbestos, and to take into account advances in technology and scientific knowledge, as is called for in Article 3 of Convention 162."
Aiming to provide tenth of world's supply
In a letter (see sidebar) to Prime Minister Harper posted on the CLC website June 20, Georgetti wrote: "Your government's position is an embarrassment to what Canada stands for."
Bernard Coulombe is not a bit embarassed by Canada's involvement with asbestos mining and exports. Coulombe is a veteran mining engineer and director of the pro-mining Chrysotile Institute, which gets some funding from the federal government. He is currently involved with a proposed project that would re-open the Jeffrey Mine in Quebec, formerly one of the largest open pit asbestos mines in the world, as an underground operation.
The Quebec government has committed to support the new mining if Coulombe and his associates are able to secure enough investor interest to supplement the taxpayer money Quebec will supply. Coulombe told The Tyee that the anti-asbestos movement is "mercantile, green protectionism at best," arguing that opposition to asbestos production was being pushed by advocates of synthetic fibers and plaintiff lawyers.
In an email, he said customers in other countries are protected by safe-practices guidance provided by Canadian asbestos shippers. He said the expanded Jeffrey Mine would supply one tenth of all world demand for chrysotile.
Kathleen Ruff, a Canadian anti-asbestos advocate whom Coulome named as one of the substance's important opponents, recently told U.K.-based medical journal The Lancet her views of the Chrysotile Institute:
"Sadly, this so-called independent organisation is part-funded by the asbestos industry, and one of its directors -- Bernard Coulombe -- is president of the Jeffrey Mine. The Chrysotile Institute pretends to be a non-profit scientific organisation, but in fact lobbies for the asbestos industry and puts out false, deceptive, phoney science. It reminds me of tobacco-industry backed research saying tobacco is safe."
A global divide
European Community nations, like most First World jurisdictions, have banned asbestos. Most of Canada's chrysotile asbestos exports go to Third World countries where, critics say, construction workers often handle the Canadian substance without proper masks and other safety gear. At a bare minimum, including chrysotile on the Rotterdam Convention list would increase the chances that end users would be informed of asbestos dangers and more likely to use masks. Most of those who are concerned about our exports, however, are calling for an outright ban and would view a listing under the Rotterdam treaty as a valuable but only partial step toward sane policy.
According to an article in the The Lancet, "Once the link between asbestos and lung disease and cancer was proven beyond doubt, high-income countries began phasing out its use and removing it from buildings. Despite this, WHO estimates that about 125 million people worldwide remain exposed to asbestos in the workplace. More than 107,000 people die each year from asbestos-related lung cancer, mesothelioma (a specific form of lung cancer), and asbestosis resulting from occupational exposures. One in every three deaths from occupational cancer is estimated to be caused by asbestos."
More recently, in an article in Respirology magazine, Dr. Ken Takahashi, acting director of the World Health Organization Collaborating Center for Occupational Health, has warned that Asian nations, now the target for over 60 per cent of exported asbestos worldwide, will witness a sharp increase in asbestos related illness and deaths in the decades to come.
The lethal impacts of asbestos exposure can take decades to appear. For example, despite the fact that asbestos use has been almost entirely eliminated in Canada, workers are still dying from exposure to asbestos experienced years ago, with asbestos-related occupational disease being the single largest killer of B.C. workers most years.
The evidence of asbestos related mortality among B.C. workers persuaded the B.C. and Yukon Building Trades Council to speak out last year against proposals for a government funded re-opening of Quebec's Jeffrey Mine and to call, like the CLC, for an end to Canada's asbestos industry, coupled with just transition measures for the miners who would lose their jobs when Quebec's one surviving chrysotile mine closed.
Chuck Strahl's exhortation
One of the B.C. workers who were sickened on the job by asbestos exposure is Chuck Strahl, a cancer survivor who served until recently as one of the Harper government's MPs from this province. Strahl broke ranks with the current Tory orthodoxy on June 20 in an op-ed column in the Globe and Mail calling for Canada to support listing chrysotile under the Rotterdam Convention.
Many of the B.C. workers who have sickened and died because of asbestos exposure were employed at the Teck (formerly Cominco) lead-zinc smelter at Trail. And the United Steelworkers, the union that represents those workers, has produced Asbestos: The Silent Killer, a video about the lethal legacy of asbestos in B.C.
The CLC's Ken Georgetti worked in the Trail smelter as a young man, and some of the dead and dying in that town were men who worked beside him, so the asbestos issue has a personal impact on the labour leader. He remembers how he and other workers, totally unaware of the danger posed by asbestos, would even sometimes conduct lunch break snow ball fights with the killer substance at the smelter.
With all the relevant health authorities agreed that the chrysotile asbestos still being mined in Quebec is a carcinogen, lethally dangerous to miners and to the primarily Third World construction workers exposed to it, why is Canada still allowing this poison to be mined and exported? Why, in fact, does the federal government join with the government of Quebec in financing the Chrysotile Institute, the industry lobby group that denies the relevance of all the health warnings and promotes further asbestos production? And why has the prime minister joined with the government of Quebec in supporting a proposed re-opening of the Jeffrey Mine in Quebec that will boost yearly output to a maximum of 260,000 tonnes -- around 10 per cent of global production?
The answer to these questions, Georgetti said, is "the crassest form of politics."
During the last election, the prime minister, campaigning in Quebec, triumphantly announced about asbestos mining: "Only the Conservative party will defend this industry here and everywhere in Canada,"
When questioned about Canada's ongoing support for asbestos, Dmitri Soudas, a Harper spokesman, said in the week before the Rotterdam Convention meeting, "All scientific reviews clearly confirm that chrysotile [white asbestos] fibres can be used safely under controlled conditions."
When Dr. Matthew Stanbrook heard that, his "jaw dropped," he told Maclean's magazine. Stanbrook is a specialist in respirology at Toronto's University Health Network and assistant professor in the department of medicine at the University of Toronto. Stanbrook said he was floored because what Soudas said about chrysotile's potentially safe use "is so completely misrepresentative of the science."