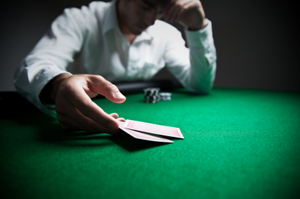 British Columbians are playing fewer of the BC Lottery Corporation's games, less than half know where its profits go, and few have faith in programs to help problem gamblers.
These were the some findings of a Sept. 2010 BCLC Gaming Watch Report by Research and Incite Consultants, from a poll taken in the first three months of last year, obtained by The Tyee under the freedom of information law. During this period, the BCLC announced it would launch its online gambling PlayNow.com site, and it helped to sponsor the Vancouver Olympic Games.
There were some positive notes as well. "Impressions of BCLC show a positive uplift this quarter," following the sharp decline experienced in the previous quarter, partly due to public support for the Olympics. Most of the negative results came when numbers were compared to those of a year earlier.
Some key points from the survey:
Eight out of 10 play. Eighty per cent of British Columbians participated in at least one BCLC game in the past year, and 20 per cent of those with Internet access visited the BCLC.com website in the previous month or more often.
Popular with the young. Younger people had very positive views of BCLC and gambling in general, higher than all other B.C. residents, yet were less aware of the support BCLC provides to the province. Residents in southwestern B.C. had the lowest trust in BCLC overall.
Rising worries about gaming. While criticisms of retailer integrity issues are continuing to decline (a reflection of the drop in media interest in this topic), there has been a steady increase in anti-gaming sentiments and concerns that gambling causes social problems. There were also negative public perceptions due to media stories of "kids being left in cars, casinos targeting seniors."
Dim view of cuts to charities. For those indicating their perceptions are now more negative, the cuts in funding for charities and the increase in the weekly wallet limit on PlayNow.com (from $120 to $10,000) are the main reasons cited.
There has been a decline in mentions that BCLC supports worthwhile causes -- likely a result of the freezing of gaming grants in the third quarter of 2009-10.
Confusion about who benefits. Only 40 per cent of British Columbians felt informed about "where the BCLC money goes," unchanged from before.
'A declining share of wallet.' There was a significant drop in participation for BCLC games in 2009-10 compared to 2008-09, as frequent and infrequent players are participating in fewer games. "As such, each game is competing for a declining share of wallet." Sales for Lotto 6/49 and BC/49 dropped due to the rising sales of Lotto Max.
The trended decline in recency of casino visitation across fiscal year 2009-10 is a reflection of lower participation in gaming in general, "rather than cannibalization from other BCLC Games" such as CGCs (Community Gaming Centres).
Strong faith in fairness. Consistent levels of agreement that lottery and bingo gaming is run fairly and honestly across the four quarters in 2009-10. The decline in agreement that casino gaming is run fairly and honestly appears to have stabilized in the last three quarters following the sharp decline in the second quarter of 2009-10.
Addiction measures doubted. Eighty per cent of British Columbians are aware there is a program to help problem gamblers, and yet "few residents are confident of the preventative measures surrounding problem gambling."
Agreement that it is up to each individual to control their own participation in gaming has declined significantly in this quarter compared to the fourth quarter of 2008-09.
The entire Awareness and Participation Levels section for the BCLC online PlayNow site (and parts of other sections) was blanked out under the FOI law's section 17 -- financial harm to government. The Tyee has appealed this exemption to the B.C. Information and Privacy Commissioner.
This was final quarterly report of the Gaming Watch, for which 3,000 phone interviews were done per year, with 750 per quarter, and 58 per week. It has been replaced by the "Market Insights Monitor" (which The Tyee is also seeking to access).
The Gaming Watch study was designed to provide BCLC with an ongoing measure of performance across all areas of the gambling business, and to give an early warning system of potential challenges and opportunities. BCLC has sponsored such attitudinal tracking studies since the early 1990s.