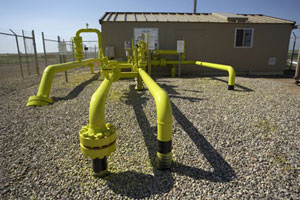 A report that documented lethal levels of carbon dioxide in a farmer's field on top of a national $80-million demonstration carbon storage project in Saskatchewan has generated a storm of controversy, denials and calls for a more studies.
The Petroleum Research Technology Centre, a Regina-based industry and government research group overseeing the international project, says it will issue a technical report today, refuting the independent study. (When released, the report will be here.)
"We don't agree with the findings," says Steve Whittaker, the senior project manager for the IEA Weyburn-Midale Carbon Capture and Storage Project. "There are some significant deficiencies. It's a chicken little report."
But he admitted that monitoring for the project has been intermittent and only covers a fraction of the study area. "We're not a regulator. We're a research group." Whittaker also confirmed that there is no annual surface-monitoring program for CO2 leaks.
Billions spent pursuing sequestration
The Weyburn project, the world's largest full scale field study on capturing, injecting and storing carbon underground, represents a consortium of oil companies and oil exporting governments keen on proving the safety of burying carbon underground.
Both the Canadian and Alberta governments have devoted billions to the costly technology and want to build six or five demonstration cemeteries in Western Canada.
But the Weyburn project is also the only storage experiment where CO2 is also used to enhance oil recovery from an aging oil field. Cenovus Energy, formerly EnCana, injects up to 6,000 tonnes of CO2 a day from a coal-fired plant in North Dakota, to force out more oil from the field.
Most oil fields that inject CO2 (the gas works like a paint thinner) aren't regarded as safe or secure, explains a 2010 U.S. Department of Energy report, "due to missing operational and CO2 monitoring elements that are critical to demonstrating the effectiveness of the process for safely isolating CO2 away from the atmosphere for the purpose of addressing climate change."
High CO2 levels reported
Last week, a report by Paul LaFleur of Petro-Find Geochem found extremely high levels of CO2 (110,000 ppm) during a gas soil survey, or enough to asphyxiate a human. It also matched the fingerprints of the carbon on the farmer's property to that being stored in the giant Weyburn reservoir.
LaFleur and the environment group Ecojustice did the study last year after Cameron and Jane Kerr, a retired farming couple, complained about dead animals, foaming water and explosions at a gravel pit on their farm beginning in 2004.
The Kerrs say that the Saskatchewan government promised a yearlong study in 2007, but never delivered.
Normal levels of CO2 above an oil field range around 5,000 ppm, says Lafleur. He suspects the CO2 on the Kerr property is leaking via a fracture somewhere in the storage site.
"I'm not for or against carbon capture and storage," adds Lafleur. "It's up to the people and government what they will accept in CO2 leakage and what they can live with. Transparency is the key."
To date, only 5 per cent of the 110 square mile oil field has been monitored and LaFleur says that's inadequate. Nor is the Kerr property included in the monitoring area. "The facts speak for themselves."
Global interest in Saskatchewan project
Whittaker confirmed that very little monitoring took place between 2004 and 2008. Between 2000 and 2004, his research group performed the bulk of the monitoring including background CO2 readings as well as surface water and seismic testing. "We are trying to figure out what a good monitoring interval looks like." He says the project plans to do a soil gas survey this fall.
However, a Regina-based group called the International Performance Assessment for Geologic Storage of CO2 (IPAC-CO2) also announced that it will put together a team of experts to investigate the findings of the Lafleur report.
Created by Royal Dutch Shell and the government of Saskatchewan, the research group has a mandate to demonstrate the safety of the controversial technology.
In addition, Bellona, an international Norwegian environment group that supports carbon storage as a solution to climate change, also has supported the need for a thorough investigation.
Fault leakage a 'remote possibility'
Whittaker characterized Lafleur's claim that CO2 was probably leaking up through faults or fractures as "an extreme and remote possibility."
One of the goals of the Weyburn project is to provide policy-makers with reliable information about the security and safety of carbon capture and storage.
Experts in carbon capture and storage acknowledge that techniques to properly measure whether or not a storage site is leaking are still in their infancy.
Carbon storage professionals (yes, they even have their own academic journal) all agree that leaks from wells, abandoned facilities or faults can compromise the security of carbon storage sites and pose a health risk to humans and animals. But they also admit that no real system yet exists to locate and quantify surface leakage.
Invisible subject
Because CO2 absorbs light at specific wavelengths, U.S. researchers are now experimenting with optical detection techniques. None appear to have been deployed yet at Weyburn despite its international profile.
One study by the U.S. Lawrence Berkeley National Laboratory recently concluded that "detection of potential CO2 leakage will be challenging" due to the large ground area that needs to monitored, as well as extreme variability in CO2 levels from the soil.
Carbon capture and storage has ignited controversy around the world. Energy economists call it wasteful and fiscally irresponsible technology, while coal and oil companies argue it will extend the oil age. Some environmentalists favor the unproven technology, while others say the money would be better spent on renewables instead of dead-end storage facilities.