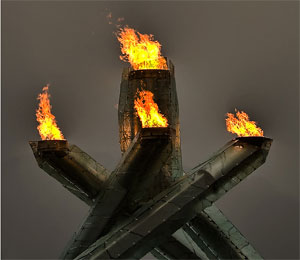 The Olympic cauldron on Jack Poole Plaza will burn overnight for the first time since March's Winter Paralympics.
A tribute plaque to late VANOC founding chairman Poole will be unveiled 7:30 p.m. Friday, west of the Vancouver Convention Centre. The cauldron will burn through Saturday midnight in memory of Poole, who died of cancer early Oct. 23, 2009 in Vancouver just hours after the 2010 Olympic flame was lit in Olympia, Greece.
The cauldron's first post-Games relighting was for the 13-hour Canada Day at Canada Place on July 1. According to B.C. Pavilion Corporation records, Terasen supplied 98.9 gigajoules of natural gas for $492.13 plus taxes. It also cost $261.74 plus taxes for 52.6 gigajoules during the July 24 Meeting Professionals International Congress evening reception.
B.C. has plentiful natural gas reserves: there is an estimated 91 trillion cubic feet in the province's northeast. But an April-published Statistics Canada report said the average B.C. household powered by natural gas used 81 gigajoules in 2007.
"That's insane, a whole year's household usage in almost 12 hours," said Spencer Chandra Herbert, the NDP's B.C. Pavilion Corporation critic. "What was going through the (cauldron) designers' heads in terms of efficiency?"
Based on information provided, 24 hours estimates the cauldron would have burned 4,564 gigajoules over 25 days during the Olympics and Paralympics -- enough to power 56 houses for a year.
"We do contribute to a carbon offset program to compensate for the emissions that we generate with the cauldron," said Vancouver Convention Centre spokeswoman Jinny Wu.