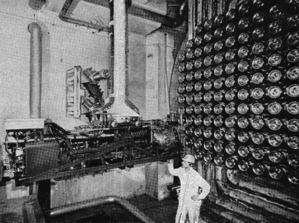 A leaky nuclear reactor dragged a neglected Crown corporation into the public spotlight this spring. Press releases churned, news media swarmed, and officials were called up to Ottawa to face questions from a Parliamentary committee.
But all the attention on Atomic Energy of Canada's shutdown NRU reactor -- and the resulting global shortage of medical isotopes -- seems to have pushed aside any broad public debate over the federal government's plan to restructure and partially privatize the corporation.
The question of medical isotope supply, both in the short and long term, is important. As bills mount in hospitals for expensive alternate supplies and a panel of government-appointed experts gets ready to release their assessment of proposals for alternate supplies, the subject will remain a matter of concern for Canadians and their political representatives.
But isotopes are just a side-business for Atomic Energy of Canada Limited (AECL), the federal Crown corporation whose main focus remains the development, sale and maintenance of CANDU nuclear power reactors.
This past May, the federal government announced that it had accepted a proposal to restructure AECL and find private partners who can better "leverage" the company's assets internationally through a "strategic alliance."
What that means is not exactly clear. The government has hired consultants to come up with a detailed plan, and are talking with potential private partners. But one thing they do not seem interested in doing is consulting with the people that own the company -- you, me and the rest of the Canadian public.
That CANDU attitude
Atomic Energy of Canada Limited has been a 100-per-cent federal government-owned Crown corporation since its foundation in 1952, when it took control of research reactors and facilities that had been developed as part of a British-Canadian nuclear weapons program during World War II.
The new corporation was focused on adapting that technology to peaceful nuclear uses, and in 1954 it started work on a nuclear power demonstration plant in cooperation with Ontario Hydro and General Electric Canada. From the 1960s through the 1980s the design was refined and commercial power reactors were built in three Canadian provinces and around the world.
All the AECL reactors built to date use "natural" (unenriched) uranium as fuel and heavy water (with deuterium isotopes replacing ordinary hydrogen) as a moderator. Those features led to the name by which the unique design is known: the Canadian Deuterium Uranium, or CANDU, reactor.
(The corporation's latest reactor design marks a significant departure from history. It requires enriched uranium, something that can only be made in a few countries in the world, since the technology to make it can also make weapons-grade material and is therefore strictly controlled.)
Even as it transformed into a commercial business selling power reactors, AECL continued its research programs, both in reactor design and in other areas of nuclear science. Its income from sales was complemented by an annual budget from the federal treasury.
For nuclear physicist Jeremy Whitlock -- a former President of the Canadian Nuclear Society and a public educator about the Canadian industry through his Nuclear FAQ website -- that money alone is reason to care about AECL.
"Even if people's thoughts on that future are that it should be discontinued, you should at least get into the debate," he told The Tyee, "because there has been a significant investment and if you're talking about throwing it away for whatever reason, you have to balance that against the investment you've put into it, and are you getting value for your money."
The Minister of Natural Resources has recently pegged the total government investment in AECL at $8 billion over the nearly 60 years it has existed. When that figure is adjusted for inflation, it rises to more than $13 billion as of 2006, according to a study by the Canadian Energy Research Institute.
Government transfers to AECL shrunk in the 1990s, with no new prospects for reactors in Canada and management and maintenance problems with the reactors already running. But in recent years, AECL has received extra grants of hundreds of millions of dollars each year to address specific problems: updating aging research infrastructure, the now-cancelled project to create dedicated isotope production facilities, and the design of a "next generation" power reactor, the Advanced CANDU Reactor.
In the past five years, AECL has directly received more than $1 billion in government funding for both regular research operations and special projects. An additional half-billion-plus is being spent to deal with legacy wastes and decommissioned facilities from early research at Chalk River laboratories.
Even more concerning, federal funds are covering losses from AECL's commercial business. Over the past year, $300 million has been budgeted for the completion of over-budget contracts to refurbish nuclear reactors in New Brunswick and Ontario.
With all the extra money heading AECL's way, it was no surprise that the corporation received extra political attention. That culminated in the government's decision, announced in late November 2007, to conduct a "full review" of the structure of the organization. The move was described as part of the Conservatives' "commitment to good governance."
Open-ended review?
From the start, the review process received second billing -- literally. The official announcement was tacked-on to a press release announcing that Canada would be joining the Global Nuclear Energy Partnership, an initiative of the Bush administration in the United States aimed at developing next-generation nuclear technologies.
There may have been another reason for only taking up half a press release with the news: there wasn't much to say. The only thing that was being confirmed was that everything was on the table. "We're not ruling out anything," said then-Natural Resources Minister Gary Lunn in an interview with the Globe and Mail's Shawn McCarthy.
A week earlier, Lunn had told members of the House of Commons Natural Resources committee that "the government has no plans at this time. It has not made any decision with respect to privatizing AECL."
But the talk of privatization had been swirling for more than a year by then. In 2006 and 2007, the Globe and Mail, the Toronto Star and the Montreal Gazette all reported at various times about secret meetings or interest in the corporation from private companies.
Current Liberal Natural Resources critic Geoff Regan accuses the Conservatives of cooking up the entire review process to justify a predetermined desire for privatization.
"If they come into power having already decided what they want to do, and then they have a review to justify it, that isn't the same as doing a review with an open mind and letting your decision being based on evidence," said Regan.
Nonetheless, political and media interest in the review of AECL and its potential outcomes was quickly overwhelmed in late 2007 and early 2008 by the furor over the shutdown of its NRU reactor and the resulting global shortage of medical isotopes. Instead of parliamentary committee hearings on a potential major change to federal policy, opposition MPs were focused on the isotope shortage and the subsequent demotion of the President of the Canadian Nuclear Safety Commission.
It therefore seemed awfully symmetrical when the results of the review of AECL were announced this May, shortly after the NRU reactor was shut down again. Whether the timing was pure coincidence or whether it was -- as Regan alleges -- an attempt to make it seem like the government was doing something about the isotope shortage, the fact remains that once again the isotope crises had pushed aside discussion on the privatization proposal.
Open-ended recommendations
Of course, it is difficult to have meaningful debate about a proposal that is not well defined.
The conclusions and recommendations of the review, as expressed in a summary report (original documents aren't being released), leave plenty of room for political discretion.
When the report was released in May, Minister Lisa Raitt said in an official statement that "we have preparing for this for quite some time." But in order to decide what to do next, the government hired investment firm N.M. Rothschild and Sons (who specialize in bankruptcy restructuring) to come up with a detailed plan and "negotiating mandates." They presented a confidential report to Raitt this fall. In addition, consultant and former banker David Leith has been contracted to advise Raitt directly.
There are three main recommendations in the report that will presumably be adopted in the final plan.
First, the two sides of AECL -- research, including medical isotope production, and commercial development and support of CANDU reactors -- should be separated into distinct organizations. Second, the government should retain complete ownership of the research-branch of AECL, but should hire a a private company to operate it, following a model used by national laboratories in the United States and United Kingdom.
Third, the commercial CANDU reactor division "can be best served by a strategic alliance with one or more partners with global scale that can leverage the technology, skills and experience of AECL in Canada and internationally."
Whitlock, who has worked at AECL since 1994 but who spoke with The Tyee as an individual scientist, said he is "cautiously optimistic" about the plan to contract-out management of the research laboratories.
As for the reorganization of the company, he pointed out that it is nothing new. "When I was hired, I was actually hired by AECL CANDU, which was a separate company from AECL Research," he said. "A few years after I joined the two were amalgamated ... and now the pendulum has swung back to it's better to be split up, again. The difference is now they're talking about selling off, which kind of prevents the reversal in the future."
It is in that third recommendation that this vision of the future of AECL gets a little hazy.
'Strategic' sell off?
According to the report, "a strategic alliance with one or more partners could take many forms, including project specific joint ventures, mergers or the sale of an equity position in which the Government retains either a majority or minority ownership position."
AECL already engages in "project specific joint ventures" with its Team CANDU partners: SNC-Lavalin Nuclear and the Canadian subsidiaries of the nuclear divisions of Babcock & Wilcox, Hitachi, and General Electric (the last two of which have merged to form GE-Hitachi Nuclear).
The group was formed to support AECL's bid for new nuclear plants in Ontario, and has also worked together on other proposals. The companies all have a role in CANDU reactor development or operation -- for example, GE-Hitachi fabricates CANDU fuel rods.
But while "Team CANDU" members have a stake in AECL's success, the Conservatives want more from a new partner. They want someone to buy up shares in the company, providing capital for new projects, and also absorb the risk of cost overruns for those projects. They want "partners and expertise and capital infusion, making sure that the risk associated with new builds isn't too strenuous on the Canadian taxpayer," as Raitt put it to the House of Commons Natural Resources committee earlier this month.
Considering the current cost to taxpayers of the on-going refurbishment projects -- which are arguably less risky than building whole new reactors to a new design -- that seems a noble goal. But if all the government's consultants' reports have figured out a way to achieve it, it's a tightly kept secret.
Bringing it out of the backrooms
The secrecy, particularly the refusal to release the independent consulting reports -- to avoid revealing the government's hand in the midst of commercial negotiations -- provides an easy mark for opposition politicians eager to criticize the Conservatives' strategy. It's "offensive," say's New Democrat Natural Resources critic Nathan Cullen, "that they're just going to do this all behind closed doors."
It's been six months since the government announced the restructuring plan, points out the Liberals' Regan, and "we're still waiting to see ... what exactly they have in mind."
The wait has been hard on the company, too, with their best prospect for a new reactor contract on hold because the Ontario government was concerned about the corporations uncertain future -- and their higher-than-expected bid price.
Of course, the future of the Crown corporation has not exactly been a high priority for the opposition, either. Although the Natural Resources committee -- of which both are members -- recently held a series of meetings on the "state of the nuclear industry in Canada and abroad," including the future of AECL, the focus has primarily been on the medical isotope shortage and on a piece of legislation that would increase the minimum amount of liability insurance that nuclear reactors must carry.
The MPs will get a chance to weigh in on the proposal before anything is finalized. Although the legislation that created AECL has been mostly repealed and replaced over the years, the one requirement it does contain is that all shares in the company must be held by a cabinet minister in trust for Canada. Before the government sells shares in AECL to a private partner, they will have to pass new legislation through Parliament.
Regan and Cullen take opposite positions on nuclear energy. Regan calls it an important part of the energy mix in a carbon-neutral future; Cullen argues that it is an "insidious business" that would not survive without government subsidy. But neither is willing to explicitly say what would or would not be an acceptable proposal for the future of AECL.
Cullen may consider government funding of the nuclear industry as an irrational subsidy, but he also described the sale of AECL, for much less than the money invested, as another form of subsidy.
Regan insists that the Liberals are "open" to various possibilities, so long as they enhance and promote the industry in Canada.
The only thing either politician was definitive about in interviews with The Tyee, is that the government ought to let them and the public know what is being considered.
"If the government treated Parliament like what it is -- the voice of the elected people," said Cullen, "we could have a very good conversation about the options."
"Stop being secretive, stop ... doing this behind closed doors, and stop leaving so much uncertainty," said Regan. "Bring it forward, let's have a look at it, and let's discuss it."