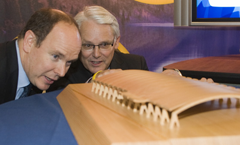 On a bright Friday afternoon earlier this month, hundreds of men and women in crisp business wear gathered outside the Vancouver Convention Centre expansion to watch the official ribbon cutting.
Saxophone rock oozed out of mounted loudspeakers. Finance minister Colin Hansen shook hands and beamed smiles. Across Burrard Inlet, the soaring North Shore Mountains disappeared into patches of cloud.
It was a shining moment for an Olympics host city with only ten months until go-time. The launch of a massive venue set to hold 10,000 accredited media during the Winter Games and a seeming rebuke of the economic woes facing the province.   
"As we get ready to host the world in 2010, we think of the three billion eyes that will be upon us," Premier Gordon Campbell said, addressing the crowd. "Recognize that many of those eyes will start to look out upon our province and our country from this facility."
Missing from the premier's speech was any mention of the nearly $400 million in cost overruns which made the view possible -- and the 2007 auditor general's report suggesting poor planning was to blame.
With a provincial election less than a month away, will voters accept Campbell's Olympic assurances and move on to other issues? Or will they see a hulking edifice built on wasted tax dollars?
Economy bigger deal than Olympics
Most pollsters, pundits and party strategists agree -- in this election, financial uncertainty is top of mind. A recent Angus Reid poll suggested 36 percent of British Columbians think the economy is the most important challenge facing the province. Crime and public safety followed at 19 percent, while healthcare trailed a distant third.
The Olympics didn't even make the list.
That's not surprising to Ipsos Reid vice-president Kyle Braid, who said mill closures, job layoffs and declining investments mean fiscal concerns trump most others, including the Games.
"The economy is the number one issue," he said. "It's consistent across regions."
Carole James' New Democratic Party takes most opportunities to cast Olympics cost overruns as fiscal irresponsibility. When the Convention Centre expansion opened earlier this month, an NDP press release called it "the largest boondoggle in B.C. history." And opposition Olympics critic Harry Bains maintains the true cost of the Games is at least $6 billion, not the $765 million figure Colin Hansen cited in February.
Braid said continued opposition attacks could erode public faith in the ruling party's financial record. But with most Olympics infrastructure already completed, he's not sure the mega-event will figure prominently this election.
"The NDP has to show that they'd be able to do something different than the Liberals," he said. "That will be a challenge because we're committed, the Olympics are coming."
Not so fast, NDP candidate says
UBC professor Rob VanWynsberghe studies how big events impact local communities, with a focus on the 2010 Games. He's also an NDP hopeful in Vancouver-Quilchena, one of the safest Liberal strongholds in the province, according to 2005 results. Over the past few weeks, he's gone door-to-door throughout the district in the hopes of finding out what issues figure big. What he discovered was surprising.
"I asked people if they care about the potential impact of the Games on the Downtown Eastside," VanWynsberghe said. "I thought the answer was going to be 'no'. As it turns out, a lot of people were interested."
When the Olympics hit town, at least 10,000 media will follow, shining an international spotlight. Though the upscale neighbourhoods where VanWynsberg is running are a world away from the drug-filled alleys near Main and Hastings, he said residents want their city to look good under the world's gaze.
On May 12, voters will pick the leader they want to preside over the biggest public event in B.C. history. Issues such as openness about Olympics costs and a dedication to building legacy housing could have resonance, the professor said.
"We're beginning to see the awakening of a broad-based appreciation for what's actually going to be happening during the Games and some critique of what's been happening," he said.
And outside the Lower Mainland?
During a sold-out Toronto dinner earlier this month, federal Liberal leader Michael Ignatieff pointed to Mackenzie, B.C., as proof of the recession. Four mills closed and nearly 100 percent unemployment, he lamented. Mackenzie now is a smoking crater where plummeting markets met small-town industry.
In Prince George, a resource industry hub, University of Northern British Columbia political science instructor Jason Morris said forestry and jobs are the talk of the coffee shops. That's hardly surprising, given the thousands of B.C. mill labourers put out of work over the past few years. Still, Morris said the Winter Games could sway voting preferences if the NDP attacks the ruling party hard.
A January poll suggested only 52 per cent of British Columbians think the benefits of hosting the Olympics outweigh the drawbacks. And regional fault lines laid by Expo 86 still cause resentment outside the Lower Mainland, Morris said.
"The impression was Vancouver got a convention centre and all this world attention and after the Fair, other communities got the leftovers," he said.
Premier Campbell is obviously attuned to such tensions. At this month's convention centre opening, he spoke of $2 billion in short-term spin-offs for the entire province -- part of a strategy to portray Games-related spending as badly-needed stimulus in tough times. Will voters feel the same way? Morris isn't sure.
"Any critics of the incumbent government could use the Olympics in terms of a lost opportunity cost," he said. "Money spent for the Olympics is really money not spent on healthcare or social programs."
This story was funded in part by those who donated to The Tyee Election Issues Reporting Fund and requested coverage of the Olympics and the Economy as election issues.
Related Tyee stories: