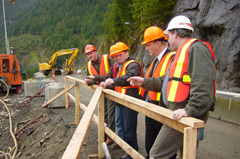 Stephen Harper's Conservative government is set to make history on Tuesday when it unveils what is sure to be the biggest economic stimulus package in Canadian history. But even if the Tory package frees up $30 billion as forecasted to combat the national recession, it's unclear how much B.C. will benefit from the deal.
After all, the province is home to about 13 per cent of Canada's population and lacks the political clout of Ontario or Quebec, making the odds of a large-scale financial injection here relatively small.
With the 2010 Olympics fast approaching, though, does B.C. already have a better stimulus package in place?
Provincial New Democratic Party Olympics critic Harry Bains told The Tyee when all is said and done, the full cost of the Games will land somewhere between $6 and $7 billion.
The number includes up to $1 billion for security, more than $567 million from local governments and about $4 billion for provincial spending on such projects as the Canada Line and Vancouver Convention Centre expansion. What's more, Bains' prediction doesn't include VANOC's newly revised and soon-to-be-released operating budget, which CEO John Furlong suggested would be in the scope of $1.6 billion.
A recent Vancouver Sun story appears to support the NDP's estimates, using slightly different figures to arrive at a $6 billion cost projection for the 2010 Games.
But those figures aren't without some controversy.
Premier Gordon Campbell insists the Olympics will only cost the province $600 million and argues capital expenditures such as the nearly $1 billion Sea-to-Sky Highway upgrade and $2 billion Canada Line extension would have happened without the Games.
Bains, meanwhile, pointed out that both those projects were included in Vancouver's Olympic bid book.
Though all cost projections are open to debate, the Olympics surely represent one of the biggest public expenditures in B.C. history. So the real question is whether a massive two-week sporting event will be a boon to the provincial economy during turbulent financial times or an enormous waste of taxpayer money.
Richard Harris, an economics professor at Simon Fraser University, told The Tyee that large-scale infrastructure spending is generally a good idea during a recession. Such projects generate construction employment, pump money into the local economy and are usually cheap to finance, because governments can borrow at low interest rates.
Harris said there's no way all Olympic spending in the lead-up to 2010 will benefit B.C., but projects such as Sea-to-Sky, BC Place's roof upgrade and the convention centre overhaul could be just what the province needs.
"Even if there were no Olympics, we would be undertaking some projects like that in B.C.," he said. "That would be the appropriate fiscal policy response in these circumstances."
Assuming the recession continues until 2010, Harris said the hordes of visitors who come to Vancouver for the Games could provide a significant boost to the local economy, possibly giving B.C. an edge over other provinces. But the economist pointed out that it'll be difficult to ever know whether economic returns from the Games justify their cost.
"We'll be debating that for years after the fact," he said.
Kevin Wamsley, co-director of the International Centre of Olympic Studies at the University of Western Ontario, told The Tyee he's doubtful the Games will do much to help B.C. out of a provincial recession.
Though he said it's unlikely that infrastructure projects associated with the Olympics would be underway right now without Vancouver's successful bid, ventures such as the Sea-to-Sky upgrade won't create lasting employment.
"I'm sure that people are seeing a short-term shot in the arm with everything that's going on," he said. "But those jobs are going to disappear when everything's done."
Wamsley pointed out that most venues are nearly completed and construction on other Games-related projects is well underway. As a result, it's unlikely workers laid off in the fall will be able to find employment under the Olympic banner.
"I fear that most of these jobs were already in place before the tough economic times," he said.
And while spending in the lead-up to the Games and an influx of visitors in 2010 will certainly help some sectors of the B.C. economy, Wamsley said it's doubtful those benefits will be felt beyond Metro Vancouver.
"I'm not sure this is the kind of stimulus that's going to affect the whole province," he said.
Related Tyee stories: