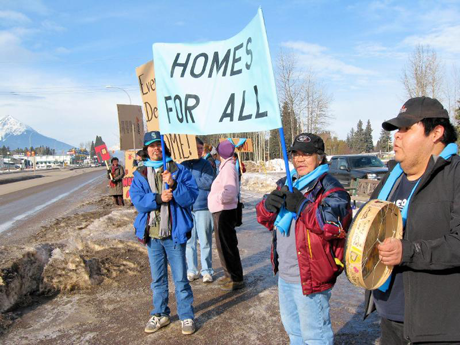 "What does homelessness mean to you," asks Herb, a middle-aged, homeless aboriginal man.
Suddenly, the five aboriginal men hanging out in a homeless shelter in Smithers look at me, waiting for a response. Herb, who was a little belligerent and a good deal drunk, wants to know how much I really know about homelessness. After spending an hour probing into his life and asking what it's like to be homeless in this small town in northern British Columbia, it only seemed fair.
"It's not having a place of your own," I answer somewhat awkwardly. "It's not having a place that you know will be there at the end of the day."
"No," says Herb, correcting me. "Homelessness means not having a safe place to sleep."
It sounds almost too simple when you hear it and even more troubling to know how hard it is to achieve. Before Herb moved into the Broadway Place Emergency Shelter nine months ago, he lived peacefully in the bush in jungle camps -- makeshift camps that are home to anywhere from one to a half-dozen homeless people.
But when the police and drunk locals started tearing the camps down, he was forced to come into town.
'This town is a hard place'
Luckily, the Broadway Place opened last year, giving the town its only nine shelter beds. Although the shelter is already overcapacity, Herb is happy with the place. But there aren't really any other options for him.
What social housing there is in Smithers is for families only. The handful of single room occupancy (SRO) hotels that once existed have all burned down or been condemned. A chronic alcoholic, no landlord will rent to him.
With temperatures dropping below -30 degrees Celsius in the winter, a safe place to sleep is the most he can hope for.
"This town is a hard place," says Herb. "If I could, I'd be back out there [in the jungle camps]. There's nothing for me here."
From Prince George to Prince Rupert, Herb's sense of hopelessness has been repeated more than a dozen times. Across northern B.C., the homeless and social workers say there is no affordable housing available and little opportunity to escape the cycle of homelessness and addiction. Predominantly aboriginal and struggling with alcoholism, the north's homeless have been quietly growing in their own communities.
But with recession forcing the forestry industry to lay off thousands of workers, many predict the homeless crisis in the north is about to get much worse.
'Our homelessness is invisible'
Getting a grip on the actual number of homeless up north is pretty difficult. Unlike Metro Vancouver, which has done three homeless counts since 2002, smaller communities lack the resources and the ability to do the same. For one, the homeless up north aren't easy to find
"Our homelessness is invisible," says Sylvia Byron, agency coordinator for Vanderhoof's Omineca Safe Home Society, which runs the town's four shelter beds. "...People are smart. There's always a couch or an uncle or someone that if you give $20 can find you a place to stay. But they can't sleep in doorways because it's too cold. If they do, they're going to die."
Byron says the invisibility means social workers can only estimate the number of homeless based on how many people use the social services and what they think lies hidden behind closed doors.
Last year, as the critic for homelessness, NDP MLA David Chudnovsky toured the province and asked social service agencies what they thought the number of homeless, hidden and on the street, was in their community. In his report, Finding Our Way Home, Chudnovsky estimated there are close to 2,000 homeless people in northern B.C and at least 10,580 across the province. He now figures the numbers to be much higher.
"I was surprised with the depth and the breadth of the problem outside of the Lower Mainland and also very struck of the sense that people outside of Vancouver have that they're being ignored," says Chudnovsky, who I followed for four days in northern B.C. as he showed the homeless documentary, Our Way Home.
'A continuation of colonization'
What people do know is that the homeless population is the north is primarily aboriginal, anywhere between 60 and 100 per cent depending on the city or town. When I ask two managers at the Broadway Place shelter what percentage of the homeless in Smithers was aboriginal, they debate whether the number was 92 or 95 per cent.
"What we're seeing is a continuation of colonization," says Randene Wejr, executive director of Nechako Valley Community Services in Vanderhoof. "A lot of the homeless are residential school survivors, or are the children of residential school survivors."
But there seems to be little sensitivity to historical abuses up north and racism is much more overt. In Vanderhoof, a homeless native man named Arthur tells me stories about having white people throw bottles at him from their car as he tries to hitchhike back to the reserve. Walking around Prince George with a middle-aged homeless man named Brian who gave me a tour of the city's shelters and drop-in centres, I see white people move out of the way on the sidewalk for me, but refuse to move for him.
"It's not easy being native [here] even if you're not homeless," he says.
Making matters worse, there seems to be little coordination going on between band leaders, the municipal government and the social service agencies, even though the homeless often migrate between reserve and town.
"There's a lot of conflicting interests," says Jeff Renaud, the acting-executive director of Lake District Community Services in Burns Lake. "But these different groups have to come together with an economic plan and work for the greater good of the community."
'People disappear'
In some northern communities, the number of homeless seems to have exploded over the past two years (200 to 300 in Terrace, 100 in Vanderhoof), while others have seen a gradual increase in the past decade (1,000 in Prince George) or seen their numbers stay relatively stable over the past few years (250-300 in Smithers).
While these numbers may seems small compared to Vancouver's homeless, which has been estimated to be as high as 8,000, the homeless in northern B.C. make up a far greater proportion of the total population. Of the 3,000 people that live in Burns Lake, roughly 100 don't have a place of their own. Yet these small communities have little to no services to meet the need.
"It's difficult for the community to meet the need of people who are, or who are facing, homelessness," says Renaud. "There are a lot of gaps in the service and people disappear. It's really difficult and sad."
In places like Burns Lake and Vanderhoof, the handful of shelter bed that do exist are reserved for women fleeing abuse or drug addiction. There are no shelter beds for men. In Prince Rupert, the Salvation Army operates 10 beds out of a hotel.
The only place in northern B.C. that seems to have enough resources to at least cope with its homeless population is Prince George, where there are a number of shelters, drop-in-centres and soup kitchen all located within a small 10-block radius. But in order to accommodate the city's growing number of homeless, service agencies have had to find ways of dealing with the "overflow."
"We're all a little depressed that our 'meeting room' has become another shelter room," says Audrey Schwartz, executive director of the Active Support Against Poverty (ASAP) shelter, as she shows me a small room filled with 10 mattresses stuffed inside. "We thought we'd be able to use it for meetings."
A call for affordable housing
What you hear from homeless persons and social workers in every northern community is that there is a desperate need for more affordable and social housing. In many of the towns, social workers say that social housing is available is for families only.
"They don't let us have any homes," says Rocky Prince, a 63-year-old native homeless man who stays at the Ketso Yoh Centre Men's Hostel in Prince George. "It's too expensive for a single person. It's $450 for a room and $600 for a one-bedroom. But I only get $400 a month. I don't know why they charge so much."
Although every Canadian city saw new affordable housing projects all but disappear after the federal government announced in 1993 that it would no longer build social housing, the problem is painfully visible in B.C.'s small northern communities. And much like in Vancouver, the lack of new affordable housing was coupled with an economic boom a few years ago that dramatically pushed up rent costs.
"There's very little [affordable] housing and it's really reduced over the last couple of years," says Jane LeFrancois, director of programming for the Ksan Housing Society in Terrace. "There was such a need for rental accommodation that landlords don't need to rent now to low-income people because there is enough people that can afford the higher rents."
But while Vancouver was at least able to use its sizeable, if unstable, stock of single room occupancy hotels in the Downtown Eastside to provide some sort of affordable housing, most towns and cities don't have that option.
After years of neglect, the few SROs that lasted in northern B.C. have either burned down or been condemned and have never been replaced.
'The crisis they helped create'
A request for an interview with Minister of Housing and Social Development Rich Coleman was not granted. Instead, the ministry sent some background information that said since 2001 there have been 23 social housing projects with 342 units built in B.C.'s northern communities.
"The Province recognizes homelessness is also an issue in smaller communities -- that is why we are not just concentrating our efforts in large, urban areas," the statement read.
In January, two of the 15 new low-income properties the province bought were in the north -- the 18-unit Astoria Hotel in Prince George and the 33-unit Jamboree Motel in Williams Lake.
Over the past three years, there has also been new funding for a series of shelter programs and rent supplements. And following in the footsteps of the successful program in Vancouver, the province started funding homeless outreach workers in Williams Lake, Prince George, Prince Rupert, Vanderhoof, Terrace and Dawson Creek. The province claims the program has housed 400 in the north since 2006, but did not say how many were still housed.
However, Chudnovsky argues that while some of the developments are positive, the BC Liberals are still not building the much-needed new housing.
"The provincial government has done some things [around homelessness], but it began under the pressure of the crisis they helped create when they stopped building social housing in 2002," he says. "And they've chosen strategies to a great extent that don't increase the stock of housing."
'There's nothing better south anymore'
Despite the provincial government's recent conversion to put more funding into housing and homelessness, it may still be too late. The lack of affordable housing in the bigger cities has meant that smaller communities have had to absorb them on a much greater number.
"Some [of the homeless] used to head to Prince George, but they don't anymore," says Stacey Tyers with the Terrace Anti-Poverty Group Society. "They just stay in the community. There's nothing better south anymore. You used to head to Vancouver, because there used to be housing. But there's no point now, you'd be homeless there, too."
Making matters worse, the U.S. recession has caused a serious slowdown for B.C.'s logging industry and has resulted in massive layoffs in the north. B.C. forestry saw profits fall from $1 billion to $652 million last year and 17,000 forestry jobs have been lost since 2007.
Already, social-service providers up north have noticed a sharp increase in the number of families using their services.
"When we're talking about families seeking services, they don't want to leave town," said Carol Seychuk, executive director of the Northern Society for Domestic Peace in Smithers, which runs a women's shelter and transition housing.
But although many in the north could be looking at a lengthy unemployment, neither the federal or provincial government appears to be doing much to increase the social safety net. Premier Gordon Campbell asked Prime Minister Stephen Harper to extend employment insurance benefits for laid off loggers for another year, but Harper only extended it by five weeks.
Minister Coleman told The Vancouver Sun that the province does not intend to make access to welfare any easier for out of work loggers.
'It's you against the world'
Back at the homeless shelter in Smithers, Herb, seemingly not satisfied with my first answer, again asks what homelessness means to me. But before I have a chance to respond, a young homeless man who just entered the shelter gives his own answer.
"It's having no family, no friends, no one to turn to," says Brad Innes, a 21-year-old native man who has been homeless since he was 17. "It's you against the world."
Originally from Mission, Innes has been bouncing around the north for the past few years, heading into a new town every time he's run out of the old one.
Although they are a generation apart, I couldn't help but see the similarities between Innes and Herb. They have both been chased away from their communities. They have both been turned away from housing, either because they don't have the money or because they are aboriginal. They are both struggling with alcohol. They share the same sense of hopelessness.
"It's too difficult [to find housing]," Innes tells me. "There's a few places in town, but they're for families. The other places won't rent to us, or it's too expensive."
A bright, young man and a talented artist, Innes would seem to have the potential to make his way out of poverty. But I couldn't help but fear that if he doesn't get housing and support soon, his future would start looking a lot like Herb's, whose only goal now is to curb his drinking.
As I leave the shelter, I am overcome by the sense of hopelessness. The men in the shelter don't believe they will ever get housing or that things will ever improve. Forgotten or ignored, the homeless in northern B.C. can only hope to survive. If they are lucky, to have a safe place to sleep.
Related Tyee stories: