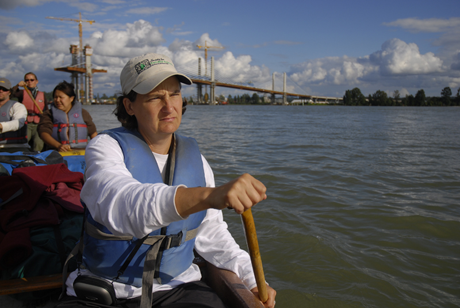 It's my turn at the bow of the canoe. The weather's fair, for now anyway, but it seems to change rapidly around here and we're still a couple hours away from our lunch stop.
We're hungry and already tired from breaking through heavy rain and wind this morning. Push too hard, and we'll fall out of pace and lose energy. Too slow means a good meal is that much longer away.
But you can't beat the 180-degree panoramic view up front. There is so much to see. Life literally buzzes around us; seals surface, fish jump and swallows dip down within feet of the canoe.
The Fraser River from Hope to Mission is one of the most biologically productive stretches of river anywhere in the world, particularly for fish. Ten million pink salmon spawn here every year, and it's home to Canada's largest sturgeon population.
'Incredible part of the river'
Traditionally, the river has supported a hive of human activity as well. Dozens of mills and canneries used to dot its shores, and the river's fertile floodplains attracted the first white farmers to the Fraser Valley.
Although industry has slowed, more people keep moving to the Lower Mainland to find jobs and prosperity. Metro Vancouver's urban sprawl has nowhere to go but east, up the river.
The population of Surrey is expected to surpass that of Vancouver within the next five to 10 years. Once the Golden Ears Bridge is complete, Surrey will be practically next door to the rural communities of Maple Ridge and Pitt Meadows.
Urban development and habitat conservation may seem at odds with one another, but it doesn't have to be that way. We humans do have a right to be here -- but we've got to reconsider our role in the larger system.
"The Hope to Mission stretch is an incredible part of the river," says Mark Angelo, head of the fish, wildlife and recreation department at BCIT.
Angelo calls the Fraser "the heart and soul of the province," and when he admits his particular affection for the river it seems like an understatement.
Since his first encounter, a one-month canoe trip back in 1975, Angelo has worked tirelessly to raise the profile of the Fraser and all rivers. In 1980, he launched B.C. Rivers Day and is chair of the international celebration, World Rivers Day.
Shoring up habitat with dollars
In spring 2006, Angelo created another project called, appropriately, Heart of the Fraser, a conservation group focused on buying private land along the river.
So far it's acquired 11 properties. One is a private farm near Hope that is a significant riparian area; another is the site of the Sto:lo First Nation's ancient burial mounds, the "pyramids of the Fraser."
"Yes, we have seen progress but the threats facing that river are still very evident as well," says Angelo.
"We're seeing development continue pretty much unchecked. I worry that if we don't make progress over the next couple years we're going to lose some really important opportunities."
Reception in Mission
We arrive in Mission on a drizzly day, exhausted and two hours later than expected. Despite the weather, a contingent of locals awaits us at the marina. They include Mayor James Atebe and some of the participants' families.
We clamber out of the canoe and cross the street to where lunch is being served. Tom Cadieux is cooking burgers at the barbeque.
"Beef or veggie?" he asks with a wide smile.
Cadieux is one of those lucky few who loves his job. He worked for Corrections Canada most of his life and ran a prison for the latter part of his career.
He became interested in watershed issues after starting a unique program that allowed inmates to volunteer for stream restoration work.
Now, at 60, instead of enjoying a relaxing retirement, Cadieux is working for Fisheries and Oceans as a habitat partnership coordinator.
His job is to work with local communities, and try to influence government decisions that might affect local watersheds: zoning, building codes, sewage treatment and flood control.
For someone who's worked within the system so long, Cadieux doesn't have much faith in it.
"The concern is that we constantly chase bad decisions and try to repair them," he says. "Politics have unwound so much legislation, so much regulatory stuff. I feel that local government has the greatest influence on our habitat today."
Battles over development
Whether or not local governments will assume stewardship responsibilities, when provincial and federal governments fail to do so, is another question.
Take the controversial Genstar housing development in Mission.
Five years ago, a senior fisheries biologist in the B.C. government named Marvin Rosenau wrote a scathing report about a proposed development, calling it "one of the most environmentally damaging development projects I have had occasion to review."
He was subsequently reassigned to another branch in the ministry and eventually left.
Silvermere, the project on which Rosenau reported, is connected to a larger project that has now passed the second reading for zoning approval. This development would double Mission's population with 1,258 homes built on the hillside of a major watershed.
Mayor James Atebe says he can't comment on the project while it's still in the public consultation phase.
He says this project has been 10 years in the works, and its planning process has been guided by "strong environmental values."
"The community will tell us if we've done a good job or a lousy job," he says.
Poor planning has long-lasting impacts, and once ecosystems are gone, they are gone for good. This is certainly the case for many of Vancouver's lost streams, former salmon-bearing waterways that were paved over as the city developed.
'Daylighting' salmon streams
Redevelopment offers opportunities to "daylight" some of these streams, but sometimes the effort isn't always worth it, explains Gary Williams, a biologist and shoreline management consultant.
He is working on East Fraserlands, a riverfront housing and commercial development in South Vancouver west of Boundary Road.
Initially, the developer looked at daylighting one of the streams that had been covered when a lumber mill was built on the site in 1908.
"There's a number of different competing uses," says Williams. "Park, salmon, birds and people. We could have put in the stream but would have to forgo all this parkland, and you would never really have a true viable or natural stream."
"It made sense to us to improve the whole shoreline, about a kilometer and a half, that had been essentially nuked with the mill development," he says. "By putting in marshes and a tidal channel, you create the right conditions and the system sort of takes over."
'Ethnoecology' in action
Brenda Beckwith knows this better than anyone.
She is an ethnoecologist, which means she studies how people think about, and participate with, their natural environments. Beckwith joined us in Yale for the final leg of our trip, a four-day paddle through the Fraser Valley, down the north branch of the river and into English Bay.
At the end of our first day, Beckwith tells us she was moved to see so many people out on the river, boating, fishing or just sitting in lawn chairs on the sand and gravel bars. This human interaction with the natural environment is ethnoecology in action.
It's the approach Beckwith brings to her work in ecological restoration at the University of Victoria's school of environment.
"You can't leave people out of the equation," she says. "I think it would be helpful for the environmental movement to realize that people don't always do bad things."
As the river enters the sea...
There is a headwind as we paddle the final few kilometers of the river. A speedboat blaring rap music rips past us, invoking groans from everyone. We may as well face it, we're back in the city.
As we round Point Grey and past Wreck Beach we bring the two canoes together and put down the paddles.
Drifting somewhere between where the river ends and ocean begins, we take a moment to celebrate with cheering, clapping, photo-taking and trail mix. There isn't a sign or border or any indication of the transition, but technically our journey down the Fraser River is complete.
But we're not home yet.
We choose to paddle silently, contemplatively, to our final destination, taking in the sounds and sights around us. The towers of downtown Vancouver -- a side of Vancouver I've never seen before -- loom in the distance. Beachcombers peer at us from the shore.
A few ducks fly by the canoe, skimming the water, and off in the distance an impossibly fast and noisy hovercraft shoots across the bay.
At Jericho Beach, we nose the canoe into the sand and hop out. After another brief moment of celebration, it's down to business as usual unloading our gear -- same as any other day on the river.
The smell of fried fat and promise of pints from the Galley Grill is so tempting. But because tonight is our last together, we dine together on the food we've carried, in a makeshift camp in the Jericho Sailing Club boatyard.
It's the end, but perhaps the beginning of something else for many of us. A new purpose, a new point of view, and a new appreciation for the mighty Fraser.
Related Tyee stories: