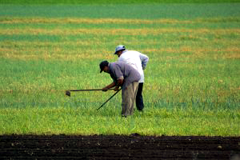 For the first time, foreign workers imported to pick B.C. crops have been allowed to join a union.
Migrant workers at Greenway Farms in Surrey have voted to join the United Food and Commercial Workers (UFCW) of Canada. The historic certification was granted with the support of more than 75 per cent of the roughly 40 affected workers. Never before had B.C.'s Labour Relations Board approved a union to represent workers brought to Canada under the federal Seasonal Agricultural Workers Program.
The Surrey certification comes on the heels of a seasonal workers contract in Manitoba and is the result of a UFCW organizing drive that began in 1995. Union sources have told The Tyee that four farms in Quebec also face the prospect of unionization.
"I am pleased to hear this," said Raj Chouhan, the NDP MLA for Burnaby-Edmonds, and the founder of an earlier attempt to unionize B.C. farms. "Workers are finally getting some protection.... We need all the support we can get for farm workers."
The Seasonal Agricultural Workers Program (SAWP) matches foreign workers, primarily from the Caribbean and Mexico, with agricultural employers who claim they cannot find Canadian employees. The program began in eastern Canada in 1966 and has been bringing Mexican workers to B.C. farms since 2004. It has been criticized, by observers who see it as a way of keeping wages in agriculture low and institutionalizing the exploitation of vulnerable guest workers, historically a group very hard to unionize.
'We've never had decent water'
"Right now, we're seeing small changes, nothing major yet," said a worker at Greenway Farms who spoke with The Tyee on condition of anonymity because he fears employer retaliation.
"Now we are hoping we will get our pay on time. We hope now we will finally get clean water. The water now isn't even good enough to take showers. Some of us are getting sick. We've never had decent water," he said, speaking through interpreter Erika Del Carmen Fuchs of the advocacy group Justicia.
The Greenway worker -- call him Carlos -- has been coming to B.C. to work since 2004. The income from Canadian farm work supports him and his family. He claims to have been unable to find work in his home country.
Asked why he was interested in joining a union, Carlos replied: "The bad treatment by the boss. We have been under a lot of pressure. For example, we don't have adequate housing and the water situation is bad. The water is contaminated and people are getting sick. The boss said he didn't have time to fix it. People were getting sick."
The owner and administrators of Greenway Farms did not answer repeated calls placed to their numbers by The Tyee.
'You do have rights'
"I always tell the workers, 'Don't let people treat you like you don't count. You may not be Canadian citizens, but you are Canadian workers and you do have rights,'" says Lucy Luna, a UFCW organizer with the Abbotsford Agricultural Workers Alliance Support Centre.
Luna, herself an immigrant from Mexico, is a veteran of five years of volunteer work advocating for farm workers in Alberta, and two more years as a volunteer in Chilliwack. Since May of last year, she has been a paid union staffer at the Abbotsford centre, part of a network of eight such worker assistance offices operated across the country by the UFCW.
She said workers at Greenway approached the union because of "unbearable" conditions at the Surrey farm. She told The Tyee that Greenway workers complained of verbal abuse and insults from supervisors, overwork, late paycheques and a general lack of respect.
"These workers were brought in later than many were this year," Luna said, "and expect to keep working until mid-December. We hope to have a contract negotiated and adopted before the end of this season."
"SAWP workers deserve the same protections as Canadian workers," said UFCW local 1518 president Ivan Limpright in Surrey. "So now we will work to secure a first contract that delivers that."
Manitoba precedent
Earlier this summer, workers at Mayfair Farms in Portage La Prairie, Man., signed the first contract by a Canadian union to bargain for migrant farm-workers. That deal will guarantee workers there a grievance procedure, a right to be recalled each season by seniority, and protections against being evicted from employer-owned housing or expelled from Canada without an independent hearing.
"We're rocking and rolling now," a jubilant Stan Raper, national organizer with the UFCW, told The Tyee. "This marks a new era for workers and unionism in Canada."
His union is one of the largest private sector unions in Canada, representing over 240,000 workers in food processing, warehousing, retailing and other sectors. After more than a decade of grassroots organizing, including the establishment of eight migrant agricultural worker support centres from Saint-Rémi, Que. to Abbotsford, B.C., Raper and his colleagues are beginning to realize their dream of representing farm workers across the country.
The union has not only conducted organizing drives and opened service centres for workers, it has also gone to court repeatedly. For example, in 2001, the UFCW won a victory in the Supreme Court of Canada, Dunmore vs. Ontario, striking down provincial legislation that excluded agricultural workers from provincial Labour Relations Act protections.
Despite the Supreme Court victory, Raper says that Ontario has yet to fully recognize freedom of association rights for farm workers, and the UFCW is currently waiting for a judgment expected next month in another fight on this topic in the Ontario courts. In the meantime, the union has been able to win access to Employment Insurance parental benefits for SAWP guest workers, who for many years were required to pay into the EI program but could not collect when they had kids.
"We helped process over $22 million in parental benefit claims for SAWP workers recently," the UFCW's Raper told The Tyee. "Our migrant worker centres helped over 30,000 workers last year."
Lucy Luna said the Greenway victory is only a beginning.
"As long as we can keep unionizing more farms, we can make a change," she said. "Numbers count. This is just a start. There are lots of farms out there. Knowledge is important. Workers need to know that they have rights in Canada."
Related stories: