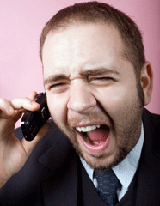 Looking for a nice quiet place to get away and unwind? The Village of New Denver in eastern British Columbia wants to make an unusual sales pitch:
Come, stay, and never hear the ring of a cell phone.
New Denver's citizens voted against the introduction of mobile phone service in a referendum in January. The vote was a close one -- 117 to 110 -- but the village council said before the referendum that it would live by the result. And it wants Telus to do the same.
New Denver (population about 600) is located in the Slocan Valley north of Nelson.
The issue has been passionately debated in the streets of New Denver and in the pages of the bi-weekly Valley Voice over the past few months. There are three reasons for the opposition: some citizens say radiation emitted by cellphone technology is a health hazard; others want to market the area to tourists and new residents as a tranquil cell-free sanctuary; and still others are just angry at Telus for what they see as its unwillingness to follow the community's wishes.
Proponents and opponents of cellphone service both claim to be in the majority.
Peace and quiet
"A cellphone-free zone would be competitive advantage in marketing the area as a tourist destination and as a place to live," says Bill Roberts, New Denver's citizen representative to the 11-member Slocan Valley Economic Development Commission of the Regional District of Central Kootenay.*
"The insidious part of cellphones," says Roberts, "is that they tether you to the office. A lot of people want to get away from that. And the fact that we're without cell phone service means that we're able to enjoy life without the incessant sound of ring tones, immediately followed by someone's shouted conversation."
While the development commission supports New Denver's position, it also represents localities that may wish to have cell phone service. The Slocan Lake Chamber of Commerce is squarely behind the idea of a cell-free New Denver.*
'The pressure's off'
"Some people think we are just Luddites," says Roberts. "But I've seen the wired world. I'm a retired foreign affairs officer. And I was involved in getting high-speed wireless Internet to this valley." Roberts admits to owning a cell phone, which he uses when he travels outside the New Denver area.
The website of the Slocan Lake Chamber of Commerce opens with a lovely photo of the lake ringed by the Selkirk Mountains, and the words, "The pressure's off. You're in the Slocan Valley, beyond cell phone service. Breathe deep, walk tall, skip stones, then paddle home. Come unwind with us . . ."
"We're just trying to leverage our best local resource," says Roberts. He likens cell phones to other tranquility-busting technology such as motor boats and off-road vehicles.
"Unspoiled nature does not exist on Christina Lake or on Osoyoos Lake," he says, "and we don't want to become like them."
The health argument
In September 2007, the Valhalla Committee for Environmental Health, a subgroup of the Valhalla Wilderness Society, submitted a 611-page scientific report about cellphone hazards to the New Denver Village Council. The BioInitiative Report was published recently by the University of Albany, New York, and claims to be the most comprehensive, multidisciplinary, and independent scientific study of electromagnetic health risks in existence. (An interview with one of the authors of the report can be watched here.)
"That report brings together extensive findings by medical doctors and research scientists from the U.S., Sweden, Denmark, Austria, China and the U.K.," says Richard Caniell, the chair of the Valhalla Environmental Health Committee. "It corroborates the concern about health hazards expressed by villagers here."
Telus wants to place its transmitter on an existing tower already being used by the CBC at the edge of Centennial Park in New Denver. Telus has so far been unreceptive to the idea of moving it outside the municipal boundary, according to Julia Greenlaw of the Healthy Housing Society, another group that opposes the cellphone tower.
"Telus has been very bullheaded about this," she says. "Their cell phone service will only reach 3-5 kilometres up and down the lake anyway, so it doesn't make sense."
Opponents 'misinformed': Telus
Caniell has circulated two information pamphlets throughout New Denver, outlining his group's case against the tower, mostly based on the BioInitiative Report. The pamphlet says that governments around the world are beginning to question the safely of wireless technology and it quotes the report: "There is enough evidence of increased risk of brain tumours to warrant intervention with respect to their use . . . good public policy requires preventive action." The report is quoted as expressing particular concern about the health of children.
Caniell says his group went door to door with the pamphlet, and many people refused to read it. "They said, 'I like my cell phone, and I don't want to read that.'"
Shawn Hall of Telus told The Tyee that the company stopped construction for a while in 2007 when it heard of the opposition. Telus representatives attended a public meeting and "engaged in ongoing dialogue with everyone. We have had a lot of support in the community."
Hall champions the need for cell phone service in New Denver and calls opponents "well-intentioned but misinformed."
"We listen to Health Canada and Industry Canada," says Hall. "It's their life's work to protect Canadians' health. They have some of the world's leading experts on radio transmission. They have set levels on what they have determined is safe. Our signal will be thousands of times lower than that level."
Mixed signals?
The BioInitiative Report, as quoted by the Valhalla Society, says something quite different: "The existing public safety standards limiting radiation levels in nearly every country of the world look to be thousands of times too lenient. Changes are needed."
The problem is that the Valhalla Society and Telus are talking about two different kinds of electromagnetic signals. Health Canada's standards are based on high-intensity or thermal effects. According to that standard, Hall is probably right when he states that "the signals from the CBC and the local public works crew are the same as ours would be."
But the Valhalla Society says the concerns expressed by the authors of the BioInitiative Report are about low-level or non-thermal effects, which threaten health at levels much lower than those Health Canada says are safe.
Greenlaw wants to see the studies Telus and Health Canada are relying on, and she wants them to at least comment on the BioInitiative Report. "They keep telling us there are all these studies that prove their case, but they never bring them forward and they won't respond to the ones we have brought forward."
Telus's special status
If Telus really wants to locate its signal in New Denver, there appears to be nothing anyone can do about it. That's the third reason for some of the opposition.
"The telecommunications companies have a very effective lobby," says New Denver Mayor Gary Wright. "They are the only industry that is guaranteed universal access to any location anywhere they want, in order to make their for-profit services available to anyone. Churches can't do that, hospitals can't, you can't build a gas station or grocery store wherever you want, but telecom companies can do that. I don't think Telus has abused that special status. The location they have chosen is cheaper for them and as far away as you can be within village limits. But that's not to say it's right."
Telus's Shawn Hall, when asked by The Tyee about this apparent special status for Telus, replied that the municipal government does have local control because Telus had to apply for a building permit to install the tower.
"But a municipality cannot refuse to grant a permit to a telecommunications company," says Wright.
Village asked feds to intervene
Telecommunications are regulated by Industry Canada, an agency of the Federal Government.
In the past five years, the Union of B.C. Municipalities has twice asked the provincial government to help them gain some control over the location of telecommunications towers, citing citizen concerns about health effects, property values, and self-determination. In both cases the provincial government simply replied that it does not have jurisdiction.
In the meantime, Industry Canada has developed some guidelines for public consultation (outlined here). The guidelines include an unspecified alternate dispute resolution process if discussions fail.
The Village of New Denver has formally asked Industry Canada to intervene on its behalf in its dispute with Telus.
Industry Canada will mull tower
Morris Bodnar is Industry Canada's director for B.C. and the Yukon. He told The Tyee that his office has received the Village of New Denver's written submission, and that staff in his office will evaluate it and consider whether the tower site is appropriate.
Asked how "appropriate" may be defined or what the criteria might be, Bodnar said it was too early to comment and that "we will have to look at what is brought forward." Asked about how the opposition of the New Denver Council and Chamber of Commerce might affect the outcome, Bodnar said those things will be taken into consideration.
The policy contains many references to public consultation, discussion, and mutual interests. Bodnar says Industry Canada expects the same approach from providers such as Telus. "We want to know that the company has consulted with a community and that all relevant concerns are addressed. That is part of the conditions attached to their licence, and that will be part of our review."
Asked whether health effects or the desire for a cellphone free zone as a tourist attraction would be considered "relevant concerns," Bodnar said those things will be taken into consideration.
Asked whether Telus's active advocacy of the need for cellphone service in New Denver constitutes consultation or the opposite of consultation, Bodnar said he could not comment without more information.
Mayor Wright thinks Industry Canada will rule in favour of Telus. "They cannot afford to make a decision that would allow municipal governments to control what happens within their own borders."
*Paragraphs marked with an asterisk were change at 1:50 p.m. on Thursday, March 13, 2008.
Related Tyee stories: