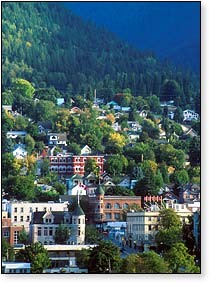 [First of two parts]
"That guy was calling from Ottawa," says NRG Enterprises' Mike Seniuk, hanging up the phone in his Nelson office. "He ordered a Roloff bicycle chain." Why would someone from Ottawa order something like that from a little town in B.C.? "That bike chain is made in Germany, and we're the only company in Canada that stocks it," he says.
NRG Enterprises, located a few blocks from downtown Nelson in the refurbished heritage Old Brewery Building, imports and distributes high-end climbing and biking equipment. "We're a small distributor, and if you're going to survive you have to carry niche products", says Seniuk. "Bicycle connoisseurs, people really passionate about bikes, no matter where they are, they find us."
A few miles away and a few hours later, across the Orange Bridge on the north shore of Kootenay lake, I'm drinking green tea in Hai-zhen Zhang's kitchen when her phone rings. "Hello, this is Two Hills Tea, can I help you? Hi Sheila. How many pounds? OK. Three pounds Dragon Well, two pounds Jasmine. Yes, it's organic. OK. We'll mail it out today."
"Where was that person calling from?" I ask.
"Connecticut, a natural food store there. They like our tea better than any other company's in North America because it's fresh and organic."
It's common these days for small businesses in small cities to have customers world-wide, but it seems especially prevalent in Nelson, where creative entrepreneurs wouldn't get far marketing to the region's small population. Last year, I interviewed 30 such entrepreneurs for the Kootenay Co-op Radio documentary Live Here Work Everywhere. They specialize in physics, automotive electronics, genetics, body lotions, vintage mystery novels, board games, and film-making. They design textiles, software, maps, book covers, logos, houses, and outdoor clothing.
Nelson's allure is art and nature
What is Nelson's attraction? The entrepreneurs and their employees give four main reasons: the arts, outdoor adventure recreation, the community's diversity, and downtown Nelson's cosmopolitan, heritage atmosphere.
Nelson is one of the oldest cities in Western Canada, but it didn't always show it well. In the 1980s, city council took advantage of provincial and federal grants to revitalize the downtown. "A lot of the facades were covered over with things like steel cladding, little bathroom mosaic tiles, and plastic rocks," says heritage design consultant Robert Inwood. "All sorts of bizarre materials had been pasted over the beautiful granite and brick and wood that had comprised the original building facades." The city stripped off the cladding to reveal the original buildings, and created some heritage design regulations.
Today downtown Nelson has a historic feel and a cosmopolitan atmosphere, with lots of sidewalk dining in the summer, and the relative absence of fast-food franchises and big-box stores
Pianos and physicists
There is an extraordinary variety and high calibre of musicians, writers, actors, dancers, and visual artists in Nelson. Dozens of craftspeople market to galleries across the continent. "In 1897," says Nelson writer and editor Anne DeGrace, "the Daily Miner quoted a travelling piano tuner who said there are more pianos in the homes of Nelson than in all the other communities in the area combined." DeGrace can recite a fascinating history of Nelson as an arts centre since then. Today the arts are "seeping out of all the seams in Nelson, even though there is no real infrastructure for it. It's kind of incorrigible that way."
A recent report commissioned by the City of Nelson concluded that $7 million is earned directly by Nelson artists, performers and galleries annually, for a net economic impact $15 million. The report also concluded that tourism helps bring the total net impact of arts and heritage to $75 million.
The report is controversial — many people in Nelson think the numbers are exaggerated. Yet it reflects the increasingly popular argument that culture can influence local economies in significant ways.
American author Richard Florida, the American includes engineers, scientists, architects, artists, designers, writers, and entertainers in the group of economic drivers he describes in The Rise of the Creative Class. In Nelson, the class's numbers are large and growing. Florida argues that communities that score high on his "Bohemian Index" because of artistic activity and "alternative lifestyles" attract scientists and engineers and the high-tech activity they engender.
In a small suite of offices above a Baker Street shop, physicist Morgan Dehnel and several employees design particle accelerators used in nuclear medicine. He has no trouble finding people to work for him. "They seek me out on the internet. They say, 'I'm an engineering physics graduate, I want to live in Nelson, I'm a mountain biker and a skier, and I see that you do something in physics. Can I get a job with you?' They're into the outdoors and they also like the arts scene here."
Baker Street's hippies
"There are still people in Nelson who would kick the hippies off Baker Street," says former Nelson, B.C., mayor Gerald Rotering, "When in fact the so-called hippies are fundamentally an emblem of the diversity and tolerance that makes the community the success it is. Those people still don't understand, and still fight the diversity that makes Nelson what it is and can be."
While Nelson is not ethnically diverse, its politics, ideas, and lifestyles are. There are art school students, hockey players, classical musicians, scientists, intellectuals, extreme mountain bikers, Rotarians, Doukhobors, and countless alternative health practitioners. There's a community college, two Tibetan Buddhist meditation centres, a Wal-mart, the Academy of Classical Oriental Sciences, the Canadian Legion, a Chamber of Mines office, a Waldorf school, a co-op radio station, 30 restaurants, and an unknown numbers of marijuana grow-ops., There's a mid-summer curling bonspiel and an extraordinary number of choirs. There is a Liberal MLA, a Conservative MP, the highest municipal election voter turnout in Canada, and an economic development commission that's changed its name to The Office of Possibilities.
Another measure of a community's attractiveness to the creative class, argues Richard Florida, is his "diversity index." Its key factor is whether a community is seen to be tolerant of gay people. If that tolerance is there, a range of other tolerances can be assumed. Members of the gay community say that although there is room for improvement in Nelson, they'd rather be here than in any other small city in B.C.
"In Nelson we have a wide range of types of people," says four-term city counsellor Donna MacDonald. "Different livelihoods, different lifestyles, been here forever, been here for two years, everybody's passionate, and there are always tensions between new ideas and old ideas. This makes it very interesting and rich. And very difficult to govern, I might add."
Can small-scale entrepreneurship sustain Nelson? Not everyone thinks so, as we'll see tomorrow in part two of this package by Nelson writer-broadcaster Bill Metcalfe.