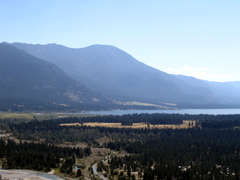 At the headwaters of the mighty Columbia River, a battle is being waged over some of the last untouched land in the area.
The east side of B.C.'s Columbia Lake, just south of the resort community of Fairmont Hot Springs, is home to at-risk species including Rocky Mountain bighorn sheep, badger and great blue heron. The only scars on the land are a narrow gravel access road and a 35-acre hayfield.
Fairmont Hot Springs Resort, which owns about 300 acres of land on the east side of the lake, wants to build a hotel and residential development on the site, which had been zoned for such a development since 1984.
But controversy swirling around the idea offers all the elements of a wider tension throughout B.C. as government touts private tourist developments as a producer of jobs and tax revenue.
With such projects tend to come new roads, new faces, new contours to the landscape and, in this case, anger from locals prompting creative legal manoeuvring by their representatives.
'Do we want another resort?'
Vocal critics of the Fairmont Hot Springs Resort expansion include members of the regional government, a local First Nation, the local member of the legislative assembly, environmentalists and many area residents.
They say the proposed development on District Lot 48, which lies between Columbia Lake Provincial Park to the north and an adjacent wildlife management area to the south, does not fit the area.
"We need to make a choice," says Ellen Zimmerman, Columbia Headwaters program manager for the East Kootenay environmental group Wildsight. "Do we want another resort like all the others or do we want to protect the biological diversity of the area?"
Essential to development is the upgrade of an old road that meanders through Columbia Lake Provincial Park, beside the Columbia River, and into Lot 48. In order to upgrade the road, provincial park land would need to be appropriated by an act of the B.C. legislature. Sensitive cliffs would be blasted and the natural landscape forever changed.
'Downzoning' gambit
Since Fairmont Hot Springs Resort made an application to the provincial government last year to have the park boundaries changed to accommodate an upgraded road, the issue of development on Lot 48 has pitted the Regional District of East Kootenay against the resort owners.
Last November then regional director Martin Cullen undertook the very unusual move of rezoning Lot 48 without the owner's consent. He hoped to have the land "downzoned" from four parcels of land zoned for resort development to land zoned for agriculture. In April Mr. Cullen resigned his post due to family reasons.
"I was looking for an idea...and it came from the Regional District of East Kootenay saying in other jurisdictions this is how they keep their zoning up to date," said Cullen, who calls the current pace of development in the Columbia Valley "horrific."
He said staff advised him that under the local government act, the regional district had the power to downzone.
"I was told this was done quite often in Saskatchewan," he said.
Cullen estimates 75 per cent of local residents are against Fairmont Hot Springs Resort's planned development.
"From the time I took control as regional director in 1999 everyone I spoke to had concern of it," he said.
First and second readings of the rezoning bylaw were passed unanimously by the regional district board of directors in February, said Andrew McLeod, the regional district's manager of planning and development services. After the first and second readings, Fairmont Hot Springs Resort was successful in having a six-month injunction placed on the rezoning. The purpose of the injunction, which expires this month, was to allow the resort time to come up with an alternate development plan.
Ktunaxa opposed
But any development on Lot 48 is something that the Ktunaxa -- pronounced "k-too-nah-ha" -- Nation, whose traditional territory includes the area around Columbia Lake, does not wish to see.
Members of the Ktunaxa Nation have lived in the area for 8,000 to 10,000 years. The Ktunaxa has staged an organized opposition to Fairmont Hot Springs Resort's planned development, including a website that features the maxim: "Some Things are Sacred."
"It's very culturally significant," said Kathryn Teneese, chief negotiator for the Ktunaxa. "It's the place that describes our beginning."
Columbia Lake is mentioned prominently in the Ktunaxa's creation story.
"We're not in support of any development there," said Teneese. "We support downzoning."
Park boundary in play?
If the matter of appropriating provincial park land to upgrade the road to Lot 48 ever does come before the legislature, Columbia River-Revelstoke MLA Norm Macdonald said he won't support it. "I'm very much against it."
Macdonald said under the provincial government's 2004 Provincial Park Boundary Adjustment policy, changing park boundaries is to be done for the public good, not for private interests.
"If you're going to be changing boundaries for commercial interests you're going to change them all the time," he said. "There are all sorts of cottages in B.C. that are isolated by parks."
"I'd feel very comfortable saying constituents are against it."
Zimmerman says the fight isn't about development, but rather the location. "The rarer things are, the more precious they become," she said about the still-undeveloped land.
She calls the regional district's position courageous and cited Wildsight's own letter-writing campaign to preserve Lot 48. "We're doing this to show that the regional district does have a mandate," she said.
'Plan B' unveiled
At a public open house held on August 5, consultants hired by Fairmont Hot Springs Resort outlined what they called "a revised plan B." The plan was a scaled back development of 230 dwellings. Much reduced from the resort's original plan, which included about 600 dwellings and a golf course.
The revised plan includes consideration for wildlife, the reclamation of the hayfield to natural grassland, plans for an upgraded road that would limit runoff into the adjacent Columbia River, and acknowledgement of areas of archaeological significance to the Ktunaxa.
"I think it's unreasonable to downzone private property," said Pat McCormick, chief operating officer of Fairmont Hot Springs Resort. McCormick is adamant that the land remain zoned for resort development.
'Province-wide implications for owners'
A written statement released by Fairmont Hot Springs Resort this past spring titled "Lot 48: Rushed Decisions or Right Decisions" laid out the resort's position.
"This is not just a local decision. It is precedent setting and has province-wide implications for property and business owners. The underlying message is there is no certainty for property values if local governments can act unilaterally to strip land of its economic value."
The resort has some support in its position. The Columbia Valley Chamber of Commerce has stated their opposition to the regional district's move to rezone Lot 48.
In an area where lakefront properties commonly sell for millions of dollars, Lot 48 is valued at a mere $58,000 and taxed at an annual rate of just $281.55 because it is zoned agricultural.
While that represents an annual tax savings to Fairmont Hot Springs Resort, the zoning puts a lid on the possible sale price for the parcel. Pat McCormick confirmed that Fairmont Hot Springs Resort is in negotiations to sell its operation. She would not say to whom. "Just because somebody says I like your car, I want to buy it, doesn't mean it's sold," she said.
Zimmerman suggests Fairmont Hot Springs Resort sell Lot 48 to a conservancy group, like the B.C. Nature Trust, which already owns 561 acres on the east side of Columbia Lake.
McCormick, however, said nobody has come forward with an offer to buy Lot 48 on its own.
'We're scared'
No matter who owns the land, development on Lot 48 would forever change the natural landscape.
"I'm an artist and I've painted that picture many times," said Sharon Jonas, who has lived in Columere Park, a community on the west side of Columbia Lake across from Lot 48, with her husband since 2000. "It's so pristine, so wonderful, we're scared."
Norm Macdonell is the president of the Fairmont Community Association. He does not see a distinction between land already developed on the lake's west side and potential development on the undisturbed east side.
Teneese, however does not agree. "The west side has already been impacted for a long time, the rail line goes along there," she said. "Back in those days our interests wouldn't have been taken into consideration, we simply didn't have a voice. Now we do and we want to make sure it's heard."
The six-month review period will come to a close this month. Then Fairmont Hot Springs Resort's final revised plan B will be presented to the regional district. Regional district chief administrative officer Lee-Ann Crane says she expects third and fourth reading of the rezoning bylaw to come before the board at their next board meeting, September 1.
"The board will have to make an ultimate decision," she said.
Adrian Bergles is a freelance journalist based in Invermere, B.C.